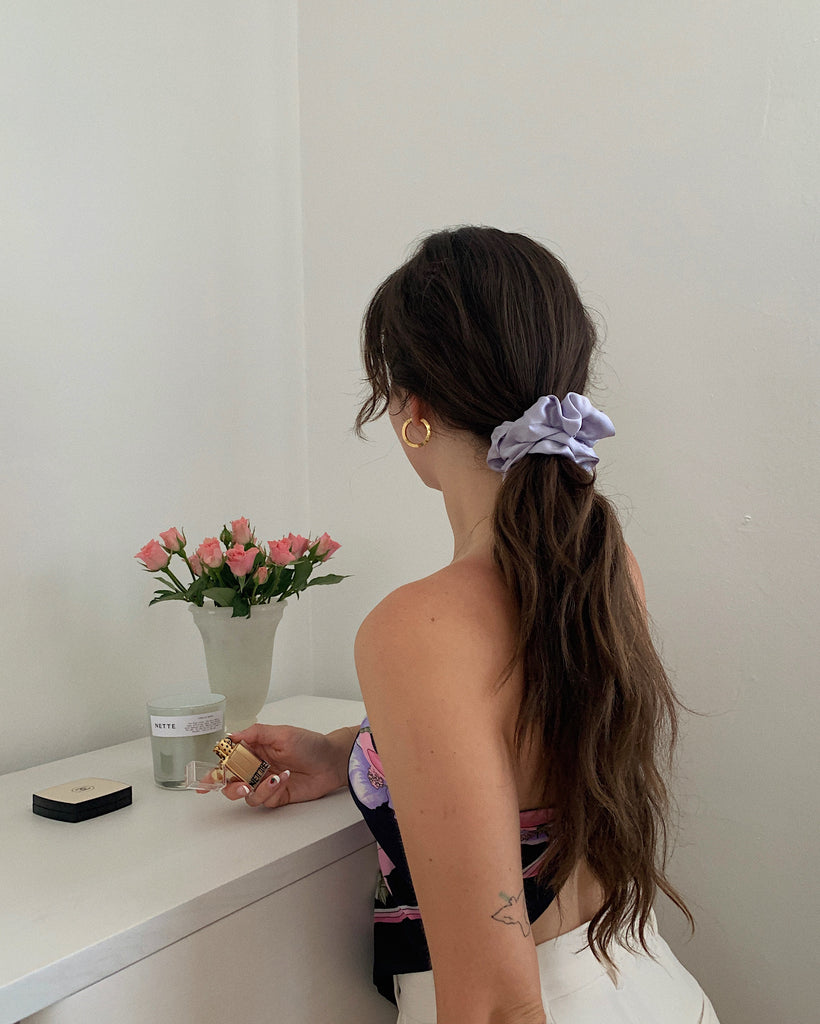 We're on a constant hunt for inspiration and more often than not, that quest begins on Instagram. Recently, we found ourselves saving photo after photo from LA-based interior designer and content creator Sarah Solinger and we knew we had to strike up a friendship. Her photography is crazy-cool and embodies a seriously covetable greenery-filled lifestyle that has us wanting to get out into nature stat. Read on to get to know Sarah and be sure to check out her favorite Nette candle, Fons et Origo. 
Hi Sarah! Tell our readers a little about yourself.
Hi! I'm a Los Angeles based content creator with a background in interior design. I've lived in LA for almost 8 years now and am originally from the Bay Area. I focus on sharing fashion, beauty, and lifestyle content while also prioritizing sharing current events and social justice issues. 
You're a super talented photographer — what is your favorite part about this medium?
I've always loved capturing moments through photo or video, it's almost obsessive. I've been doing it since high school — my friends and I used to go on drives all the time and take photos. Not much has changed (haha!), but now I'm very fortunate to make a living out of it. 
I see the beauty in everything around me and try to capture it in a way that evokes the feeling of that moment for others to enjoy. Sometimes it doesn't work out as planned and sometimes it's exactly what I've envisioned. It's hard to explain but my brain works in such a way where I have a very clear vision of what I want and I can see it before I take it. Other times, I see something in that moment that is better than I could've imagined. 
Overall my favorite part of photos is the emotions they convey. 
Tell us a little more about your interest in home decor — we're obsessed with your Wakeley Studios account. 
You're so sweet, thank you! I've been a bit behind on posting lately but I'm always collecting inspiration. I'm actually a formally trained interior designer — I went to school for it and worked in the field for six years until I quit last year to pursue content creation. It will always be my passion but I got burnt out and needed to take a step back. 
Interior design helped me realize my inner creativity and evolving my interior style helped me evolve my personal style as well. I might go back into it one day and start a design firm because it will always be a part of me, but time will tell. 
I'm also looking to start a vintage reselling business with pieces I've collected and curated over time, so stay tuned for that. 
Best part about living in LA? 
It's hard to pick just one, I would say either the food or the architecture. There are so many beautiful case study homes and architectural gems that you just don't find anywhere else. 
I wouldn't say that LA is the most beautiful city at every corner, that would be San Francisco in my opinion, but there's just something special about the kind of beauty you find here. 
The food is just great, especially as a vegan. There's an unlimited amount of options and almost everywhere is accommodating, which I love. 
Where do you find your inspiration (fellow Instagram accounts or otherwise!).
I find inspiration most in nature and interiors. I love to go for walks daily and that's just my time to think and get inspired without any distractions. Pinterest is always great to start out, but I rarely look to it anymore since I have a pretty clear sense of my own style now. 
Tell us about your go-to Nette candle — how does it fit within your home? 
Fons et Origo! It's incredible, I'm so obsessed with the scent — it's so unique and delicate. It's fresh without smelling like soap. The best way to describe it would be that it just smells very green. 
I love that you create one of a kind scents that aren't like the obvious vanilla or what not. Not that there's anything wrong with vanilla, but I personally prefer something more bespoke and you truly nail it. 
And truthfully, the Nette scrunchie is my new favorite scrunchie. I can't stop wearing it. I've gotten so many compliments on it already as well. It's the perfect size. It's very fluffy and makes a statement but it also holds my hair so delicately. I just love it. 
What are your five favorite take good care rituals?
Lighting the candle a few hours before bed to fill my room with a calming scent. 

Putting my hair in a messy bun with a Nette scrunchie as soon as I'm home and taking off my makeup.

Doing a face mask and watching a movie (I recently re-watched "Moonlight," and I cannot recommend it enough.) 

A long bubble bath with a good book (I'm currently reading

On Earth We're Briefly Gorgeous

by Ocean Vuong. 

Slow Sunday mornings with homemade lemon poppyseed pancakes.