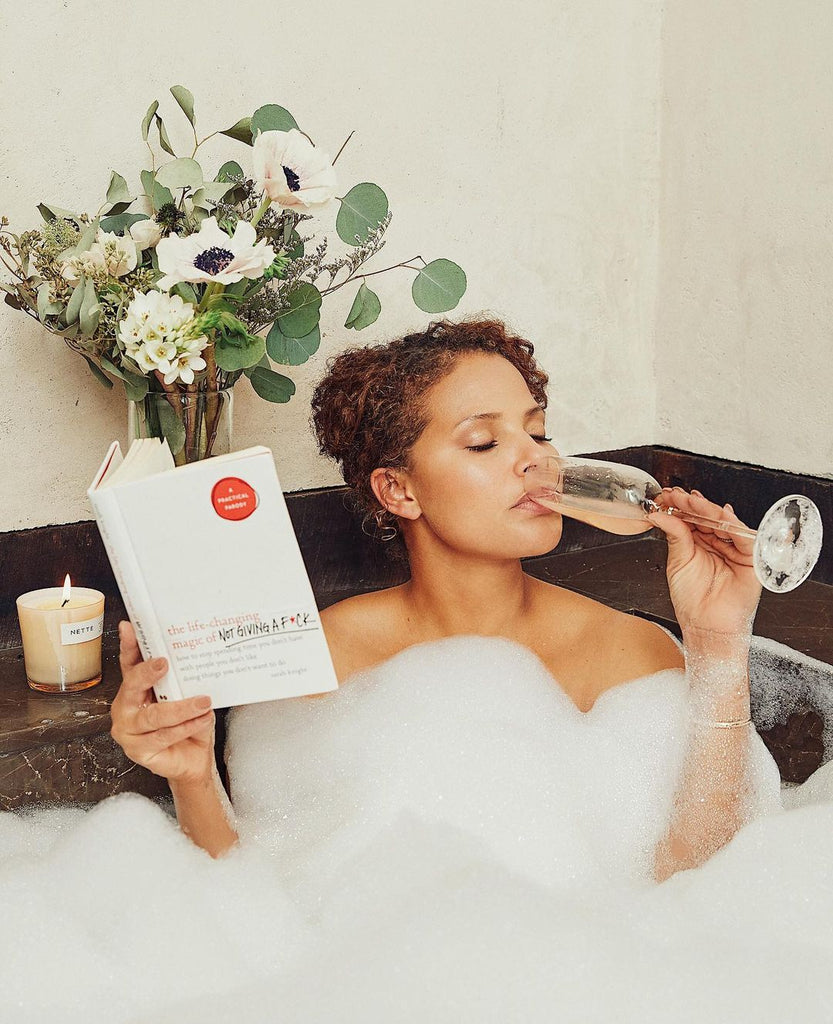 Image via Denise Vasi. 
A long, luxurious soak is one of our favorite take good care rituals (link to blog post). A bath can have a slew of benefits including improving sleep, elevating our moods, increasing circulation, and imparting an overall sense of zen that can't be matched. 
With this being said, not just any bath will do. We like to think of our bathing practice as a full ritual. We have our pre-, during and post-soak routine down to a science and we believe firmly that it helps contribute to our overall sense of well being. Read on for a few of our bath-side essentials. 
Our Take Good Care Set
We'd be remiss to recommend a bathtime ritual that didn't involve our Take Good Care set. Toss your hair up (in a luxe, 100% silk charmeuse scrunchie, no less) and light your favorite candle.
The Best Bubbles Around 
If we could, we'd shout our love for Susanne Kaufmann from the rooftops — we're never without the brand's bath oil. Add a little to your tub and get ready for the de-stressing (and hydrating!) soak of your dreams.
A Luxurious Scrub
When we've got a little extra time in the tub, we can't help but indulge in a deep exfoliation. Omorovicza's Gold Sugar Scrub uses fair-trade sugar and colloidal gold to strengthen and repair as it smooths skin. Bonus: The scent is seriously dreamy and lingers subtly on skin long after you've dried off. 
A Well-Deserved Glass of Wine 
At the end of a long day, a chilled glass of white has become our go-to. Recently, we've been loving Cameron Diaz and Katherine Powers' line Avaline. The wines are delicious (our top priority), and free from dozens of unwanted and undisclosed extras that most wines are filled with. Go ahead, pour a glass and enjoy it in the tub — it's the perfect way to signify the end of the workday and Avaline's White is dry, crisp, and has a low ABV. 
A Soft Hair Holy Grail 
We sing Crown Affair's praises at every chance we get. We're all about making our everyday tasks into experiences and their Renewal Mask makes the process of conditioning your hair a true treat. We add some of the smoothing formula to our hair pre-bath and let it do its smoothing, reinvigorating thing while we soak. 
A Post-Bath Robe
Once your stresses have melted away, cozy up in one of Hill House's sumptuous robes. Our go-to is the Rainbow Hotel Robe — it's piping provides the perfect touch of whimsy and we love the fact that it's made from 100% organic cotton.