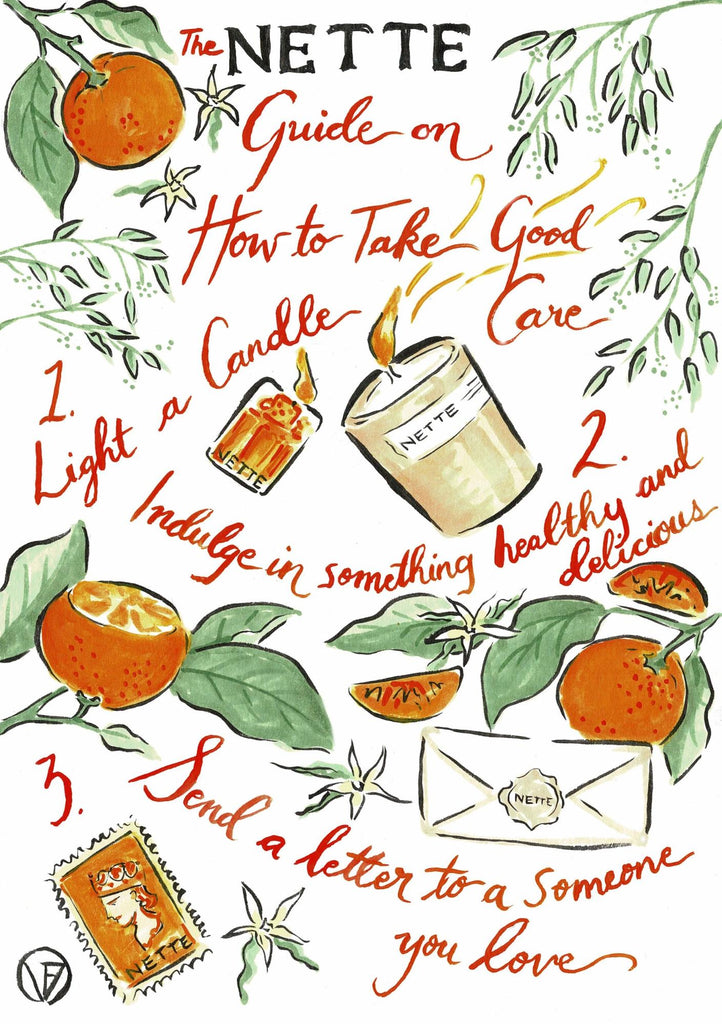 One of the great pleasures in life is a night spent at home, indulging in a few special time-honed practices that always make us feel good. Here are our three favorites as of late.
1. Light a Candle
Tossing our hair up and lighting a candle is our go-to starting point when it comes to relaxing in a meaningful way. Our Take Good Care set is designed to help you do just that – it comes with a 100% silk charmeuse scrunchie created in collaboration with milliner Gigi Burris that's designed to match your chosen candle to a T. 
2. Indulge in Something Healthy and Delicious 
If recent times have shown us anything, it's that health truly is wealth. We like to fill ourselves up with nourishing indulgences that take good care of our bodies and hearts. We've been loving the offerings at Gjusta Goods, which ship all over the U.S. Their honey is amazing. For a little luxury, this set from Roe Caviar is just perfect. Eat in generous scoops on plain kettle-cooked potato chips. We like the ones from Deep River the best. The tea we've been sipping is from House of Waris. And on Sundays, we've been making this beef bone broth from Canal House. Recipe linked here. 
3. Send a Letter to Someone You Love
No, not a text, and certainly not an Instagram DM. This year, we're prioritizing the oft-forgotten art of letter writing. Not only will the process prove meditative, your lucky recipient will be thrilled to receive something in their mailboxes that isn't a bill, flyer, or wedding invitation. Stephanie Fishwick's stationery sets are akin to little pieces of art and Rosie Assoulin's collaboration with Papier is pretty perfect. Bernard Maisner is a classic standby and newcomer Memo Press has the prettiest color palette we've seen.