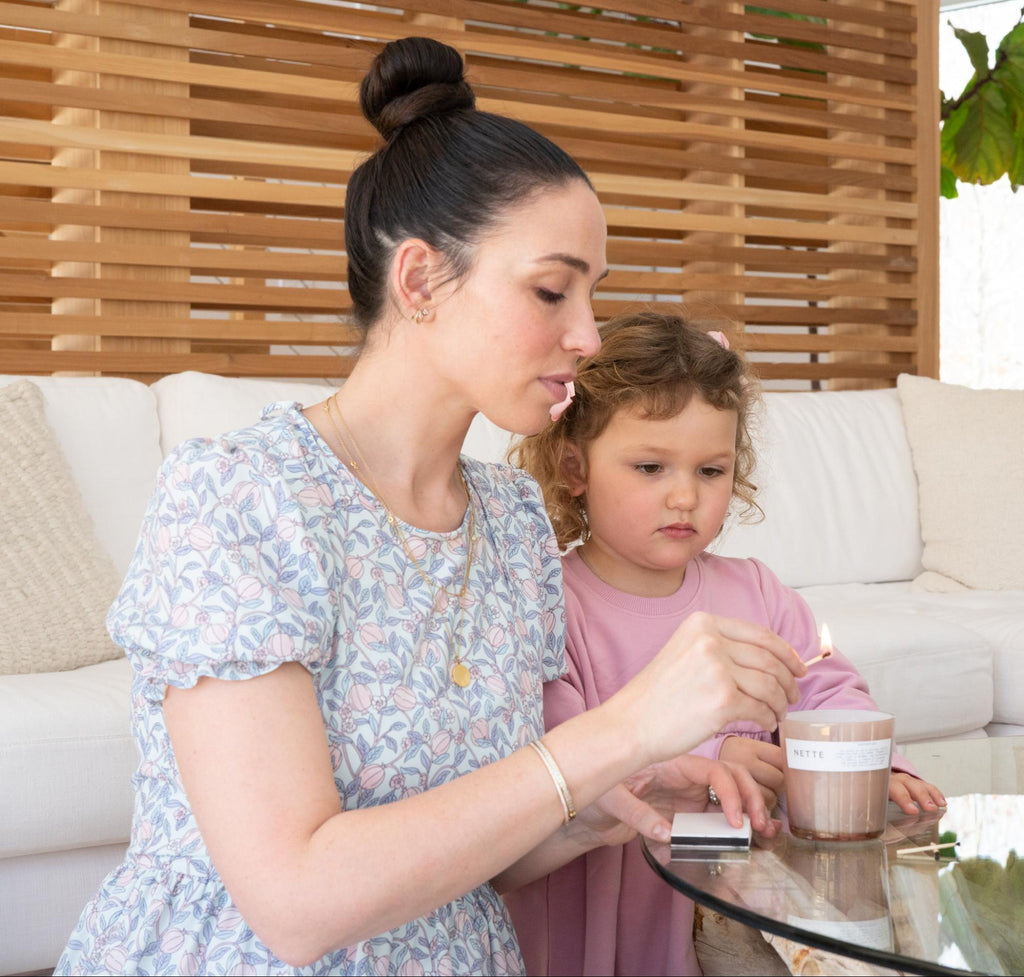 Clean, sustainable products that don't compromise on style or substance are the ultimate luxury in our eyes, so it's easy to see why Saie has become a makeup bag mainstay for us over the past year. Founded by our longtime friend and beauty industry powerhouse Laney Crowell, Saie seeks to be the best of both worlds — a clean and chic makeup brand with sustainable packaging that allows you to do good and look good, too. We've been obsessed since we bought our first tube of Mascara 101 at launch in 2019. Recently, we caught up with Laney to learn more about her journey, the hurdles she's overcome in being a female founder, and her failsafe self-care practices. Read on for a dose of inspiration and be sure to pick up Laney's favorite Nette candle, Another Life. 
For those unfamiliar, please tell us about Saie. 
Saie is a totally new kind of makeup with high-performing formulas that are clean and truly work. Saie makes products that are designed by experts, backed by industry secrets, and made for beauty fans everywhere.
You're a beauty industry vet; how has your past experience played a role in the creation of Saie?
I took everything I had Iearned through working at Estee Lauder, one of the world's biggest beauty companies, and applied that experience to the creation of Saie. Throughout the process, I took a more in-depth look into what I didn't like about makeup: toxic ingredients, photoshopped models, excess waste, and such a resistance to change. Instead, I set out to make that change.
What were the pain points in the beauty industry that you were seeking to solve? 
I wondered why makeup was so far behind. Why was it so difficult to find makeup that was clean and fashionable? Why should women always choose between clean makeup they should buy and the cool makeup they want to buy. I wanted to create products and a brand that gave people the best of both worlds—clean makeup with sustainable packaging that allows you to do good and feel good, too. 
What does "Clean Beauty" mean to you, knowing that it's such an arbitrary term?
At Saie, we define clean as anything that's not bad for you or bad for the planet.
We're obsessed with the full Saie line, but what one product would you recommend to someone trying you out for the first time?
That's a hard one! I'd have to say, Glowy Super Gel. It sold out three times and went viral on Instagram! 
Your latest launch, Sunvisor, has quickly become a go-to for us. Can you share the story of why you decided to create such a special, all-in-one SPF? What is this special zinc you speak so highly of?
Sunvisor was inspired by the new normal of working from home, being socially distant, and not really having a makeup routine. We didn't plan on launching skincare so immediately. Still, our team kept wishing that we had a sheer version of Slip Tint (our tinted moisturizer launched in September) for working out, Sunday mornings, and casual no-Zoom days. Sunvisor is amazing because it is your skincare and SPF in one. It has a super silky texture that leaves a fresh, dewy finish with no white cast or thick quality like most sunscreens. Instead, the high-performing Zinc Oxide goes on totally invisible while still giving you sun protection. I love how efficient it is! It's the only product you need in the morning since it's your face serum, face oil, moisturizer, and SPF in a tube. You can also build on it with Glowy Super Gel if you're in the mood for extra glow.
How do you decide which products Saie will develop? Is there a full launch calendar planned out years ahead of time? Or is it more of-the-moment than that?
Saie was inspired by a conversation I had with my blog's Instagram community (that's where the name comes from, my community "saying" what they wanted), so we always look to our community for inspiration. We have a private Facebook group with over 1,000 members weighing in on what to make next, shades, and even the models we cast.
What's one piece of beauty wisdom that you can share with our readers? 
Glow from within. The most powerful thing you can do in life and in beauty is to feel good.
What has been the biggest challenge you've faced since starting Saie? 
Being away from my team this past year. Thankfully we were still able to work efficiently and accomplish such great things together, but not seeing them for almost a year and celebrating in person has been challenging. I miss them terribly.
Who's your ultimate beauty icon? Dream Saie customer?
Michelle Obama. 
As a female founder, what are some of the biggest challenges you've faced in your entrepreneurial journey?
As a female founder, I have had to work twice as hard to raise money and open doors for myself. It's hard to pick yourself over and over again without getting tired emotionally and physically.
Can you also tell us about a big victory moment that made you pause and celebrate?
When Gwyneth Paltrow invested in Saie, I thought I was dreaming. I still pinch myself.
Founders have to have so much resilience — what are some of the ways you cultivate that quality in yourself?
I grew up playing highly competitive sports and the mental strength you need to have when you're training is the same mindset you need as a founder. Many of my inspirations are athletes whose mental strength is unparalleled, like Serena Williams. In that same vein, the times I'm the strongest mentally is when I meditate every morning, even if it's just for 10 minutes.
You're 80 years old, looking back on your current self — what words of advice, insight, and healing would you offer?
Be present. Be you. Love yourself like a baby.
At Nette, we advocate for taking good care (of yourself and the world around you) — we think founders are probably the most adept at taking care of themselves because they have to be in order to maintain the stamina it takes to run a business. What are your tried and true self-care rituals? 
As a mom of two and an entrepreneur, I have lots of little quick but tried and true rituals. I meditate every morning, try to do 20 minutes of yoga daily, take a walk while I take calls, and drink tons of water to keep my energy up. And at the end of the day, I love a hot bath. I'll light a candle, pour in some CBD bath salts, add a couple of drops of essential oils and close my eyes.