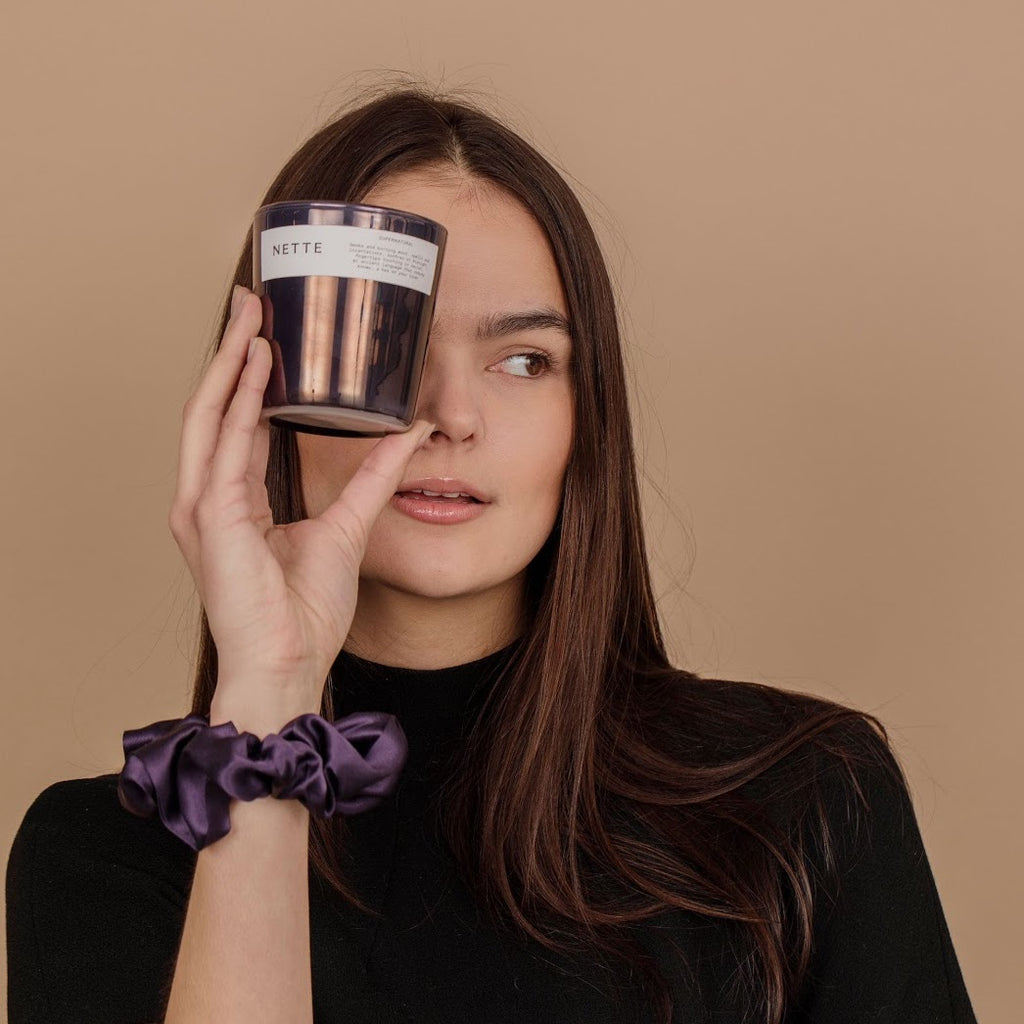 We like to think of Valentine's Day not in the traditional Hallmark-holiday sense with lots of pressure and a singular focus on your significant other, but as a time to take extra good care of yourself and all your loved ones, romantic or not. Giving gifts is our love language, though, so here are a few ideas for yourself, your best friend, your mom, or whoever else is capturing your heart these days. 
Nette Take Good Care Set
We'd be remiss to skip over our candles on this list. They truly are a fantastic gift. If you're looking to wow, our Take Good Care set can't be beat. If you know their scent preferences then you're in a good spot, but if not, we recommend choosing a color you know they'll love. The set  features a candle of your choice, our custom Japanese lighter, and a 100% silk charmeuse scrunchie. And, while this set is on pre-order at the moment, it's the thought that counts…and this can be an excuse to continue the Valentine's Day vibes throughout the month of February. 
A Little Lace
Love Stories lingerie pieces are designed to be as comfortable as they are elegant, and this stretch-lace and satin number is no exception. We're all about embracing a theme, so red is essential on Valentine's Day.
A Lotta Opening Up 
Get to know your S.O. on a whole new level with one of We're Not Really Strangers' purpose-driven card games. Filled with meaningful questions designed to deepen your relationships, this set of cards will certainly up the ante.
A Monthly Delight
Test out the aphrodisiac power of oysters with Island Creek Oyster's monthly club. We like to think of it as date night done right, each and every month. 
A Calming Essential 
We're all about taking good care, and chances are your loved ones are too. Give the gift of zen with a set of well-appointed bath time essentials. We're big fans of everything Jen Atkin creates for The Ouai and these Chill Pill bath bombs are no different. They're tongue-in-cheek, filled with good-for-your-skin ingredients like Jojoba Seed Oil, and infused with notes of jasmine and rose. 
A Wildcard
The way to someone's heart is through their stomachs, we've heard, and this set of truffle-infused hot sauces from Truff are sure to spice things up in the kitchen. Gift this one with caution though, it's not traditional and could backfire. When in doubt combine it with a failsafe.