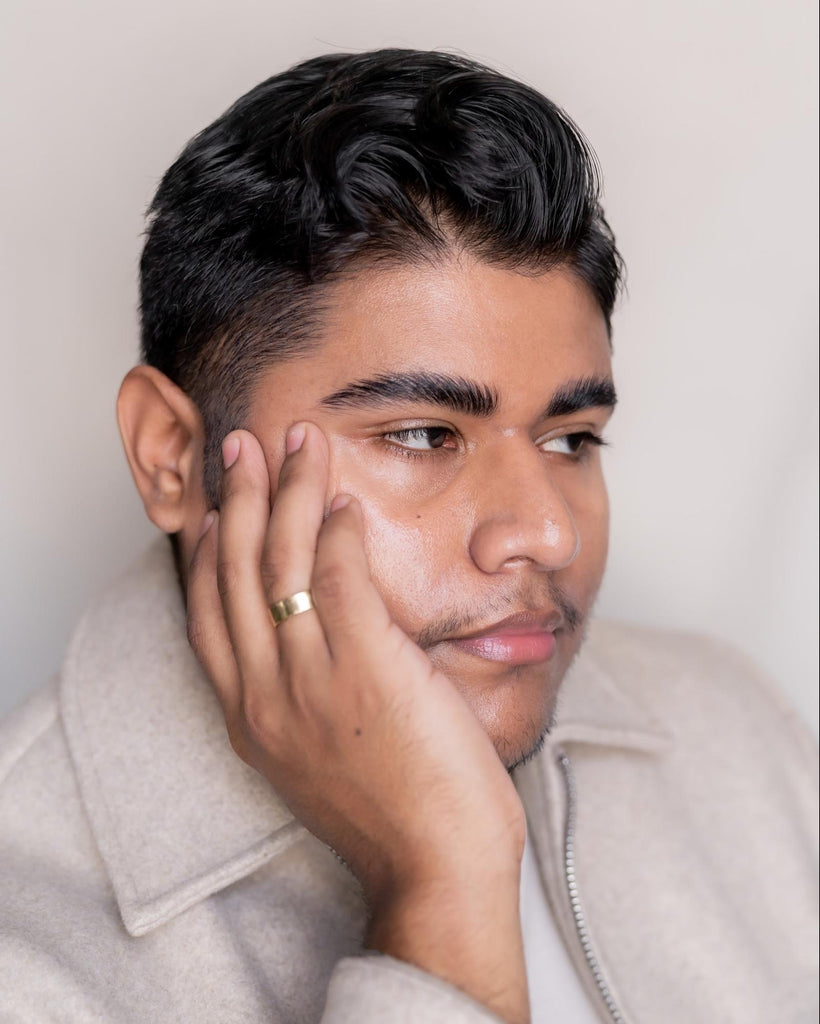 If you're a beauty lover, and you're on Instagram, chances are high that you already know and love our friend Juan Cazares. The ultra-talented photographer (and face!) behind @juanskindiary, Juan has been sharing his one-of-a-kind product photography and failsafe recommendations with his 18K and climbing IG followers since his late teens. We're constantly hitting that "save" button on all of his content and were over-the-moon when we learned he's a big fan of Nette. Needless to say, we had to catch up! Read on to learn a little more about Juan and be sure to give him a follow — your feed will be all the better for it.
Hi Juan! Tell our readers a little about yourself.
I run an Instagram account called @juanskindiary where I post about myself, beauty, and my work. I'm also a beauty product photographer, so I share the process of what that entails on my Instagram, too!
You're one of our go-to Instagram follows for skincare recs. Are there any new products that you can't live without at the moment? 
A product I keep with me at all times and have repurchased numerous times is the Summer Fridays Lip Mask! It's truly one of the best. 
Have you always been interested in beauty products? How did you get started creating beauty-focused content? 
I've always been interested in beauty to a degree — especially fragrance and skincare — but I didn't really get into it until I was around 19. I started off by following some beauty accounts from my personal Instagram, which later inspired me to start my own and document my findings. 
For so long, beauty has been a very gendered space — thankfully though, things are now changing (thanks in part to people like you!). How has this experience been for you?
I'm so happy that the beauty community is starting to become more diverse and open! When I first started out, there weren't many men in the skincare community, but over the years I'm glad that number has grown exponentially. For me personally, it hasn't been too difficult of an experience but I think that's because this community has become more accepting.
Do you prioritize clean products in your skincare routine? What about in your home? 
While I think clean products are a good thing (and a good shift for the industry), I prioritize ethics and overall formulation of a product, rather than it being "clean" or not. Lately, being "clean" has become a huge marketing tactic and I think as long as a brand's values are sincere and true to who they are, that's what matters. 
We know that you've tried a few — which Nette candle is your favorite and why? 
Laide Tomate is definitely my favorite! Growing up, my parents had a garden with tomatoes and many other vegetables so this reminds me of how that smelled after it rained.
What are your top take good care rituals? 
I think prioritizing your mental and physical health over anything will do the most for you in the long run. I like to pamper myself by using a sheet mask, lighting a candle, and watching a TV series. 
What are you most looking forward to in 2021? 
I'm really looking forward to growth and achieving things I could've never imagined possible. 2020 was a huge year for me and I'm hoping this one is even more eventful (in a good way 😅).
Who are your must-follow Instagram accounts and why – we're always looking for a little inspiration for our feed. 
You guys of course (👋 @nette.nyc)! Some of my other favorites for inspo are @carl.ostberg, @moodelier, @oye_diran, and @davidnewtonphotography They're just super creative and create things I could never imagine possible. Since I do photography full time, being in a creative rut is something I'm way too familiar with and these accounts help with that.