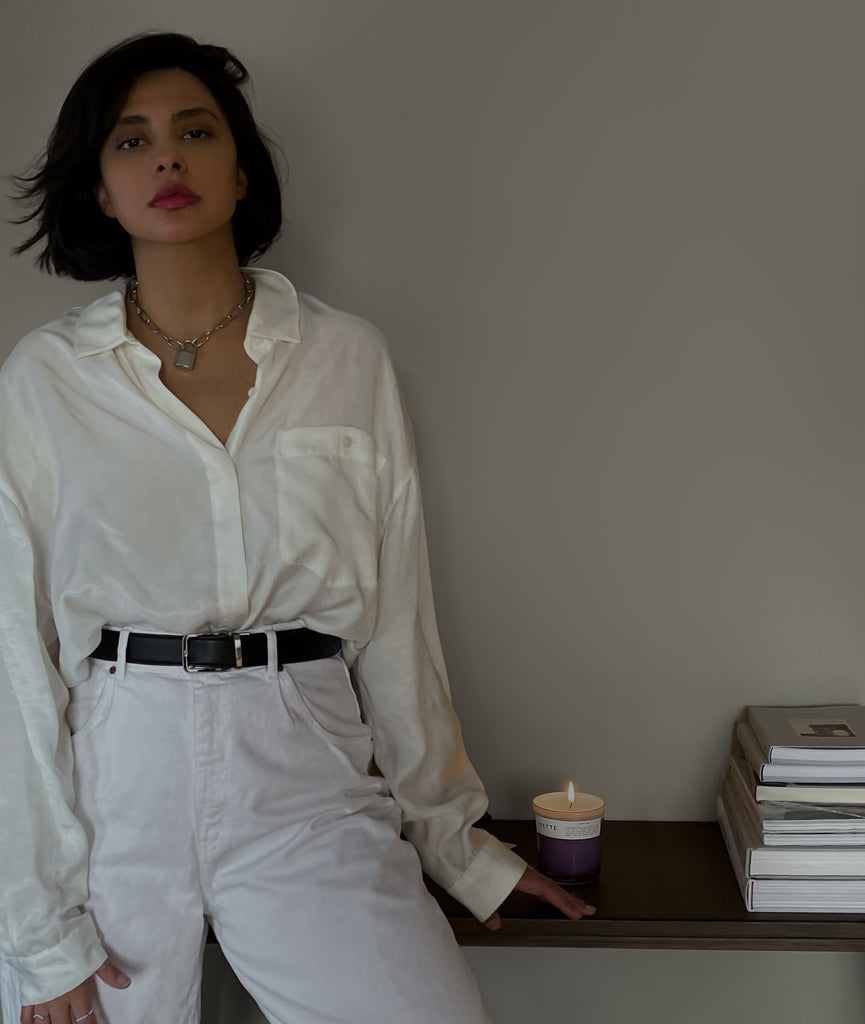 We're on a constant search for inspiration and, during one of our recent Instagram black-hole scrolls (you know the ones!), we stumbled upon Venetia Alia's feed and couldn't turn away. Her naturally lit photos feel authentic, her neutral 'fits have made their way onto our moodboards, and her coffee and matcha pics have led to a few new local discoveries. We recently caught up with Venetia to learn more about her journey (and her self-care tips, of course) — read on to get to know our latest IG crush. 
Hi Venetia! Tell our readers a little about yourself.   
I'm an Indian-American creator based out of NYC, and a shameless cat lady.
Tell us about your switch from architect to content creator. Do some of the same principles apply? 
I had a very diverse education, and architecture was just one part of it. After graduation, I missed that diversity and needed something more than just working in a firm. I started using social media as a concept board for my personal projects, and later as a creative outlet when everything came to a halt because of COVID-19. It kind of just evolved from there. To be honest, they're distinctly different parts of me, and I've yet to find an overlap!
We love your IG bio — you say that you're a "casual pursuer of aesthetic melancholy." How does this impact the lens through which you share content? 
Oh, it's everything. I've always found excitement and beauty in the everyday melancholy, so I seek out moments that evoke the same feelings. Dim, natural light, a messiness to everything, solitude, and a contradictory need for privacy but still wanting to connect with others.
You're rarely without a cup of coffee in hand — spill, who makes the best? And matcha? 
Happy Bones makes a magical oat latte, but they've had to (temporarily!) close due to the pandemic. Cha Cha Matcha is my go-to for that perfect oat matcha.
We always find ourselves saving your Instagrams — whose feeds do you turn to when you're looking for a little inspiration?
My absolute muse is @narrinanatasha — she does her own thing and her authenticity makes everything she creates a work of art. 
You're a super talented photographer — what is your favorite part about this medium? 
The instant ability to document a feeling.  
Tell us about your Nette candle. Why do you like it and how does it fit within your home? 
It's a beautiful, nostalgic scent I begin the day with. It's full of possibility. I can easily imagine what the Lower East Side might have felt like in late spring in the '90s. All the feelings.
What are your top five take good care rituals? 
Be strict about hydration.

Use clean, cruelty-free scents. They bring a different energy into a space.

Yoga and meditation, even if just for ten minutes a day. The stillness and stretching are so grounding.

Put that phone away! Read a book or take a walk in a park/forest/a tree-lined sidewalk. Your eyes need greens as much as your body.

Mute the noise, and anything or anyone that doesn't make you feel like your best self.