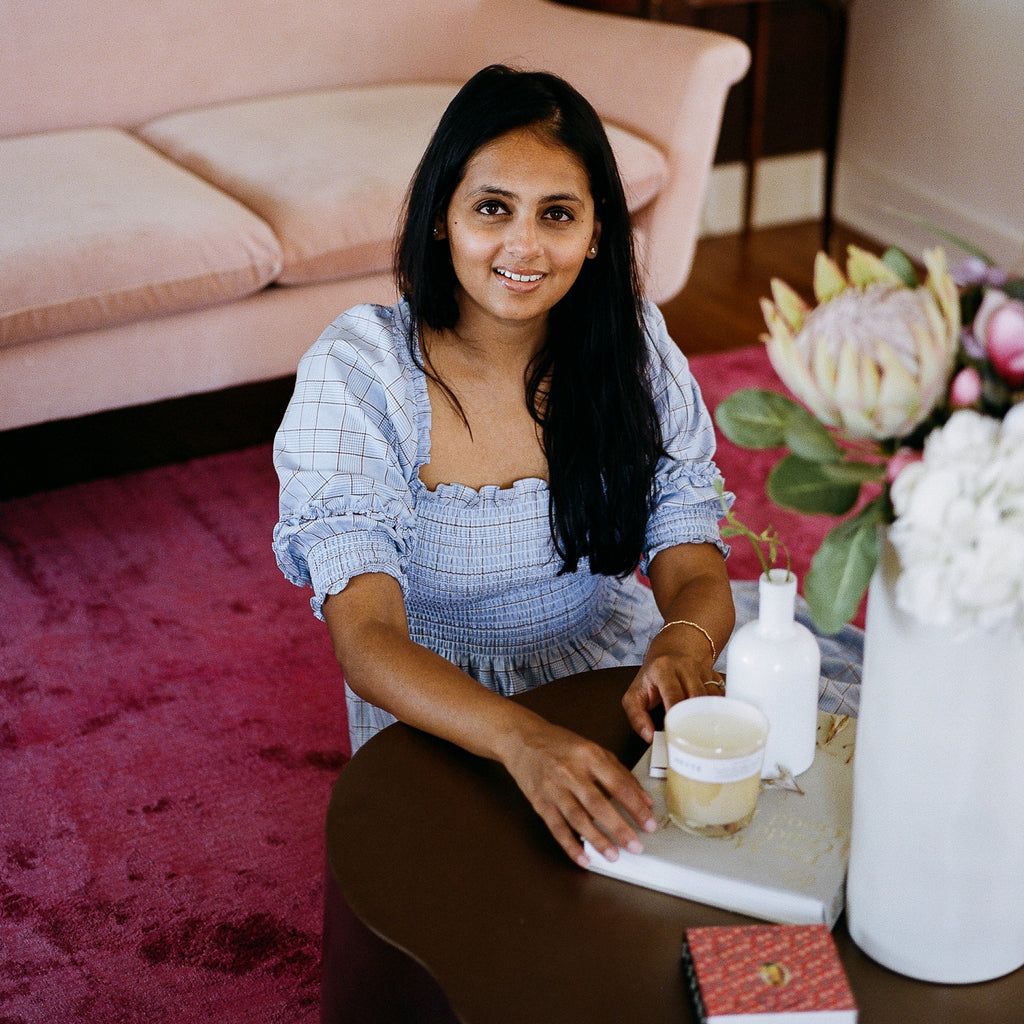 Aishwarya is the brilliant founder of Brightland, makers of what have to be the most aesthetically pleasing olive oils and vinegars on the market. The California-based brand's nourishing, high-quality products are consciously made and come packaged in chic bottles that grace our kitchen counters like little jewels. We sat down with Aishwarya to learn about how she got her start, how she's overcome imposter syndrome, and how she classifies success in the workplace. Read on to get to know Aishwarya and don't forget to check out our most culinarily-minded candle, Laide Tomate, here.  
For those unfamiliar, please tell us about Brightland. 
Brightland is a pantry essentials brand that was founded to inspire joy in simple, everyday moments in your kitchen and champion small American farmers and makers. We are most popular for our hero products which are extra virgin olive oils and fruit-forward vinegars which are all produced in California. 
Have you always wanted to be an entrepreneur or did that bug come later in life? 
No, I actually didn't always want to be an entrepreneur. I wasn't one of those people who had a lemonade stand. I had more of an imposter syndrome — why me, or could this ever be me, or I'm not enough. 
Brightland started from a really personal place. After I started to cook more, I noticed I was getting stomach aches and they were due to the cooking oil I was using. That set me down a research path to learn that most of the olive oil that Americans consume is rancid or rotten. I got really inspired by this problem that needed to be solved. That was the genesis for me to realize that I wanted to do something about it. Brightand didn't come from a place of me wanting to become an entrepreneur. 
We read that you wanted to describe your olive oils like wine and market them like beauty products — can you tell us more about this? 
I think that the beauty industry does an amazing job of bringing emotion and benefits into everything that they create. Olive oil and vinegar are incredible superfood essentials that aren't getting the attention that I thought they deserved. People weren't really talking about the benefits or the emotional aspect of these products — for me, that was super important. 
From a wine standpoint, the different olive varietals, regions, terroirs, and how the olives are cultivated all end up impacting how an olive oil will taste. I thought there was so much nuance and subtlety there, it reminded me of wine. 
Prior to launching Brightland, you were in the tech and venture capital world – what were you doing and how was the transition? 
I spent about a decade in marketing and communications at tech companies and at a venture capital firm. I think that my three biggest takeaways — that I apply every single day — are being comfortable with the uncomfortable, being able to be super nimble and fast, and being really scrappy. 
As a female founder, what are some of the biggest challenges you've faced in your entrepreneurial journey?
Sometimes it's my own inner critic telling me, "Hey, you can't do this," or worrying about what other people will think. I'm always trying to block out the noise. 
Ultimately, I feel like female founders have this unfair labor put on them to be these micro-influencers or founder-influencers who post on their social media all the time. You just don't see that with men — even men who have consumer brands. They're not posting — they're building their businesses. That's something that I'm tackling and unpacking at the moment. 
Can you also tell us about a big victory moment that made you pause and celebrate?
It's when I see our team clicking in such a beautiful way. Whether it's a launch that everyone has been working towards, a project that everyone has a hand in, or even just a simple brainstorm conversation, those moments are the biggest wins. 
Founders have to have so much resilience--what are some of the ways you cultivate that quality in yourself?
I think it comes from understanding and recognizing privilege. It's understanding that getting to do something like this is a privilege that keeps you in check. 
At Nette, we advocate for taking good care (of yourself and the world around you) — we think founders are probably the most adept at taking care of themselves because they have to be in order to maintain the stamina it takes to run a business. What are your tried and true self-care rituals? 
Putting the phone away (especially at night). Spending time cuddling with my dogs and going on long walks with them (without the phone, again!). Reading fiction and literature that has nothing to do with business. 
Who would your dream customer be? 
Cleopatra. 
You've got oils and vinegars — what is next for Brightland? 
Products and editorial and experiences that bring joy to simple, everyday moments.