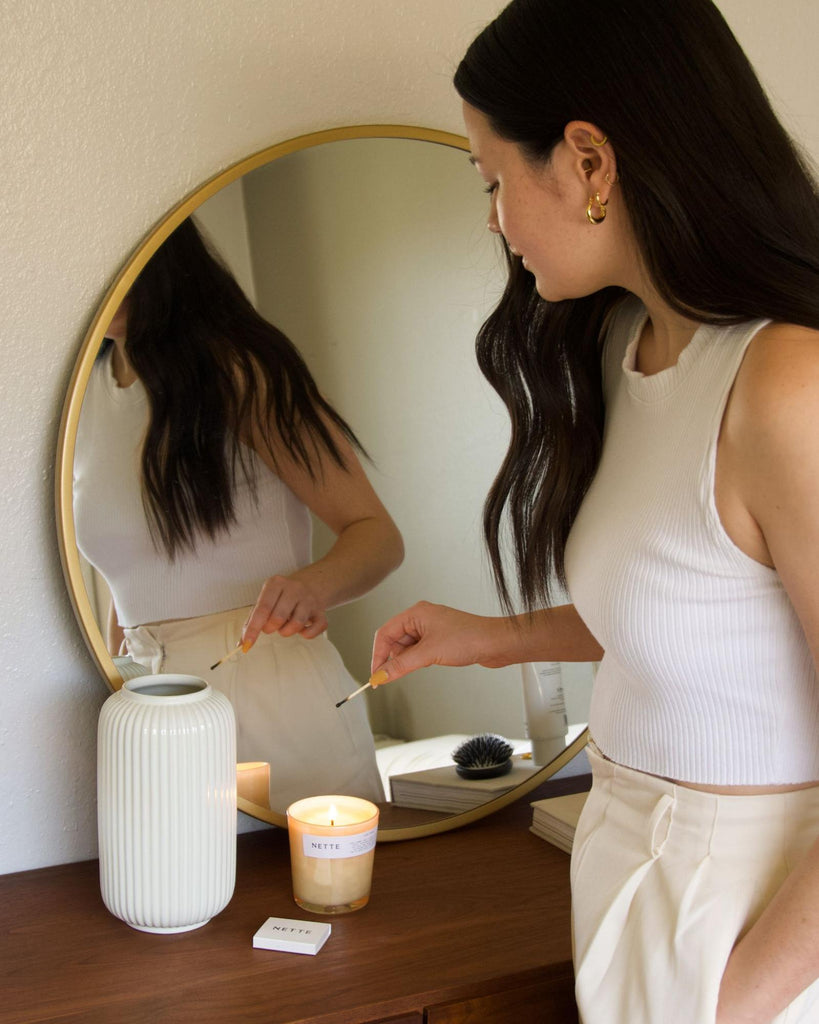 Recently, we caught up with one of our favorite beauty gals, Rachael Fuss, the brilliant eye behind @skincarestandard. She's creating some of the most relatable, chic, and inspiring beauty content from her home in Las Vegas and, anytime we need a product rec, we head straight to her Instagram. Read on to get to know Rachael and don't forget to check out her go-to Nette candle, Laide Tomate. 
Hi Rachael! Tell our readers a little about yourself.
Hi! I'm a freelance content creator based in Las Vegas. I primarily chat about skincare and beauty, but love to occasionally sprinkle in some lifestyle, home, and fashion content – anything that makes me happy!
Have you always been a skincare and beauty enthusiast? When did your interest in this world first come to be? 
My first foray into skincare was when I was around 12 — my skin was freaking out and my mom took me to the Clinique counter and put me on their three-step routine. I used those products religiously for almost a decade and they stripped my skin barrier more than anything. 
In my early twenties, I was incredibly self-conscious of my breakouts and began searching the Internet for the best full coverage foundations and concealers out there. Somewhere along the way, my research on full coverage makeup and techniques to make a full face stay put all day shifted to how to better prep my skin for makeup, and eventually, how to treat my skin concerns with the right products and ingredients. I started testing different products and began following several skincare accounts on Instagram to see what was working for everyone else, and then I eventually decided to start my own to document my own skincare routines. 
And here I am!
Who are your favorite beauty icons? 
My mom. I tried really hard here to think of your typical beauty icons — Marilyn Monroe, Audrey Hepburn, YouTube beauty gurus — but my perception of beauty growing up was largely shaped by my mom. She was a diehard Clinique fan (still is!) and would give me a lot of products to play with when I was younger. I always tried to recreate her looks!
Tell us about your Las Vegas, we imagine it's worlds away from gambling and neon nights. 
Well, I do love to hit the blackjack table from time to time! But aside from the casinos and endless partying, it's a beautiful place. I'm a big fan of desert landscaping and mid-century modern design — there are a few great pockets of mid-century modern neighborhoods that I love to drive through and admire. We're also surrounded by Red Rock Canyon and Mount Charleston, both of which have amazing trails – when the weather permits, I like to escape out there.
Where do you find inspiration?
Lately, my home. While working from home this past year, I've taken the time to transform my small apartment into a more comfortable space. I'm constantly moodboarding and hunting for vintage pieces. I like to capture a lot of my beauty content in a lifestyle setting – I don't like when products look out of place or a photo seems unnatural – so I love playing with my home decor and beauty products until they fit together. Of course, I find inspiration through the talented creators I follow on Instagram, as well.
What are your favorite skincare brands of late?
I'm really into Youth To The People and Farmacy lately (all the time, actually). With the weather getting warmer, I'm constantly reaching for Youth To The People's Superfood Cleanser, Clean Caffeine Energy Serum, and Superfood Air-Whip Moisture Cream. Farmacy just launched Filling Good, a creamy hydrating and plumping serum, that I'm loving in my night routine. And I'm really into The Rich Cream from Augustinus Bader right now — I love a good luxury cream, and this one is real good.
Tell us, what are your five take good care rituals?
Set aside time for your skincare routine and take your time. Slathering on serums and creams has become a ritual for me, and I like to take it slow — it's my way to reconnect with myself and wind down after a long day.

Light a candle. I love lighting candles during my skincare routine, or when I'm relaxing at home by myself. I choose a scent that will set the mood and take a few minutes to really indulge in the notes.

Rest when you need to. I really overworked myself this past year by taking on too many projects at once, and it took a toll on my physical and mental health. I'll get to things when I get to things.

Do something nice for yourself every week. I like to buy myself a fresh bouquet of flowers every week – it brings me joy.

Wear an adequate amount of sunscreen, every single day. It's the most important thing you can do for your skin!
What do you love about your Nette candle? 
Laide Tomate is such a stunning scent. I love burning it on a hot afternoon, or while I'm cooking a nice dinner — it sets such a relaxing mood. And I love how beautiful the vessel is! I'm actually looking forward to burning through it and upcycling the jar.