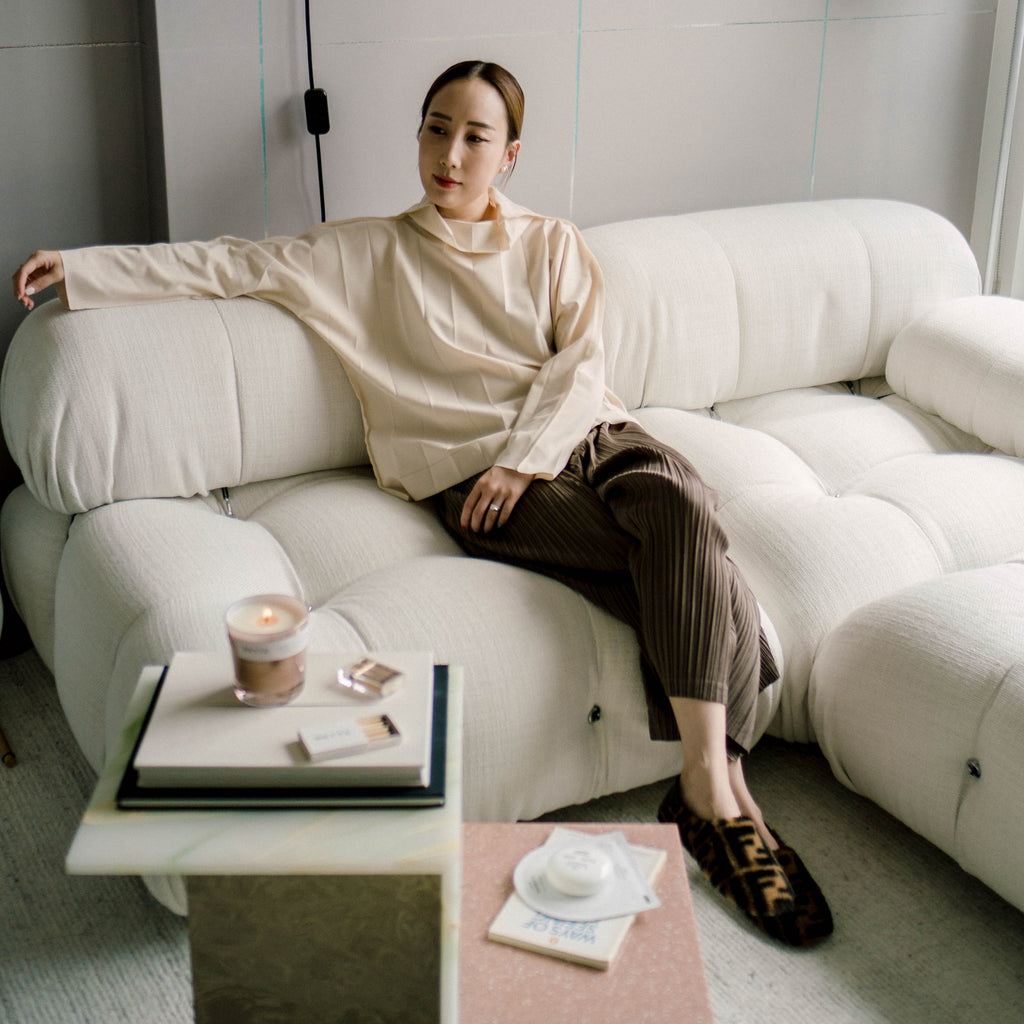 We've known Erica for years and have loved watching her bring Superegg to life. For those unfamiliar, Superegg is the ultra-chic, clean, and vegan skincare brand you've been seeing all over Instagram, inspired by the power of the egg. Today, Erica's sharing her inspiring journey — which she calls, "a whirlwind of excitement, obstacles, and discovery." Read on to get to know the super-cool founder of Superegg, and be sure to check out her Nette favorites. 
For those unfamiliar, please tell us about Superegg.
Superegg is a New York-based clean, vegan, and cruelty-free skincare brand that works to balance and power the skin's well-being. Engineered through innovative technology, we've formulated to match an egg's nutritional values for the skin through uncompromising high-quality vegan ingredients. As a result, our plant-based collection provides immediate and profound, lasting rejuvenation of the skin.
You cut your teeth in the design department at Barneys New York and have been a content creator for quite some time; when did you decide to start Superegg and why?
While working for several digital agencies and during my 6-year tenure at Barneys, my social presence on Instagram grew to what it is today. I think there was a great interest in my career at the time, as there weren't many people who were both content creators and corporate full-timers. So Instagram and my blog were my creative outlets. Even though I was headfirst in giving my all to the company, I also loved documenting my travels, photographing my favorite spots in the city, and creating content for brands outside the multi-retailer space. My two jobs worked together in synergy and gave me insights into both worlds, which allowed me to grow within the organization. I was working 24/7, but I loved it so much. My career and role at Barneys were always my priority, but I knew something else was brewing deep down inside. My dream was to create a brand and community to pour my heart and soul into and share with others. Having to wear so many hats with an entrepreneurial spirit within the corporate realm has prepared me for a founder's life. I am incredibly thankful for all the experience I've had before starting Superegg, whether that be working within crazy deadlines, learning the structures of different companies, leading a team, or all of the valuable relationships I've built along the way.
Tell us about the experience of launching the brand – how did you do the beautiful branding? How did you decide which labs to work with? What was the product formulation process like?
We worked on Superegg for several years until its final debut. The original plan was actually to launch in Spring 2020; however, due to Covid, we had to delay it until the Fall. Covid had impacted the entire supply chain. Everything was unpredictable, and it was hard to account for that. The whole process had been a whirlwind of excitement, obstacles, and discovery. 
The branding was executed by Why Not Smile, my husband's creative consultancy. With his expertise in branding, design, and experience working with clients in the beauty industry, we created something that brought both of our visions together.
Our R&D is with the top labs in Korea. I truly value our partnership as their professionalism and ability to deliver the best outcomes are unsurpassed. However, the product formulation process is still quite intensive as there are many restrictions and complications. Developing a product with the most beautiful sensorial experience, with ingredients that produce the most efficacious results, without ingredients that could be potentially irritating to the skin or harmful to the environment, in the most aesthetic, functional, yet sustainable packaging available to you as a small business, can be a more significant challenge than most think.
We hear you went to esthetician school prior to starting your line — why did you decide to do that?
Admittedly, I was pretty confident in the amount of knowledge I thought I had about skin and skincare. However, when we started developing formulations for Superegg, it made me aware of how much I didn't know. No matter how much I read up on ingredients, watched educational videos on YouTube, and listened to industry professionals' podcasts, I hit a wall. There is so much information on social media, and it was very confusing because I didn't know what to trust. 
That's when I applied to Aveda Institute New York to become a licensed esthetician. Through 600 hours of training, I gained a more professional perspective on caring for the skin and learned how to care for all different skin types, not just the kind I had. I still try to educate myself every day.
Your IG handle is @eggcanvas and your skincare line is called Superegg — tell us, what is so special about eggs to you?
To me, eggs symbolize birth, and I've always believed each new day is an opportunity to reset and start anew. They are known to represent balance, which is at the core of Superegg. Dalgyal, which means egg in Korean, is also a nickname from childhood, for my face shape was said to resemble an egg. The name "Superegg" actually stems from a particular shape popularized by Danish poet and scientist Piet Hein to describe a self-balancing oval-like volume that rotates around a curve to create a superellipse, a unique symmetrical ellipse.
Eggs are also widely known for their nutritional values in Asian culture and were often used as part of self and familial beauty rituals. I've grown up observing my grandmother and mother apply different parts of the eggs onto their faces to care for their skin, at intimate family gatherings at home, or when we would take trips to the Jjimjilbang, aka the neighborhood Korean sauna. So eggs are deeply rooted in culture, traditions, and connections with others, which all work together to help you build a holistic sense of well-being.
Tell us a little more about the egg, yolk, and shell duplexes. 
When we dived into the egg's different aspects, we realized how each part of the egg—the egg white, yolk, and eggshell membrane—contains unique properties that each specifically benefit the skin. This informed our decision to create egg duplexes, where each part features its powerful plant-based equivalent per egg component. We honored and valued the ingredients and history of the egg; however, we wanted to develop our key ingredients using the newest and most innovative ingredients. This truly makes it a Superegg.
Egg Yolk contains ingredients such as Lecithin, Collagen, Vitamins, Amino Acids, Fatty Acids, and Minerals that hydrate, brighten, and nourish the skin with many antioxidants. We've created YOLK DUPLEX™ (Egg Yolk Duplicated Complex), which we've engineered to duplicate these vital egg yolk nutrients with 24 high-grade vegan ingredients.
Egg White contains Albumin, Collagen, Vitamins, Amino Acids, and Minerals to firm, lift, and balance the skin. WHITE DUPLEX™ (Egg White Duplicated Complex) contains 22 high-grade vegan ingredients to replicate these nutrients, including Tremella Mushroom, Soy Protein, and Rice Extract.
Eggshell Membrane contains Collagen, Protein, Elastin, Amino Acids, and Minerals, and has age-reversing abilities, and can smooth skin texture and reduce inflammation. SHELL DUPLEX™ (Eggshell Membrane Duplicated Complex) contains 18 high-grade vegan ingredients, including Syn-Hycan, Lupine Protein, and Antarcticine C.
Why was creating products that are vegan, clean, and cruelty-free so important to you? 
Despite my love for eggs, I felt strongly about making our products vegan due to the rise of animal and egg-related issues, such as allergens, diseases, and preservatives. This has reinforced our commitment to providing a completely vegan product that honors the egg and its properties in a friendlier eco-conscious way.
For us, clean and cruelty-free means striving to make a positive environmental impact everywhere we can. In making conscious choices with our production process, sourcing of our high-quality ingredients, and how fair trade practices are executed, we are genuinely committed to creating clean, sustainable products that are healthy for the planet and all of its inhabitants. To build transparent and environmentally responsible beauty rituals, we are taking tangible steps towards our commitment to preserving the environment. Beyond necessity, it is a source of innovation and a driving force of creativity for us.
What's your ultimate hope for Superegg — how do you hope that your products make customers feel?
I hope our line of thoughtfully designed and formulated, efficacious products created with meaningful intention helps you achieve healthy, radiant skin, which helps your overall well-being. In addition, I hope to cultivate a strong community where we can come together for the greater good. Superegg helps empower and encourage people to feel beautiful inside and out, bringing happiness to their everyday lives. I hope Superegg allows us to slow down and enjoy the small joys in life, even if it is as simple as cleansing our skin or taking a minute to celebrate ourselves with our daily rituals.
We're obsessed with your photography content — where do you find inspiration? 
Thank you so much! Inspiration comes at any time, anywhere. It can be something far and wide, like traveling to a new country for the first time, or something entirely within reach, like having a blissful afternoon coffee with a loved one, or seeing the golden light at 5pm. I try to find beauty in the everyday.
At Nette, we advocate for taking good care (of yourself and the world around you) — we think founders are probably the most adept at taking care of themselves because they have to be in order to maintain the stamina it takes to run a business. What are your tried and true self-care rituals?
I couldn't agree with you more, but it isn't always the case! We all have our not-so-good days. I've learned better ways to approach this better over the years—I slow way down to take a moment for myself. I make myself a beverage (usually tea, but have been really into matcha and drip coffee lately!), put on a sheet mask, light a Nette candle, do a few yoga stretches, or close my eyes and simply think positive thoughts. I believe in the phrase, "this too shall pass (time heals everything)." I know I need to be in a good place to help others be in a good place.
What's next for Superegg — we see a few exciting products "coming soon" on your site!
We are continuing on our mission to create thoughtful, innovative products that push science and nature to bring comfort to daily rituals and help people look and feel their best. We have a few very exciting launches in the works and can't wait to share them with you.
What's your beauty philosophy? 
Beauty is about the energy that emanates from within oneself. The kindness and empathy you show yourself, as well as others around you, shows one's true beauty.