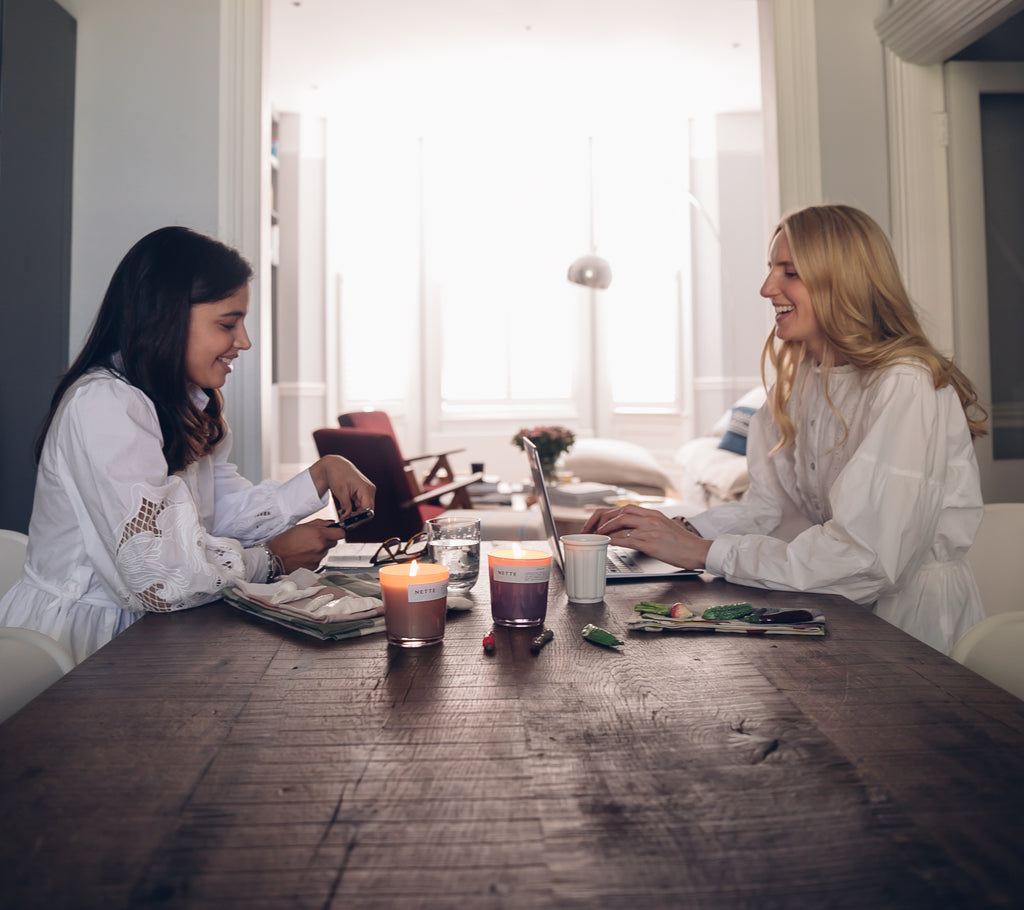 There's something to be said for making every moment count, even the littlest ones. If there's anything the past couple of years has taught us, it's the importance of celebrating the everyday, and a fantastic, fun tablescape is one of the ways we bring a little extra something to our mealtimes. It's little wonder why we're so enamoured with Cloe Bueso and Sophie Elliott, the founders of The Sette. Designed to help you curate a perfect tablescape, The Sette is an online store filled with the most beautiful — and practical — table toppers around. We recently had the chance to catch up with the duo — read on to get to know them and be sure to check out their favorite Nette candles, Spring 1998 and Another Life.
NETTE: You have both had varied careers in the creative industries. What do you love about the creative/ fashion industry? 
CLOE BUESO: I love how it can be so varied and exciting. There's always something new to learn. I also love meeting all the other creatives from different backgrounds that work in the industry.  
SOPHIE ELLIOTT: I love seeing creative ideas come together. I love the collaborative side and I really like meeting people from all walks of life. 
NETTE: Tell us a little about your careers. 
CLOE BUESO: I started off working with my family, in our family business. We manufacture textiles for various sportswear brands. This led to pursuing a master's degree in Fashion Brand Management. Upon graduation, I met Sophie and had the opportunity to work with her before we created The Sette. 
SOPHIE ELLIOTT: After graduating from Parsons in New York, I came back to London and worked at Burberry. It was a great experience and made me realize I'm better suited to smaller companies. I left and worked with Venetia Archer helping her launch Ruuby before starting a communications agency (specializing in fashion and lifestyle/interior), which is where I met Cloe, which led us to The Sette! 
NETTE: How did the idea for The Sette come about and why did you decide to start it?
CLOE BUESO: When I first moved to London, I quickly realized there weren't many shops that catered to homeware that could be used in both a relaxed and formal manner. I wanted to be able to invest in pieces that would be long-lasting. Sophie and I created The Sette as a rental tableware company which, during the past year, shifted to become an online shop. 
SOPHIE ELLIOTT: We felt there was a gap in the market for a creative curation of products that can be used both every day and for formal occasions, that are fun and different but also that stand the test of time. We wanted to offer something that felt relaxed and not cookie cutter.
NETTE: Where did you learn the art of a beautiful tablescape?
CLOE BUESO: I definitely took inspiration from my mother. Special holidays always required special tablescapes. My parents are constantly hosting friends and family. My mother always took me with her when she would go homeware and tableware shopping which I loved. 
SOPHIE ELLIOTT: Our moms both love entertaining and have such a great selection of pieces themselves. My parents always have friends staying or people coming for meals and my mom takes the time to lay a nice table whether we are alone or with guests. She also often bought pieces on her travels, a habit I definitely picked up from her. 
NETTE: When dreaming up new designs where do you tend to start and where do you source inspiration? 
CLOE BUESO: We take inspiration from our everyday lives. We love spending time with our family and friends -- always making sure that the moment is fun and relaxed. 
SOPHIE ELLIOTT: Inspiration comes from the everyday -- we like making something that's so simple feel fun and unexpected. 
NETTE: How do you see the company evolving
CLOE BUESO: We definitely want to invest in more name brand pieces. We would also love to create more exclusive pieces for our clients. 
SOPHIE ELLIOTT: We would love to continue growing internationally, grow the team, and continue to push ourselves creatively. 
NETTE: Tablescaping has become such an extension of people's fashions and tastes now, why do you think this is and what started the trend? 
CLOE BUESO: It's another medium for people to be creative. I think COVID really pushed this as we were all home-bound and could not dress up for the usual parties and events we were used to attending. Tablescaping became the perfect creative outlet for people -- it brightens the mood during mealtimes in the same way dressing up to go out does. 
SOPHIE ELLIOTT: It's such a visual thing and another way to express your personality so it feels like such a natural extension to fashion. COVID definitely helped speed things up -- everyone was looking for ways to bring more joy into their homes. 
NETTE: What design approaches do you take in your own homes? 
CLOE BUESO: I like a cozy home -- I always want my home to feel welcoming, warm, and relaxed. 
SOPHIE ELLIOTT: Quite similar to The Sette in that I like a timeless look that I won't get bored of easily but I also like slightly quirky pieces that are unique. I love subtle surprises around the house!  
NETTE: We're big proponents of taking the time to take care of yourself – what are your top five favorite ways to take good care?
CLOE BUESO: I love exercising. I strength train and attend classes. It's a good way to keep myself healthy and socialize. I also love getting a manicure and a good massage. More importantly, just taking time off and sleeping well. 
SOPHIE ELLIOTT: I love a good bath and a face mask, Barbara Sturm and Skinceuticals make the best clay masks. I also love massages and do quite a lot of exercise. Even just reading a good book is a great way to switch off and give yourself some down time. 
NETTE: Can you please list out your holy grail products and tell us how and when you use them? This can be from beauty, wellness, interiors, and whatever else you swear by!
CLOE BUESO: I love Dr. Sam skincare products. I swear by sunscreen everyday as well. Lately I have also been including collagen in my diet. I have seen a massive difference in how quickly my hair and nails are growing. 
SOPHIE ELLIOTT: Vitamin C by Skinceuticals is hands-down the best product I've ever used. I love Westman Atelier makeup, it's quite natural looking and also made from natural ingredients. Dior makes an amazing lip gloss that is perfect for everyday, and I love Heliocare sunscreen. Now that I know more about sun damage I've become quite obsessed with protecting my skin. 
Do you have any tried-and-true rituals that help you stay grounded and happy?
CLOE BUESO: I fly back to Honduras at least twice a year which helps keep me grounded. Every time I come back to London I feel that much more happy and grateful to live in such a beautiful city with so much culture and acceptance. 
NETTE: London is where you hang your hat—can you give us your favorite stomping grounds?
CLOE BUESO: Anything to do with the arts and music, I'm there! I love going to the Royal Opera House and the Open Air Theatre in Regents Park. I live in Marylebone so I always have fun going to Clarette, Taka, AOK, and Chiltern Firehouse for a drink. 
SOPHIE ELLIOTT: I love very local spots. My favourite is Oliveto on Elizabeth for a casual dinner -- any of the Olivo restaurants in Belgravia are amazing and we have been going for years as a family so they feel like home. I love Pavilion Road -- Granger does the best breakfast, it has cute shops and a nice neighborhood vibe. I also really like Cafe Colbert. 
Bar de Pres is great if you want something trendier -- their tuna literally melts in your mouth, and I like Maison Francois, the interior is amazing. Sally Clarke's shop and restaurant in Notting Hill are also great.