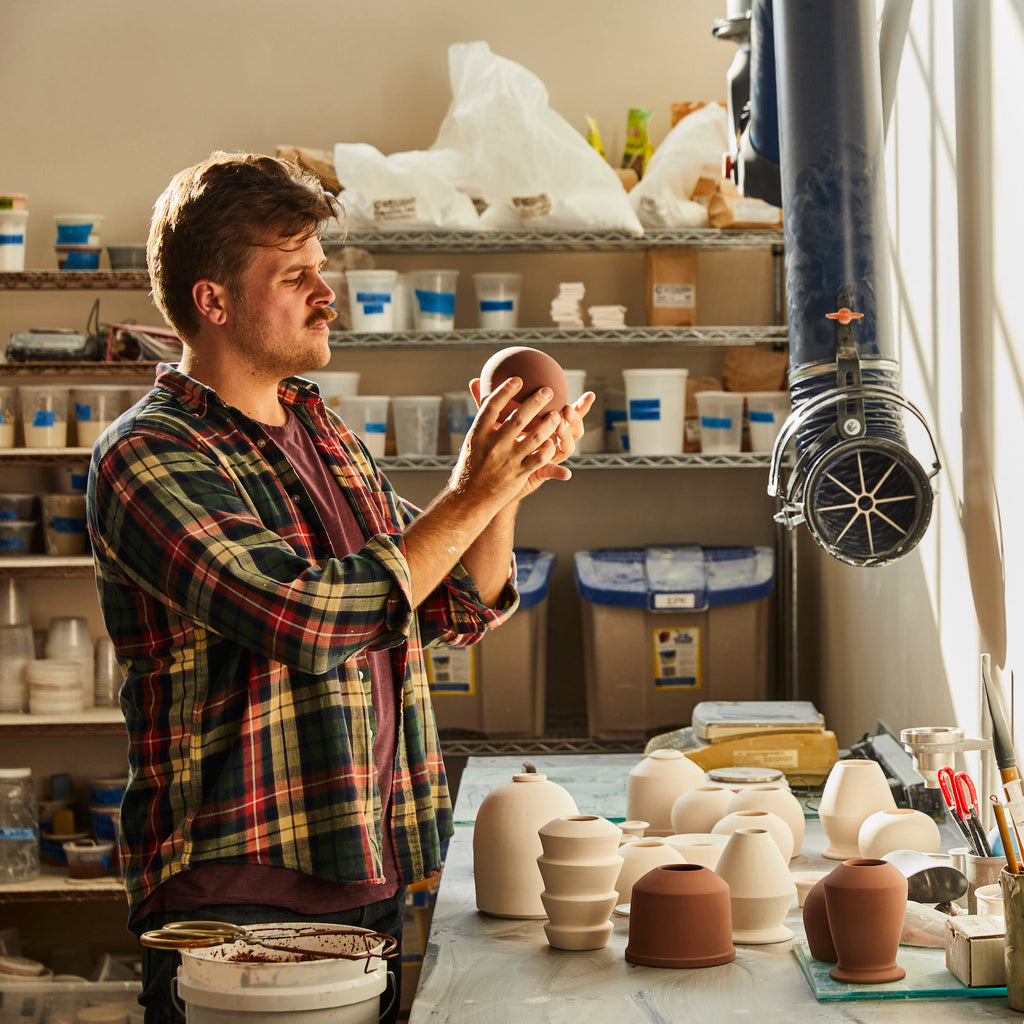 For our newest collection, we're over-the-moon to introduce all-new vessels for the first time since our launch. We've teamed up with one of our favorite ceramicists to bring our new look to life. Felt+Fat specializes in ceramics for modern life and they execute their vision from a beautiful studio in Philadelphia. Recently, we caught up with Nathaniel Mell, Felt+Fat's incredible founder, to talk all things ceramics. Read on to get to know him and be sure to check out his handiwork in The Delicious Collection. 
Tell us, how did Felt+Fat get its start — have you always been interested in ceramics?
Felt+Fat was born In 2013 when chef Eli Kulp asked me to design a custom plate for his soon-to-be restaurant High Street on Market in Philadelphia. I had been working as a server and dabbling in ceramics after graduating with a focus in Glass from the Tyler School of Art in Philadelphia. 
That was the start, but where we are today is the work of many people besides myself. We have an amazing team of about 15 folks, each one bringing different skills, backgrounds, and ideas to the table. Felt+Fat is the sum of many important parts.
What's your favorite kind of project that Felt+Fat takes on? 
Collaborations with other creatives are the most fun, they allow us to lean on the skill and expertise of our full team, from our amazing materials tech, Lauren, to our mold maker, Griffin, to our lead glazer, Chris. Bringing the energy from another creative into our space really changes the dynamic and lets us try something new which can be daunting and scary but is very rewarding when it works out. 
There's a wonderful alchemy involved in the glazing process — can you tell us more about that? 
You could spend your whole life just studying glazes (and some folks do!). A new glaze usually starts with some inspiration; a finish seen somewhere else, a variation on something we've done in the past or just something totally out of the blue! Next comes research, often begun by digging through open source recipes on Glazy.org (an amazing website) or just asking around the community (ceramicists are generally very open and love to talk shop). After that, it's sourcing the right materials and then loads of tests of recipes, application, and firing techniques. New glazes are a lot of fun but A LOT of work.
Tell us about the glazes you developed for Queen, Chai Milk, Sunday Chess and Fete — why are they so special? 
This new series of glazes was developed for Nette from the ground up, as opposed to a variation on one of our old recipes. We had been looking for an excuse to dive into some more stoney, variegated glazes so when Carol approached us with her ideas, we jumped at the chance! After hundreds of variations and trials, we are incredibly pleased to have landed on a series that feels like something you would just run across in nature, the finishes feel very stoney and the color palette goes right along with that feeling.
Where do you find inspiration?
I very much feel that what we do is the result of those that came before us and an amalgamation of the visual language being developed today.
Do you have any ceramic heroes in the field?
I'm incredibly inspired by a vast swath of ceramicists today and while there are a lot of individual artists I could think of, I really like to point out those who further the field as a whole. The development work of Rose and Matt Katz of @ceramicmaterialsworkshop and Derek Au of @Glazy.org has been indispensable to the technical knowledge of the community. The work of folks like @fireclaytile and @eastforkpottery are setting new benchmarks for ethical business standards and cannot be overlooked. And finally, hubs of ceramic community like @theclaystudioPHL here in Philadelphia create important opportunities for artists through residencies, shows, and their work exchange programs (where I got my start).
What's your most favorite way to reuse a Nette vessel? 
Succulent planter! Just throw some stones in the bottom for drainage, get a little soil and plop a happy plant friend inside! 
At Nette, we advocate for taking good care (of yourself and the world around you) — we think founders are probably the most adept at taking care of themselves because they have to be in order to maintain the stamina it takes to run a business. What are your tried and true self-care rituals? 
Good food, quality time with loved ones, and nature! I owe most of my healthy habits to my incredible wife, Katherine. We make plant-based meals together for nearly every lunch and dinner of the week which is a wonderful gift.  I read out loud to her several evenings and mornings every week (Cocktail + Read or C+R is our favorite Friday post-work ritual and our current book is The Count of Monte Cristo). And finally, with her I learned how to make more time for getting out into nature (we have at least one good hike a week).