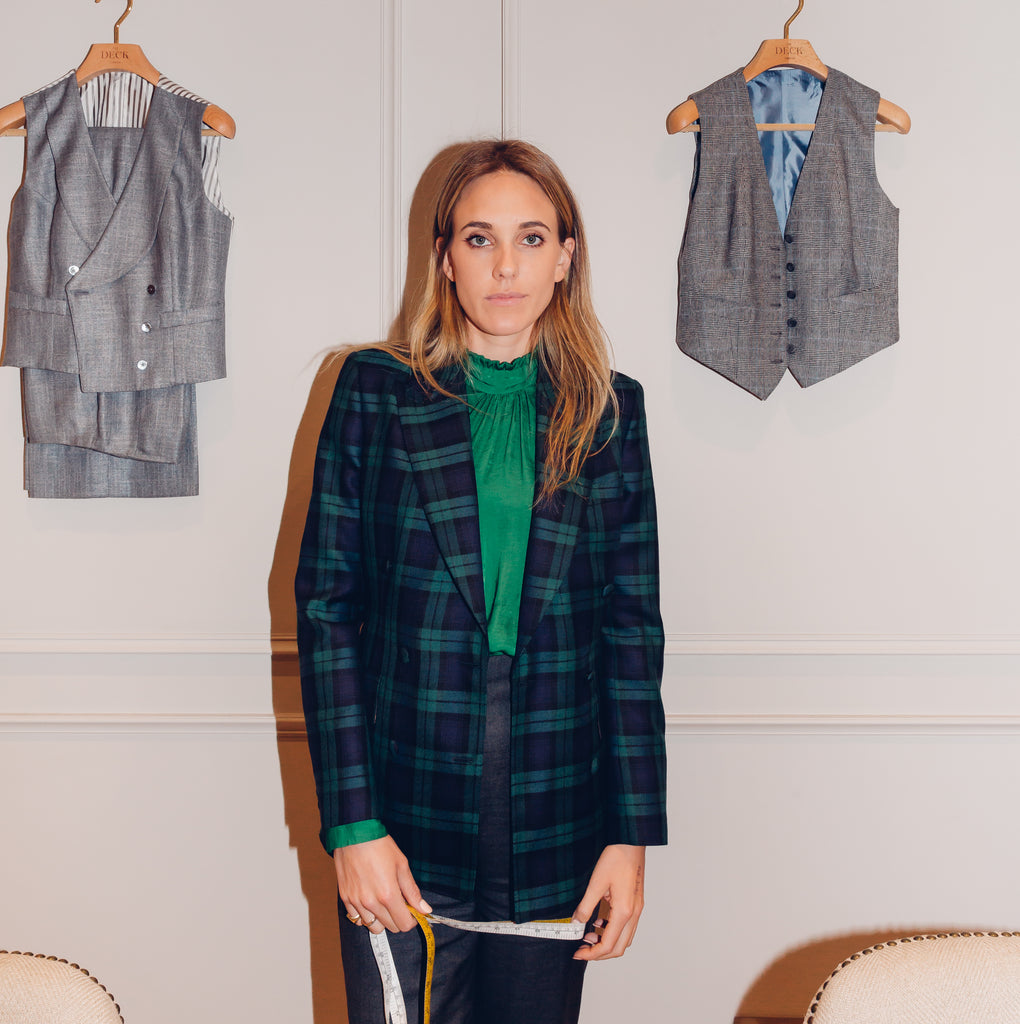 Daisy Knatchbull has taken the idea of the power suit and run with it. As founder of the brand The Deck, Daisy offers women the special opportunity to enjoy a suit tailor made according to their individual tastes. Plus, this pioneer operates the first women's tailoring house with a shopfront on London's historic Savile Row. Read on to get to know how she's shaking up the sartorial space and don't forget to shop her go-to Nette candle, Laide Tomate. 
You have had a varied career in the fashion industry — what do you love about it?
I've had an interest in fashion from a very young age and I've loved working within different roles of the industry -- from styling, to journalism, to marketing and PR. Doing so has allowed me to really understand what I love and what I love a little less. I think that each of my experiences allow me to run my business the way I do. The fashion industry can be very complex and challenging but also exciting and groundbreaking. 
You used to manage PR for Huntsman, how did this help prepare you for your current role? 
I was always keen to make a mark on the world of womenswear somehow, however I quickly realized how saturated that market was. It was only thanks to moving to Huntsman (where I was Communications Director) that I was able to see a huge gap in the womenswear market through the lens of tailoring. 
In 2016, while I was working at Huntsman, I became the first woman to wear a top hat and tails at Royal Ascot. It was the reaction of women and the press that further cemented for me the idea that the beauty and elegance of all things sartorial was woefully unavailable to women (in the same way it was for men). I decided that I would take the risk and try to make a difference, launching The Deck three years later. 
What does being the first female tailor on Savile Row actually entail?
We are very lucky to be the first women's tailoring house to have a shopfront in the history of the street. Savile Row is the mecca of British tailoring and the home of craftsmanship so to be amongst some of the titans of industry is a real privilege. I wanted The Deck to be a brand of the future, a brand that will still be here in 100 years time. Having our flagship on such a globally renowned street couldn't be a more appropriate home for our atelier. So often Savile Row is seen as an intimidating place, so it was important that we created a space that was very light, bright, and welcoming for our clients. A place where their needs and emotional relationship with clothing was understood. 
We are lucky that our women don't buy predominately for corporate reasons but instead for every occasion, so we've managed to remain busy through this last year. Durability, quality, versatility, and longevity have been at the core of our ethos since the start.
How do women approach tailoring differently to men? 
Women certainly have more of a deeper emotional relationship with clothing and their own needs, wants, and insecurities, which is quite different to men — not to mention the totally different and varying body shapes. I find that women are often very decisive, knowing exactly what styles or colors suit them and which don't. 
It's also important to remember that a lot of women have never had the opportunity to have something tailor-made before, so guiding them through the process is very important. Women wear suits differently than men do — they aren't as restricted to officewear but instead the same suit can be worn to pick your kids up from school, head to lunch, and then a black tie dinner in the evening. 
When dreaming up new designs where do you tend to start and where do you source inspiration?
The Deck's ethos lies in the belief that no two women are the same and the made-to-measure offering embraces that. The beauty of what we do is give our clients the ability to design their own suit, guided by our expert team. Without the restrictions of trend, style, or season. 
We offer four silhouettes as a starting point, echoing the four suits in a deck of cards — the single breasted, double breasted, boyfriend, and safari. I designed each of these blocks with every woman in mind — there's something for everyone, every shape, and every age. Each silhouette is then interchanged and adapted to fulfill the needs of each client. What cloth, lining, buttons, and styling details each client wants becomes their choice, guided by our expert team.
How do you see the company evolving?
The pandemic has seen the advent of virtual consultations for us, which have been challenging at times but also opened us up to a global audience which is incredibly exciting. Thankfully, it has been a real success. The move to digital was always within our plan but COVID-19 has definitely accelerated that and we have LOTS of exciting things coming up both online and in store. Not only that but new additions to our offering including shirts, jumpsuits, and overcoats! Watch this space…
Tell us about the power of a tailored suit. 
One client once told me there is nothing better than the feeling of silk lining brushing against your arms as you put on a suit that is made for you — like a second skin. And the truth is, there isn't. Like many great things, once you've had a taste of it you can't stop. Women have spent far too long becoming accustomed to ill-fitting clothes and so I guess it makes that feeling even better. But it's not just how it feels physically, but the way it impacts one's mental being that I love the most and why I set on a quest to provide this to as many women as I could. The unapologetic confidence it gives you, the projection of power and strength and independence, the way you stand taller, act bolder. That feeling is pretty addictive.  Always remember, beautifully tailored suits will never merely be a trend, they'll last a lifetime. 
We're big proponents of taking the time to take care of yourself – what are your top five favorite ways to take good care?
Gratitude — So often you forget to be thankful for the little things 

Meditation — I find it so tricky but try to do it as much as I can to help calm the mind after a busy day (particularly with a Nette candle burning in the background!).

Move — whether it's a walk, a run, yoga, or a gym class, I love anything to get the blood pumping! Again, something that is tricky when you are so busy, but so important for the mind mostly! 

A good skincare routine — This took me years but I think I have finally found the products that work best for me.

Water, water, water — we underestimate the power it has!
Can you please list out your holy grail products and tell us how and when you use them? This can be from beauty, wellness, interiors, and whatever else you swear by!
Heliocare Oil-Free SPF 50 — I cannot live without this and apply it each morning. 
Any product by Zein Obaghi — they are skincare geniuses! 
The Headspace app — For someone as busy as I am, it's the perfect way to integrate 10 mins of stillness into your day 
OKA interiors — I have an addiction! 
JS Health Collagen and Vitamin D — I cannot get enough of this brand's vitamins! 
SodaStream — I have a sparkling water obsession and this machine has changed my life and massively reduced my plastic consumption.
Do you have any tried-and-true rituals that help you stay grounded and happy?
There are so many things out there that I have tried and tested, and it can often feel so overwhelming. I think gratitude, exercise, and meditation are definitely the big three but also carving out times to be with friends and loved ones is super important in keeping me grounded and happy. I couldn't do what I do without them!