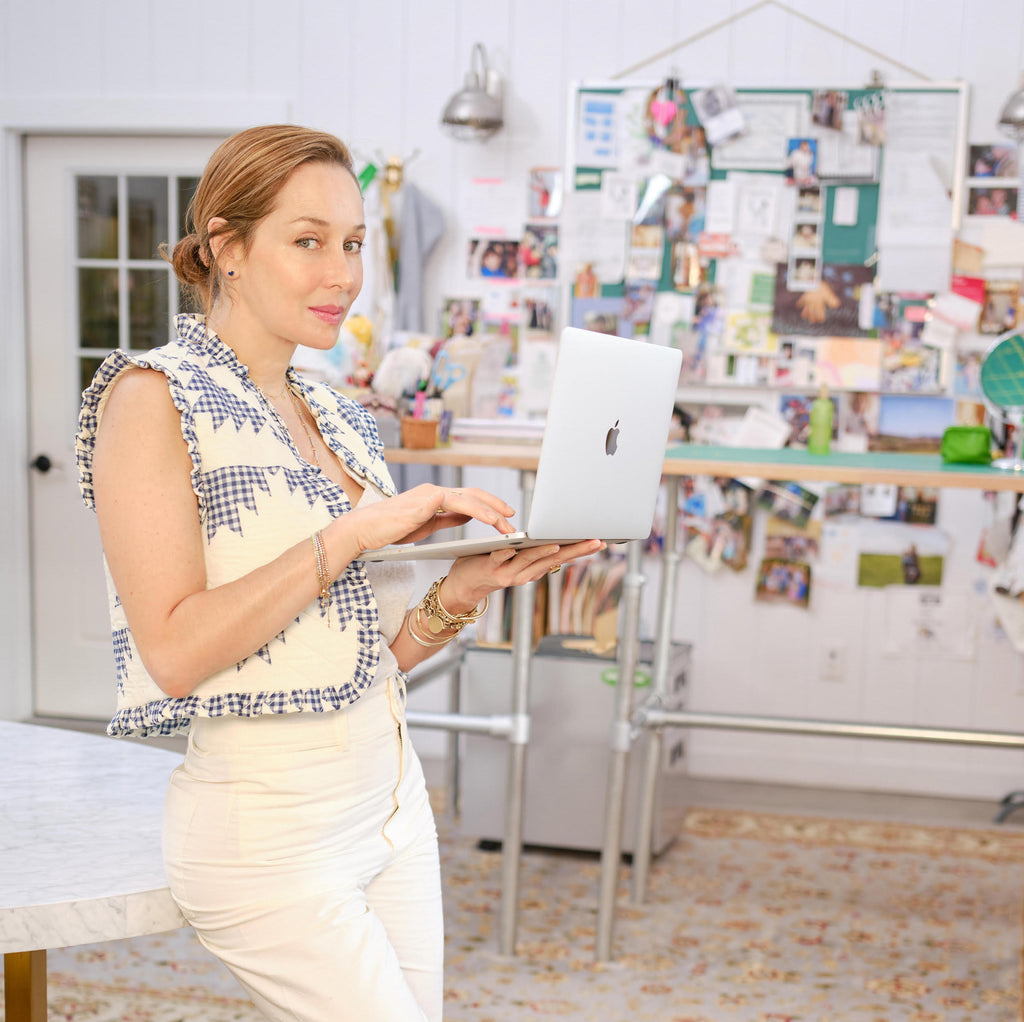 Tata Harper has long been an inspiration of ours. A pioneer in the beauty space, Tata was formulating some of the most gorgeous clean beauty products long before "clean" was even a thing. Her brand provides farm-to-face essentials that are the epitome of luxury and we were over the moon to collaborate with her on our very special candle inspired by a specific piece of forest on her farm where she goes when she needs to gain peace and equilibrium. Read on to learn more about Tata's incredible journey and be sure to check out Into The Forest, here. 
You were talking about clean and natural ingredients far before those topics had gained any momentum in the beauty industry. What inspired you to start that movement? Did you anticipate when you were starting your brand that it would become as large as it has?
For the longest time, natural beauty was thought to be simple and low quality – a lot of the textures and experiences weren't designed for a serious skincare client like me. Typically you would find natural beauty in food stores and apothecaries where you don't find high quality products with the technology you expect. At the same time, when I went to department stores they have a few natural ingredients that are mixed with synthetics and chemicals. I wanted to fuse both worlds and create products that were 100% natural but made with high quality, potent ingredients. There wasn't an option for people like me that were looking for that. Since I couldn't find any natural skincare products that gave me the results and the luxury experience I was looking for, I decided to create my own.
You hear everyone talking about the importance of green beauty and sustainability now, that wasn't the case 10 years ago. When I first started, everyone thought that serious skincare customers weren't interested in natural beauty. Developing best-in-class products that were high quality, efficacious, and 100% natural was something that did not exist and something I am proud of creating. We take pride in being innovative and being pioneers of the green beauty movement. Whether it's our ingredients or our packaging, we work with vendors that are committed to fair trade, protecting workers, supporting local communities, sustainability, and environmentally responsible practices. Honestly I had no expectations…What got me excited was the rapid evolution and advancement of green beauty technologies. I am super happy more and more brands can have access to it and hopefully will be using them. We have the opportunity to access advanced technologies from all over the world that are safe for your skin and the planet and more powerful and efficacious than toxic synthetic chemicals.
What are the biggest lessons you've learned in the time since you launched?
When I set out to create my own skincare line 10 years ago, I wasn't looking to replicate products that were already on the market. My founding mission was to give the skincare industry a fresh start with highly effective and luxurious anti-aging beauty products that are completely free of synthetic and chemical ingredients. We broke some new ground in a time where there were few options in natural beauty, let alone a green product line delivering high-performance results. We have stayed committed to innovating with the best ingredients and no synthetic chemicals. We still do all development and production on the farm in Vermont, and we manage our distribution directly. I've learned that the easy way is not always the best way. No matter how big or global our business is, our values remain the same and we will continue to formulate products that are better for people and for the planet. From the inception of the company, I have been unwilling to compromise or take shortcuts. If I had chosen to take the easy route or was willing to take no for an answer, Tata Harper Skincare would not be what it is today. 
I am always striving for the best, most innovative solution to the problem, and I won't settle for a lesser answer. I am always looking for the most innovative new technologies and ingredients to reformulate existing products, as well as developing new products unique to the market. I want to always seek answers and be curious and care about bettering the lives of others with what I make. 
Tell us about your farm in Vermont—it seems like this is where all the magic happens!
We started Tata Harper Skincare on our 1,200 acre organic farm in Vermont in 2010. I am so fortunate to both live and work here where I am truly immersed in nature. We have an organic farm and greenhouse where we grow a wide variety of herbs and botanicals including Arnica, Borage, Calendula, Alfalfa, Meadowsweet, and Elderberry. 
Being in such a beautiful place makes me want to continue my environmental efforts. I want to continue making strides in sustainability and support all of this natural wonder in the long term. 
Speaking of your farm—we've heard that you handle most operations in-house from conceptualization to formulation to packing and even shipping. This is quite unusual and impressive! Why did you decide to build the business in that manner? 
We do things differently and I'm highly involved throughout the entire development process. I work with our in-house team on every step of the process -- from conceptualization to formulation to packaging -- to create all of our products. We are completely vertically integrated, so we formulate, batch, fill, and ship all of our products from our farm in Vermont. The ingredients that we don't grow on our farm are sourced sustainably and ethically from the rest of the world. It has been such a rewarding experience to make products that are better for the people and the planet and I feel so lucky to travel around the world and teach people about our mission so they can live healthier lives. I am continuously learning about new technologies from renowned chemists, botanists, and aromatherapists, so we can continue to advance the next generation of beauty.
Our products are not subcontracted to a third party who requires us to produce minimums that would leave our products losing freshness while sitting in warehouses. Instead, we operate like a self-distributing food company so we can be sure that we are always shipping the freshest product. It's done the long and hard way, but to us, this is the best way and the only way we'll ever operate our company.
From the very beginning we refused to use any synthetic or hazardous chemicals, even in the extraction processes of the ingredients we process ourselves or buy from our suppliers around the world. The ingredients we grow on the farm are hand-picked, then completely dried. Then we do a process called "garbling," where the ingredients are rubbed by hand on a screen to break them down. Finally we combine them with a carrier oil and gently heat them to extract all the oils and key nutrients. Then they're strained and become our Farm Grown Beauty Complex before they are bottled up and shipped off straight from the farm. 
This is farm to face skincare because we use the real thing, the original natural ingredients, and make products that are completely fresh when they reach our customers. 
What are your desert island products from your line? Can you give us your top three current favorites?
This is such a difficult question because it's hard to choose just one! Elixir Vitae is my desert island product and it's seriously the product I can't live without. It's our most potent and powerful formula, with 72 ingredients, and it works like a daily dose of injectables.
Another one of my favorites is the Regenerating Cleanser. It is the first product I use every morning – it's a gentle exfoliator and I like to use it every day to get rid of the dead skin cells that accumulate overnight. 
And if I had to pick, my third favorite would have to be Crème Riche. This is our richest moisturizer that feels like a velvety cream. I use it every night as the last step of my routine. It's packed with antioxidants and hydrators to intensely moisturize the skin and support the skin barrier. 
You've recently developed color, and it's gorgeous! We're particularly obsessed with the Lip and Cheek Tints. What inspired this foray? 
I think that skincare is the best makeup. You don't need heavy foundations or intense complexion products when you have healthy, glowing skin. Keep the makeup looking natural, so your skin looks like your skin. Our weightless and blendable cheek tints are no exception to our extensive product line of effective, powerful, and natural formulas. They are about adding a natural pop of color that elevates your skin, doesn't cover it up. We think of it as "color with care" because we use nourishing ingredients, like our farm grown beauty complex, and wrinkle smoothing ingredients, like Spanish lavender, so you get skincare benefits with the color payoff.
Each shade contains 17 high-performance ingredients to plump, nourish, and minimize the look of wrinkles.
Tell us about the candle we developed together—how did you find the development process? What is your favorite part about the candle? 
During development, we insisted on using only naturals in the fragrance to stay true to our brand ethos, even though that delayed the development process and drove up the price. The candle was inspired by the practice of forest bathing, one of my favorite wellness rituals that I'm passionate about. There is a patch of lush pine trees and a stream on my farm in Vermont, and I wanted the scent to transport everyone to this soothing place. Nette helped bring my vision to life and I'm so happy we collaborated on creating this truly beautiful product.
Why are naturals so important to you?
My stepfather was diagnosed with cancer, and through helping him change his lifestyle I started to examine everything I was putting in and on my body. For the longest time, natural beauty was thought to be simple and low quality – a lot of the textures and experiences weren't designed for a serious skincare client like me. When we first started, formulating high-tech, ingredient-packed products with exclusively natural ingredients was a challenge. Then, once we launched our first products, the challenge we faced was overcoming this old misconception that naturals weren't effective. It was an uphill battle. For the longest time, the industry has been relying on chemicals and more cost-effective ways of going about things. In the majority of these cases, the controversial chemicals are exactly those — preservatives and all of those things that no one really talks about — and we as consumers have no idea that they even exist. So really it was like, how do we do all of the stuff that synthetic formulas do using natural materials?
From the very beginning we refused to use any synthetic or hazardous chemicals, even in the extraction processes of the ingredients we process ourselves or buy from our suppliers around the world. 
What are your favorite rituals? How do you take good care of yourself?
I love to workout in the morning, because it has a ton of health benefits like lowering your blood pressure and helping you feel balanced and level-headed. Then I hop in the shower to refresh my skin before starting my skincare routine. I always stay consistent with my skincare routine because it's a key part of wellness, along with exercise, a good sleep schedule and healthy diet.
Another ritual of mine is taking daily supplements — I like to mix a ton of different ones into my smoothies. Some of my favorites include Vital Proteins Marine Collagen, Four Sigmatic 10 Mushroom Blend, and Sun Potion Mucuna Pruriens. 
We think founders are the most resilient people—they have to be to keep going and keep building. What are your secrets to staying resilient and keeping your head above water when times are tough?
It's hard to disconnect when you're so deeply involved in your business, but it's important. I used to have a habit of checking my email first thing in the morning, but now I'm making an effort to meditate more, even if it's 10-15 minutes before I fully plug in. I've found that breathing exercises have helped me feel more centered and focused throughout the day. Sometimes I will incorporate essential oils into my routine and use the Tata Harper Aromatic Stress Treatment for a little pick me up.
Family is also very important to me. I always find time every single day to disconnect and spend time with my kids.