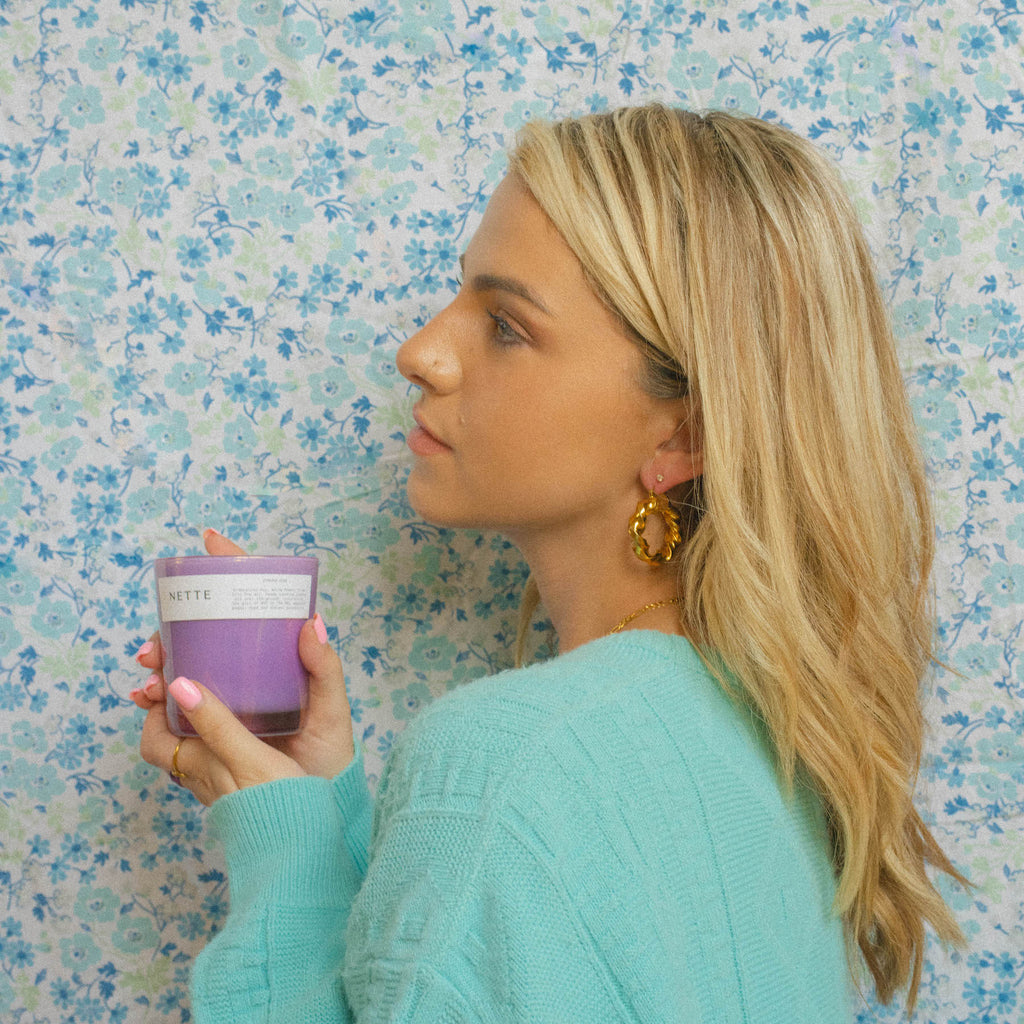 Ever wished you lived in a pastel-hued dream? Take a scroll through LA-based photographer and content creator Kenzie Goley's Instagram feed and you'll find yourself transported to such a place. She's a master at curating and capturing only the most aesthetically pleasing environments and, well, we knew she'd love our gleamy, lavender Spring 1998 candle. Read on to get to know Kenzie and don't forget to check out her go-to Nette candle — she says it's "stunningly beautiful." 
Spill, how much does a product's packaging impact if you're going to try it or not. 
The packaging of a product is definitely a factor! My eyes are instantly drawn to a package if it has any dreamy pastel hue — I'm instantly inspired to get creative and shoot with the products. 
We always find ourselves saving your Instagrams — whose feeds do you turn to when you're looking for a little inspiration? 
I absolutely adore Maxine Wylde, Matilda Djerf, Jimmy Marble, etc. I am so inspired by so many creatives! 
You're a super talented photographer — what is your favorite part about this medium?
Thank you so much! I think my favorite part about being a photographer is the random inspiration I get from the simplest things. It could be anything from a new shirt I bought to a location that sparks creativity in me, and I am instantly inspired to shoot. It's an endless cycle of creativity and I never get tired of it. 
Another thing I love about my job is being able to tell a story through my photographs — I think a photograph has the power to speak when words fail. I am so thankful I get to do this for a living, I feel truly blessed. 
Tell us about your Nette candle. Why do you like it and how does it fit within your home? 
I absolutely love Spring 1998! The smell is so calming and clean. The package is also stunningly beautiful and it matches perfectly with my room.
What are your top five take good care rituals? 
A bath, a face mask, a good book, lighting a Nette candle, and fuzzy socks.
What's next for you? Any exciting collaborations or plans we can look forward to? 
I have some exciting projects coming up! Some are collaborations and others are shoots. I will be photographing an album cover for a music artist soon which I am very excited about.