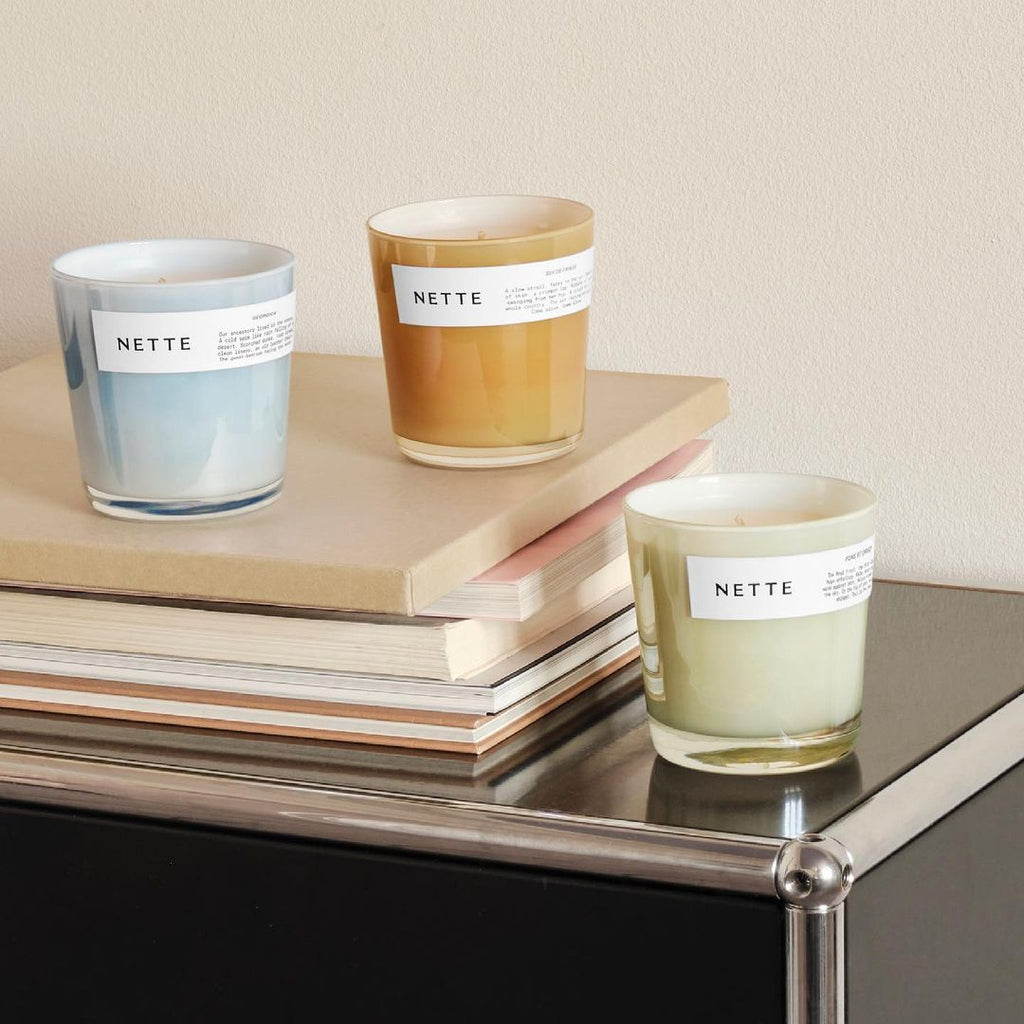 We are beyond excited to bring our second collection of candles into the universe. We worked with Celine Barel of IFF to develop our three new fragrances and they are just stunning. They were also formulated using green chemistry, a first for a candle brand! Here's a little about what that means.

✅100% of our fragrance ingredients are traceable
✅100% are formulated using renewable energy
✅100% vegan and cruelty free
✅Many of our ingredients come from Laboratoire Monique Remy, the Hermès of the fragrance world. They operate with a strict ethos of transparency, environmental management and sustainable development.
✅Many of our ingredients are organic, including our Rose Essential LMR, Jasmine Absolute Sambac, Olibanum, and Sandalwood.

We can't wait for you to experience our new babies for yourself! Read on to learn more about each of our new candles — available here. 
Georgica
Our Georgica candle was named after our founder's favorite beach in the Hamptons and evokes a beloved old house on the shore filled with perfectly broken-in leather chairs for reading, stacks of clean linens, and rose bushes bursting into bloom outside.

🌊Top: Cardamom, Rose Essential, Cassis Buds, Violet Leaf
🌊Mid: Aubepine, Muguet, Honey, Clove Leaf
🌊Base: Sandalwood, Patchouli, Musk, Cedar, Leather, Tonka

Fons et Origo 
Fons et Origo smells like springy, pale green moss, the first leaves unfurling, and a breath of fresh, clean air in the country. Verdant and green and lovely.

🌿Top: Green leaves, Jasmin Sambac, Basil Grand Vert, Grapefruit
🌿Mid: Geranium Egypt, Violet Leaf, Verbena
🌿Base: Reseda, Olibanum, Patchouli, Sandalwood, Heliotrope
Suede Fringe 
Our Suede Fringe candle is our sexiest, most addictive scent yet. Warm and slightly nutty with notes of sandalwood, orris concrete, amber, cedar, violet leaf, tonka, and suede, of course. A forever favorite and already a bestseller.

✨Top: Cardamom, Cumin Seed, Carrot Oil
✨Mid: Suede, Violet Leaf, Orris Concrete, Cedar Wood Atlas
✨Base: Sandalwood, Olibanum, Styrax Resin, Tonka, Amber