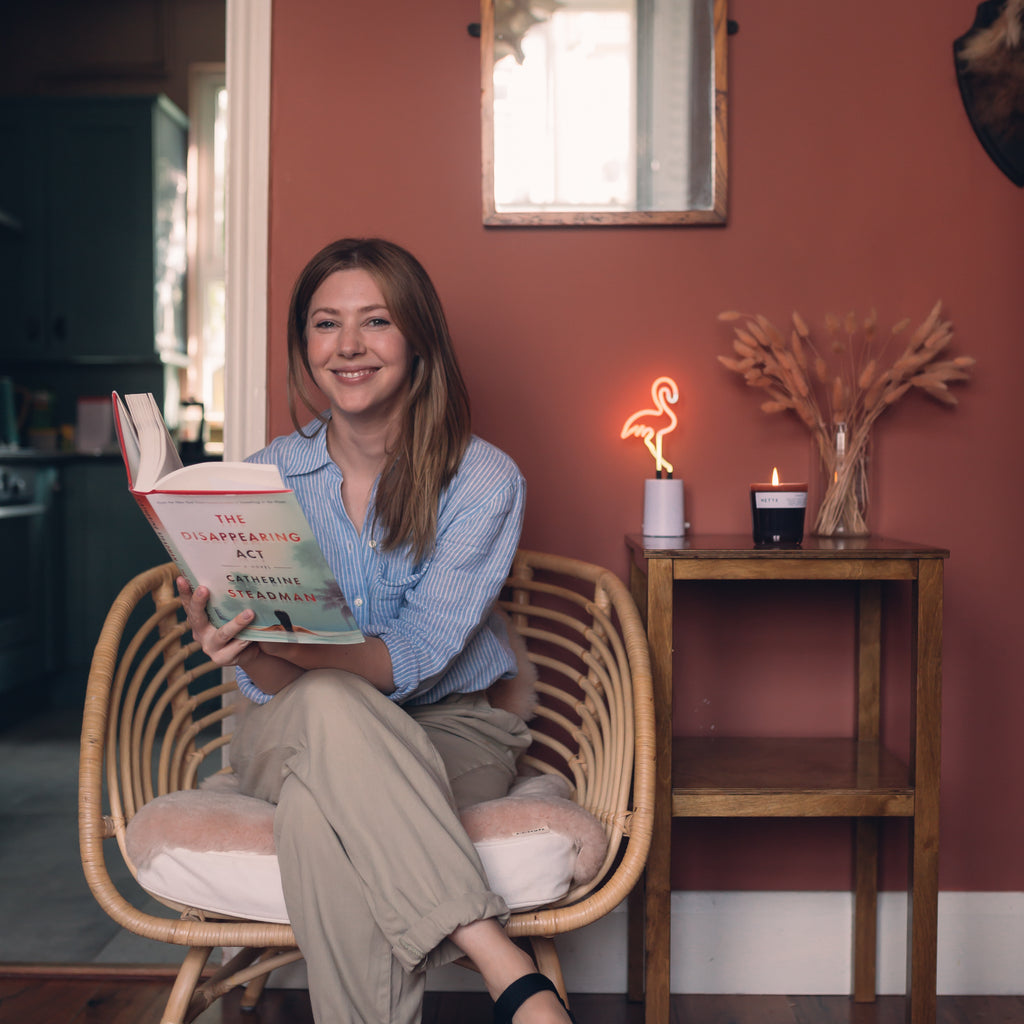 When we began dreaming up The Lit Club, we knew we needed a read that was equal parts glamorous and can't-put-it-down thrilling. Enter: Catherine Steadman, the New York Times-bestselling author of psychological thriller Something in the Water, Mr. Nobody, and the all-new The Disappearing Act. Catherine has the genre down pat and every time we pick up one of her novels, we have to finish it in one go; a sign of a great writer, if there ever was one! We recently caught up with Catherine to learn more about her writing process and what it's like to be a novelist and actress at once (did we mention she's appeared in Downton Abbey, The Tudors, and more?!). Read on and be sure to check out her favorite Nette candle, Laide Tomate. 
Hi Catherine! We are so excited for your new novel, "The Disappearing Act." Can you please start by telling our readers a little about yourself?
I'm a British/Irish actress and author based in London. The Disappearing Act is my third novel and I've been an actress now for 16 years?!
Your career as an author is not your first — tell us, how did you find the transition from your work as an actress to your current vocation?
I haven't really transitioned tbh. I'm still an actress and an author. In terms of scheduling, auditioning, filming, and writing, it has seemed to work out okay up until this point. We'll have to wait and see post-pandemic if I can manage to keep both running concurrently! 
Did you always want to be a writer or is it something that came about later in life?
I always wanted to be involved in storytelling, for sure, and that is what drove me to become an actor. It wasn't until I pushed myself to actually sit down and write my own stories that I realized I get just as much of a kick out of writing stories as I do out of acting in them. I was always good at writing at school and won a couple of school prizes, but I think we're often discouraged from following those types of avenues at school. Bizarrely I think my school considered acting a more stable career option, ha! 
For those who haven't yet read it, can you tell us about your newest book?
Yes, it's a psychological thriller set in LA during pilot season. Pilot season is an annual occurrence in Los Angeles where actors from all over the world fly in (for a two/three-month period in spring) to audition for all the lead roles coming up on television for that year. It's an incredibly fun time but it's also a real hotbed fraught with competition, insecurity, and ambition. Everyone is there for the same reason and not everyone will come away with what they want. 
British actress Mia Elliot flies over hot off the back of a BAFTA-nominated adaptation of Jane Eyre and gets tangled up in behind-the-scenes LA when a fellow auditionee disappears after asking her for a favor. Cue a series of very strange, very dangerous events!
How did you come up with the premise? Where did the character inspiration come from?
I've done five pilot seasons in LA and I was so surprised to find out, when I looked into it, that nobody has set a story during it. It's just so rife in terms of circumstances, characters, and motives for the thriller genre. Plus, I love a bit of glamour and sparkle and the location and themes definitely lend themselves to that. It was such a great excuse to squirrel some behind the scenes Hollywood easter eggs in there!
Also, the idea of someone disappearing at a casting is such a fascinating prospect…because casting breakdowns often require auditionees to look incredibly similar. An actress might turn up to a casting office waiting room and find 15-20 versions of themselves sitting waiting to be seen too – amongst them some well-known actresses alongside some complete unknowns. And if one of those women disappeared, is there a chance you wouldn't notice? And even if you did notice, how would you describe them or differentiate them to make someone else understand? And could you be certain you hadn't made a mistake?
Can you tell us about your writing rituals? Are there any rituals or practices you partake in before a writing session?
I like to get out of the house. My mind seems to slip more easily into its creative zone out in the world, on the London Underground, in the British Library, or in busy cafes. However, during the pandemic I've had to work in another way. I've found it really helpful to create a space in my home that feels more transportive. Over the last year I've filled the house with more of the outside world – more plants, art ,and photography. I listen to ambient noise, or create playlists for my plots and their locations. I bring the world to me now that it's become hard to go out into it!
What about your writing process? Any words of advice to aspiring novelists out there in terms of how to get words down on paper and form something cohesive?
Get the idea down. Don't judge it. Just keep writing until you have 2,500 words — that's a chapter. Then keep going until you have 85,000 words — that's a novel. You can redraft it all. Anything can be changed once you have an idea, characters interacting, and events. Writing is really just collating what you come up with in that first draft. That's your ingredients list if you will – it's what you do with that first draft next that matters.
How do you generally plot your novels? They are so cleverly done!
I come up with a central hook, and a location or theme. Then I have a few separate ideas of where it could end up and I let myself find my way there. There are certain scenes that I get very excited about writing and enjoy finding my way to them but it is so important to me to keep the structure loose until I get to it – I wouldn't want to feel hemmed in too soon.
You've received some pretty fantastic accolades for your work, including being a New York Times and Sunday Times bestseller and being included in Reese Witherspoon's book club —  Something in the Water has also been optioned for film by Hello Sunshine! Can you tell us about what that process was like?
It's been a complete whirlwind. I cannot thank my readers enough for making all of this possible. And the support of Reese Witherspoon, her book club, and Hello Sunshine has been phenomenal in terms of getting the books out there in the world. I can't wait to see the screen adaptations in the future! 
What are you most proud of on your current journey? 
Like I said, however earnest it may sound, hearing from readers that they couldn't put the book down (be they Reese Witherspoon or whoever) is an amazing feeling. Every now and then I'll get a tweet or DM from someone going through a tough time in their home or work life and they'll say that one of my books helped cheer them up or take their mind off of whatever it was – that is a wonderful thing to hear.
At Nette, we advocate for taking good care (of yourself and the world around you) — what are your tried-and-true self-care rituals?
Water first thing in the morning. Stretch. Walk. Long baths with candles!