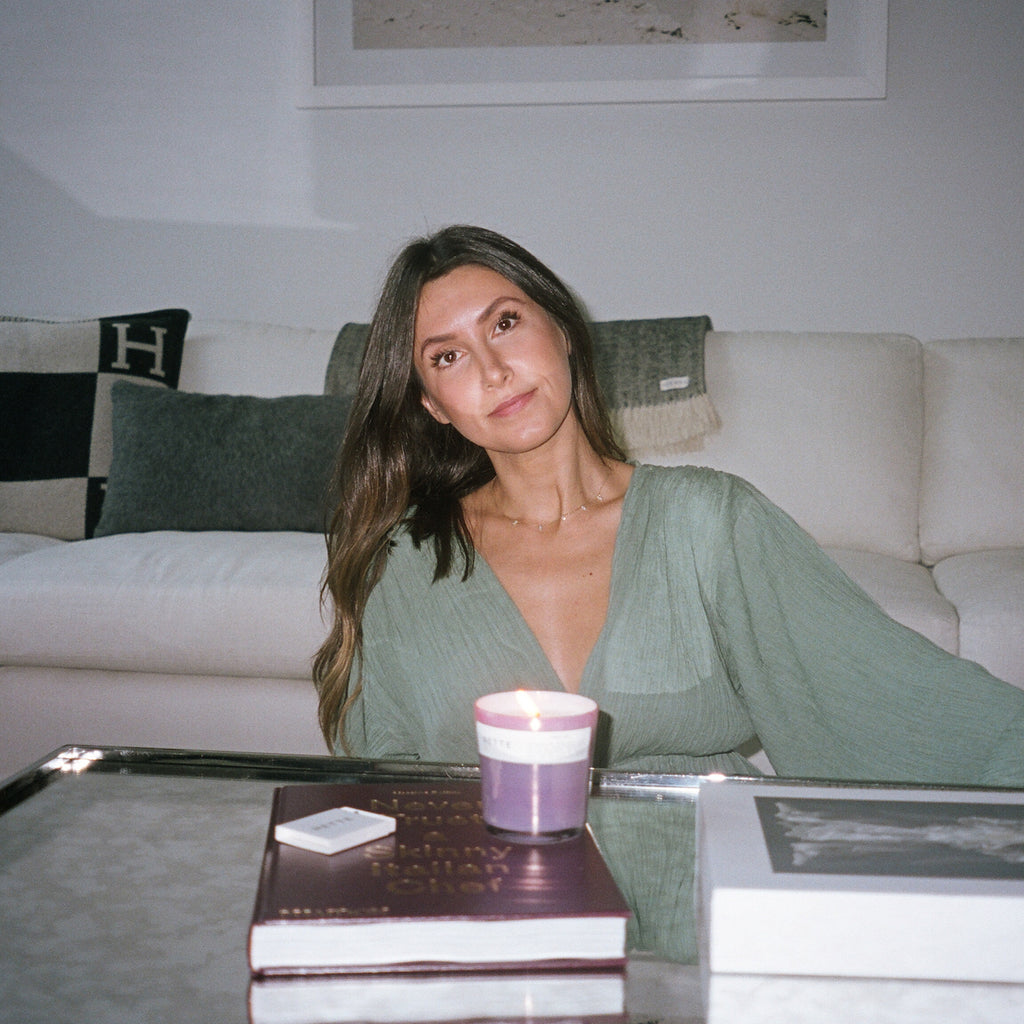 The first time we saw Táche, we had to try it. Its pistachio green-accented design was seriously eye-catching. The first time we tasted Táche, we knew we had found a forever favorite. Recently, we were lucky enough to sit down with founder Roxana Saidi; a genius businesswoman, Roxana spent years building brands through her creative agency and has taken this experience with her to create the most delicious plant-based milk around. Set to disrupt an industry heavy on oat and almond, Táche is the most exciting thing to happen to our morning matcha since we can remember. Read on to get to know her inspiring story and be sure to check out her go-to Nette candle, Spring 1998.
For those unfamiliar, please tell us about Táche. What inspired the brand?
Growing up, pistachios were always a mainstay in my life. I joke that pistachios are akin to toilet paper in Iranian households: you must always have a bowl of pistachios at the ready. They've always been my favorite nut, yet, so underutilized compared to other nuts in this country. 
Fast forward to 2015, after a long family lunch in Paris, I was longing for my go-to at that time: an almond milk latte. However, it was 2015 and I dared not embarrass myself by asking for almond milk in France. At the end of the lunch I was daydreaming with a delightful rosé buzz as one does, and it was at that moment I had the classic lightbulb moment. Why not create a better version of almond milk with pistachios? 
Immediately upon returning to NYC, I started making what would become Táche in my apartment and giving it to friends and family. I knew I had hit upon something special when all I kept hearing from tasters was "OMG. I would drink this on its own." 
Being born into a family of entrepreneurs and having already founded two startups, I recognized the opportunity for a new healthy, yet decadent and flavorful plant-based milk and embarked on the journey to start the first pistachio milk.
Speaking of brand, who did your branding and how involved were you in that journey? It's amazing!
Thank you so much. Given my background launching brands with Rx Social, creating a unique brand was paramount to me. I wanted Táche to have a completely different look and feel and be antithetical to all the other alt-milks options out there. There were three pillars in the brand that I wanted to create: Interesting, elevated, and quirky. I spent 18 months looking for the right agency to partner with to bring my vision to life. From Copenhagen to Charleston, I searched far and wide. When I came across Mexico City-based Futura, I knew my search was over — we worked hand-in-hand for just under a year and it was truly a dream partnership.  
You went from consulting other brands in your agency practice to launching your own brand — how did you find that transition?
Building brands is my passion. Creating a consumer product from day one was something I didn't see coming, but have steadily been preparing for for over a decade. Working on a wide range of brands from hospitality to fashion to interior design have all contributed to the way I think about storytelling and the customer journey. It's so important, now more than ever, to have FUN with your brand. It's been quite a journey launching Táche, but so rewarding and I feel that the transition has gone as smooth as it could, especially for launching at the height of a global pandemic!  
Almond, Soy, Oat, there are a ton of milk-alternatives out there (and everyone has their go-to!) — how did you navigate launching in such a competitive space? 
Not only is it competitive but the barriers to entry are enormous. To create a barista-friendly plant-based milk you have to make 100K units right out of the gate. No one will make your product at a lower volume than that. So I had to completely scale the business before we could even launch. 
With almond and oat milk, no one really drinks any of these for pure pleasure — they are almost always vehicles for other things (coffee, matcha, smoothies, etc.). Táche is the only true pistachio milk on the market and the only plant-based milk that is delicious enough to drink on its own. We honed in on this aspect along with Táche not only being better for you, but better for the environment, as well. Pistachio trees require significantly less water than almond trees and when we are in drought like we are now, this water savings couldn't be more vital.
Lastly, we made sure to focus not only on our online presence, but also expand into specialty coffee shops, restaurants, premium retailers, and more using the connections we've built over the last several years. Táche is barista-friendly as it froths exceptionally well with no separation or grittiness, so it's becoming a natural hit with this crowd. In the six months since we launched, we are now in over 600 locations across the US. 
Why pistachios, specifically?
While pistachios have been beloved by me for many years due to my cultural upbringing, we also are seeing pistachios as the new super nut! When we started researching we realized that the  small, but powerful nut is bursting with fiber, minerals, antioxidants, nutrients, and unsaturated fats. It has a ton of health benefits including healthy gut bacteria and lowering chances for cardiovascular diseases. Plus, as mentioned, pistachio trees require 75% less water than highly water-dependent almond trees, helping us create a sustainable and environmentally friendly product. 
Pistachio milk is an easy way to get the benefits of this nut and so much more — it helps with nutrition, hydration, sleep, digestion, breastfeeding and baby development, just to name a few. We're excited for more people in the U.S. to fall in love with pistachios and , for the die-hard pistachio fans to f, find a new way for them to enjoy the "smiling nut" as it's called! 
We imagine you've enjoyed your fair share of lattes, who makes your favorite coffee beans (bonus points if we can order them online!)?
We are definitely very spoiled in this household when it comes to coffee. These days I've been addicted to Cometeer — at least until my Linea Mini La Marzocco arrives. They are frozen pods from roasters like Counter Culture and Joe that you pour hot water over. For classic beans that you can order online I love Lady Falcon Coffee Club and Devoción.
We've heard some pretty iffy things about alt-milks and all the additives and preservatives that can be found in some of them. Can you educate us a little on that and tell us what ingredients were a "no" for you from the beginning? 
Unlike most oat milk options, we add absolutely no vegetable or canola oil in our alt-milk. Why is this important? Just one serving size of oat milk with rapeseed (aka canola oil) is the equivalent to ingesting about the same amount of oil used in frying a medium order of fries. Plus one serving of Oatly has roughly the same blood sugar impact as a can of Coke. Eeek.
On average, Táche has significantly less calories, carbs, and sugar than most oat milk options, so it's much healthier and yet you don't sacrifice any of the creamy texture. Táche's velvety texture is derived from the inherent oil content that is in pistachios naturally. 
We know it's amazing when added to coffee, but what are some of your other most favorite ways to enjoy Tache? 
Táche is so versatile, so I use it in a variety of ways from mixing it in oatmeal, smoothies, and in matcha lattes to start out the day to using it in pancakes, French toast, or waffles on the weekend. It is a great alternative to dairy in baking and cooking, so I also love making scones, pound cakes, biscottis, and more with it. We've even used it in mac 'n cheese which is delicious! 
Since the weather's been getting warmer, we've been making ice cream/nice cream and popsicles, which are a great way to give a healthy dessert to kids without them knowing it's healthy! 
As a female founder, what are some of the biggest challenges you've faced in your entrepreneurial journey?
The barista alt-milk founder landscape is all men. During fundraising that was a little daunting knowing that all the "comps" were these behemoth corporations like Califia Farms, Chobani, and Oatly, with seemingly bottomless pockets and enormous networks. I've always been drawn to a challenge and thankfully have yet to receive outright sexism during fundraising, launching, or otherwise. 
Can you also tell us about a big victory moment that made you pause and celebrate?
After sampling, slightly stalking, and befriending coffee shop owners throughout the New York City area, it was so rewarding when Butler, Ralph's Coffee, and Maman officially came onboard when we launched and I got to have my very first Táche latte at each of them. The best full circle moment. 
Founders have to have so much resilience — what are some of the ways you cultivate that quality in yourself?
Beyonce, Megan Thee Stallion, and Foxy Brown have helped a lot to that end! Jokes aside, rooting myself as much as I can in gratitude really helps. When things are really overwhelming or aren't going right, looking at what there is to be thankful for really helps. 
The way I look at business is every single day, there are things that are going to go wrong. It's my job to anticipate those problems and instead of dwelling on them, solve them and move on to the next problem. My uncle instilled this in me before launching Táche and it's one of the best pieces of advice I have ever received.
At Nette, we advocate for taking good care (of yourself and the world around you) — we think founders are probably the most adept at taking care of themselves because they have to be in order to maintain the stamina it takes to run a business. What are your tried and true self-care rituals?
Coming out of this pandemic, my self-care rituals are in a transitional phase. I used to work with a number of beauty clients, so facials were an ingrained part of my self-care routine. I just had my first facial since the beginning of the pandemic and it was euphoric. During the pandemic, I added meditating to my routine and that really helped me manage my anxiety and be grateful for all that we've been able to accomplish in the past year. Another way I like to unwind is with my fiance either cooking dinner together over some nice wine or taking our daily neighborhood walks where we try not to discuss work for at least 30 minutes. We don't always succeed but there's always an opportunity again at dinner time. ;)
Read on for an exclusive recipe from Roxana! 
Tache Pistachio Rose Iced Latte
Rose Simple Syrup
2 tbsp rose petals
¼ cup honey (or 1/3 cup sugar)
½ cup water
Latte
Double shot espresso 
1–2 tbsp cardamom rose simple syrup 
12 oz Táche
To Make the Simple Syrup
In a small saucepan combine water, rose petals, and honey (or sugar)

Simmer until honey or sugar is dissolved, stirring, about 3-5 minutes

Remove from heat, cover, and let cool 15 minutes

Strain syrup through a fine mesh strainer or cheesecloth into a container with a lid and refrigerate until ready to use (good for up to two weeks!)
To Make the Latte
Pour in Táche in glass

Add double shot espresso

Add 1 tablespoons of rose simple syrup

Add ice
Enjoy!