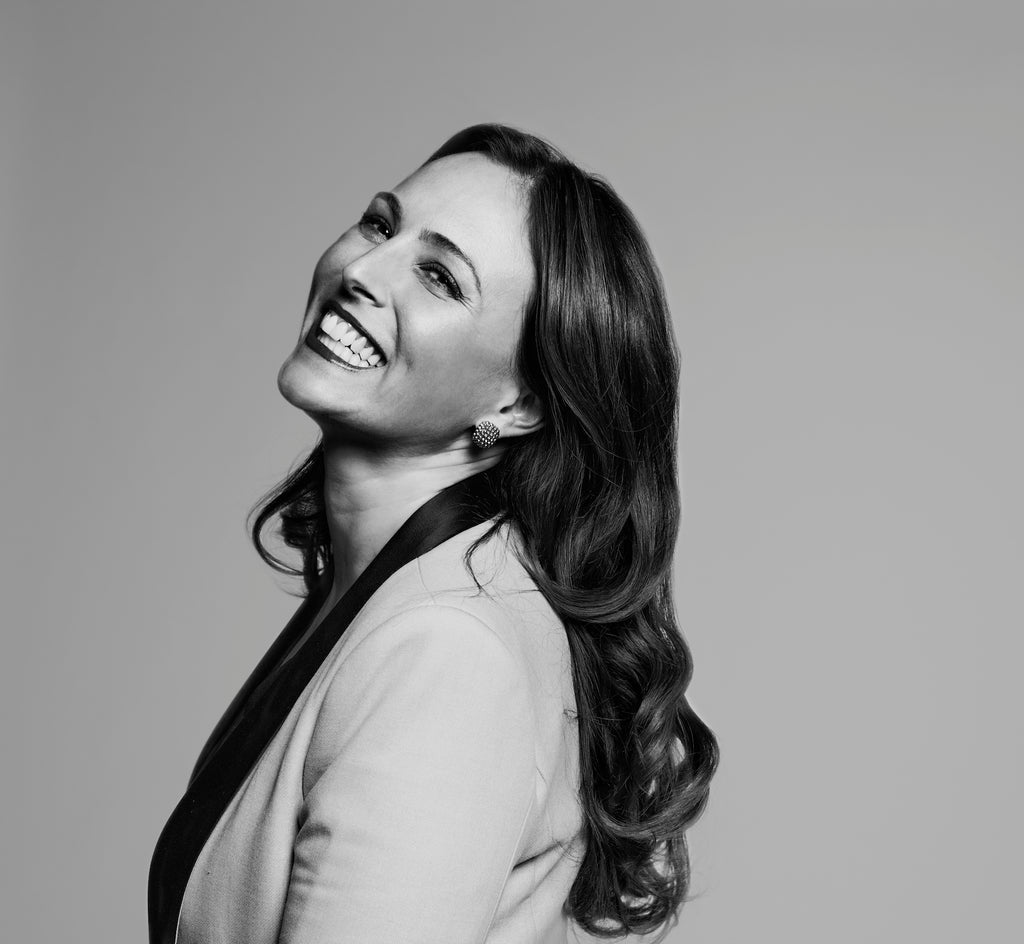 Our second collection of candles was developed hand-in-hand with IFF perfumer Celine Barel. One of the very best in the business, Celine has created fragrances for the likes of Aesop, Loewe, and Jo Malone, among many others, and she was just the person to bring to life the spirit of this collection, one dedicated to the magic of new beginnings. Read on to get to know Celine and be sure to check out her creations — Fons et Origo, Georgica, and Suede Fringe — now. 
How did you get into the fragrance industry and what was the process like?
I've been fascinated by the fragrance world since I was a child — partly because I grew up in Grasse, France, the historical capital of perfumery, and partly because the '80s and '90s were one of the greatest periods for incredible perfume advertising campaigns. 
I studied at NEOMA Business School and planned to join the marketing department of a fragrance company, but an internship at Mane, a fragrance creation house, changed my destiny. I was lucky enough to see what happened behind the scenes in the fragrance world and got up close and personal with the olfactory creation process. 
I interned at Parfums Christian Dior during the creative process and launch of J'Adore, then returned to the fashion world for internships at Chanel and Louis Vuitton. 
Finally, I began my career at IFF (International Flavors and Fragrances) in Milan, Italy. During the day, I continued working in marketing, and in the evenings, I trained for two years to learn all about raw materials and how to market fragrances. I was so passionate — I learned all of the important brands, perfumers, fragrance houses, bestsellers and more. 
I was selected to attend the IFF Perfumery School — a dream of mine! — and started a training process of around five years that brought me to the Netherlands, New York, and Paris. I settled in New York for about 15 years and have just relocated to Paris recently. 
Have you always had a deep connection to the power of scent? 
I have always been very connected to the power of scent — I think this has to do with intuition and a deep love for experiencing life through my senses. My grandfather used to say that, when looking at a garden, you have to "smell it, touch it, hear it, taste it, and see it." 
I also spent a part of my childhood in Morocco in the '80s, which inspired my belief that there is no bad smell, but only thresholds that make a smell pleasant or not. 
What is the first memory that comes to mind that's associated with fragrance? 
My mum's fragrance, Van Cleef & Arpels' "First," on her fur jacket, my dad's pillow (when he would leave on business trips I would smell his pillow), and my childhood teddy bear — I never wanted to wash it, so it would always keeps its characteristic smell!
Do you have a favorite ingredient of the moment?
I am obsessed with Saffiano, an IFF captive molecule, that smells like patent leather — I used it heavily in Nette's Suede Fringe fragrance. 
What's one fragrance from any time period that you wish you had dreamt up?
Thierry Mugler's "Angel." From the fragrance, to the bottle, to the color of the perfume, every facet is a hit. Above all, it was a trendsetter that paved the way for a new olfactive family — the "gourmands" — with its accord-cotton candy-caramelized apple-patchouli scent.
How do you go about building a new scent — what was the process like with Nette? 
I appreciate having direct access to the visionaries behind the brands that I work with — something I was able to do with Nette's founder, Carol Han Pyle. This direct access helps create a fluid, creative dialogue — we were able to easily eliminate ideas, move forward with other ideas, and push the envelope together. 
Carol had a clear idea of the different moods she wanted to evoke with each fragrance, and I love the stories she writes for each candle. Because of my marketing background, I love to have an understanding of the full picture of what we're creating — from the packaging to the vessels. 
Also, the references Carol gave me were all places I knew very well, like the Hamptons, for example. 
Tell us about Georgica. 
Georgica was the original leather idea. It had to evoke a luxurious leather, like Carol's favorite Hermès Kelly bag that acquired a magnificent patina over time. I used an IFF captive molecule called "Saffiano", a modern leathery note, very reminiscent of the luxurious delicately grainy leather. We paired it with some magnificent Rose Essential Oil which brings brightness and dewiness. This rose smells very much like the East Coast wild roses you can find in the Hamptons. The result is a very classy, fresh, genderless and contrasted fragrance. 
Tell us about Suede Fringe. 
I was working on a leather note for Georgica, and I had several prototypes. Carol liked two leather directions that were very different and thus, Suede Fringe was born. This is a very luxurious, solar, and velvety leather that's incredibly fluid, supple, and hedonistic. It's very cool, '70s vibes — I could imagine Verushka, Talitha Getty, or The Rolling Stones' Brian Jones burning this candle! It contains an incredible amount of high end naturals — like Orris Concrete and Sandalwood Oil — that are rarely used in candles because of their excessive cost. Nette candles are truly luxurious and the expensive ingredients are the olfactive signature. 
Tell us about Fons et Origo.
Fons et Origo was conceived in a very positive mindset of rebirth after the worldwide shutdown we all went through. The fragrance showcases new hues of green notes, rarely used in perfumery, that really smell wet and earthy but very, very clean. Just like a joyful spring rain washes away the remnants of winter and announces renewal and blue sky ahead. At home, I love burning Fons Et Origo in my bathroom as there is no window, and smelling this helps transport me outside, somewhere lush and happy. While creating it, I was thinking of the summer in the Hamptons or Upstate New York when the air is full of humidity and the fields are greener than green. 
Why is green chemistry important to the work that you do? 
Green Chemistry is no longer an option, it's a duty. The impact of the individual can help change the course of what's happening on our planet, so I feel very passionately about doing my part to minimize, if not eradicate, the impact that I have on the environment. 
At IFF, we stand by the firm belief that we should "do more good."
How do you hope these Nette fragrances make people feel?
After what we all went through, I hope each time a consumer burns a Nette candle, he or she will experience a moment of pleasure and be transported to a place where it feels good to be and let go of everything, especially knowing those candles have been made with care for the environment.