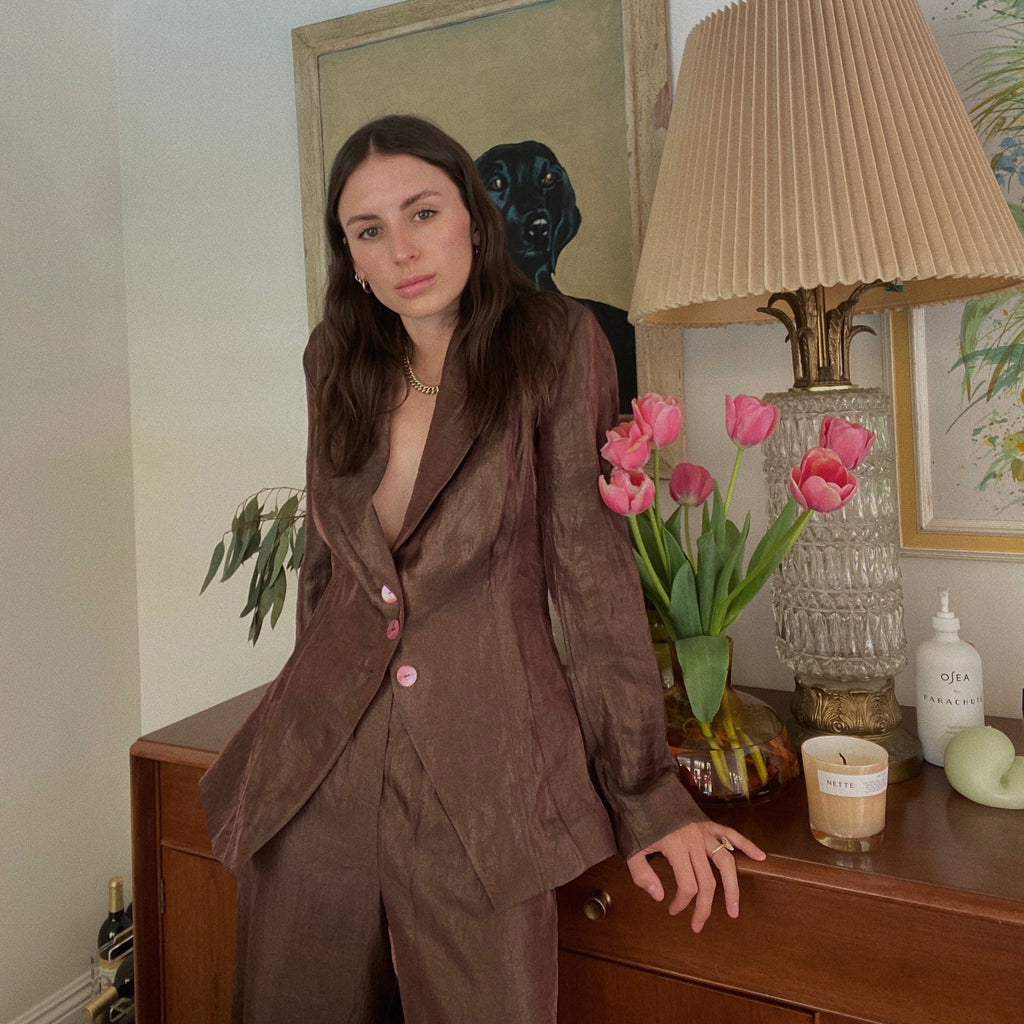 If you're looking for a reason to move to LA, give our friend Rachel Nosco's Instagram a scroll and you'll be packing your bags in no time. This Southern California-based creative is a genius at capturing a fancy-free, vintage-inspired vibe that we find ourselves obsessing over. We recently sat down with her to discuss inspirations, the best way to avoid creative burnout, and more. Read on and don't forget to check out Rachel's favorite Nette candle, Laide Tomate.  
Hi Rachel! Tell our readers a little about yourself. 
I am a Los Angeles-based creative, born and raised in Southern California. I lived in New York City for five years while I attended the Fashion Institute of Technology, so I'll always have a love for that city as well. I'm obsessed with vintage furniture/décor/fashion, travel, and my three Persian cats Hamlet, Basil, and Monkey.
Tell us about your Nette candle. Why do you like it and how does it fit within your home? 
I adore this scent! It smells so natural and authentic, and of course the glass vessel looks beautiful too.
You're a content creator, stylist, and illustrator — how do you merge all of these passions into one fulfilling career? 
I do a mix of a few different freelance things — they are all different but also similar in a way. I love doing anything creative, so having multiple outlets for this is fun for me; it's nice to be able to combine my love of art and fashion into one multi-faceted job. I also tattoo my friends for fun, so I guess I'm an occasional body illustrator as well.
Where do you seek inspiration? 
I get inspired by other creators that I follow on Instagram and Pinterest. I also love browsing vintage interior design images and books, they give me serious vibe inspiration! When I lived in New York (no offense to LA), and now when I visit, there is tons of fashion inspiration just walking down the street! 
We're obsessed with your style – how would you classify your day-to-day wardrobe? 
Thank you! I obviously love a good sweatpants set these days (who doesn't?), but when I'm not wearing that, I love to put together quirky, vintage-inspired outfits. I am drawn to menswear and oversized proportions, cool prints, and fabrics.
Best part about living in LA? 
I will go with the obvious answer and say weather! I enjoy experiencing seasons here and there but it's very nice to have great weather pretty much all the time. I also like the balance of nature and city life, and how there are so many amazing restaurants that are also healthy!
Favorite people to follow on Instagram? 
Oh gosh the list is endless and I'm definitely forgetting a bunch, but a few that come to mind are...
Creators: @meganadelaide @maria_bernad @okdeon @ericjess @lefevrediary @sissi_pohle
Interiors: @gimmeshelter.la @interiors.stuff @__sitio @the_80s_interior @sit_on_vintage
What's your advice for avoiding creative burnout?
I make sure to only accept projects that are authentic to me. I find when I do a job that isn't really my style or I wasn't excited about it, it doesn't turn out the best and I just feel overall uninspired.
What are you most looking forward to this summer? 
Traveling is my favorite thing and, while we don't have any big trips planned for this year so far, my fiancé and I have some smaller things like Napa, Utah, and maybe Mexico, to look forward to! 
At Nette, we advocate for taking good care (of yourself and the world around you) — what are your tried and true self-care rituals?
I set aside time to do things I enjoy — getting outside, hiking, and more. Horseback riding is my favorite activity and workout so I do that at least once a week. I also love cooking and eating delicious vegan meals, and a glass of good wine! And I do love staying in and watching movies or binging a good series! (I'm a Taurus if you couldn't tell 😉 ).