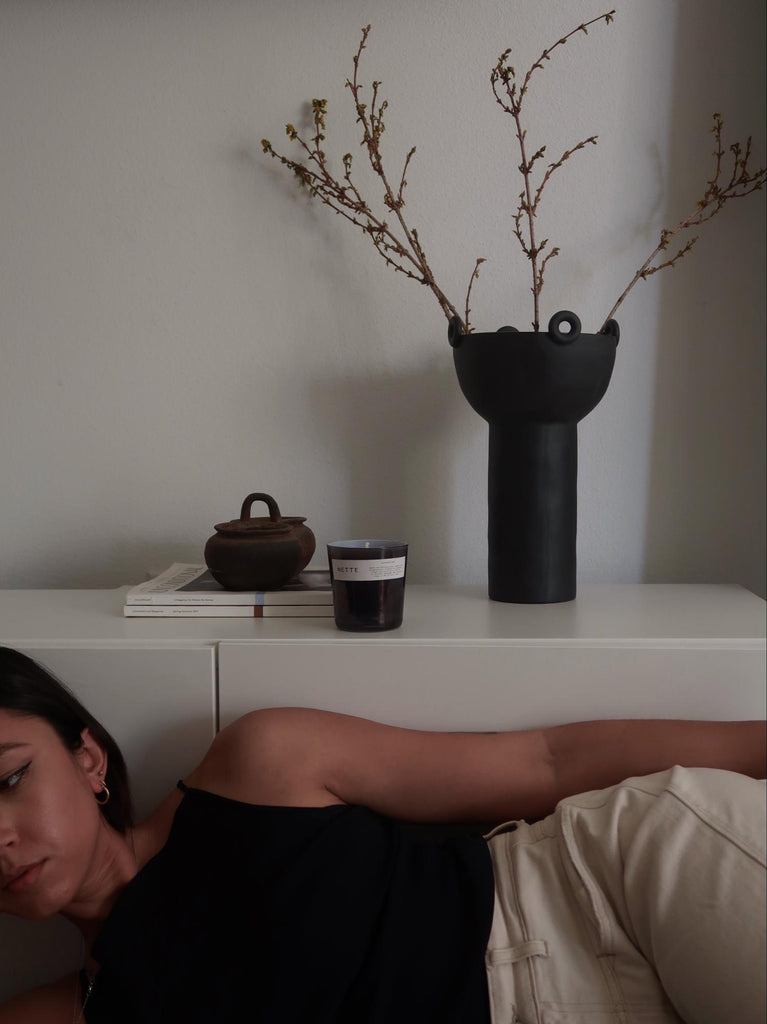 Whenever we're California dreaming — which, let's be frank, is quite often these days — we head straight to Stephanie Arant's expertly curated IG. Not only does this Orange County-based content creator share some sunset snaps that'll make anyone contemplate a move West, she's perfectly mastered that cool-girl laid-back look (truthfully, we've never seen someone make sweats look so chic). We recently caught up with Stephanie to learn more about her inspirations, interior design style, and favorite ways to take good care. Read on and be sure to check out Stephanie's go-to Nette candle, Supernatural. 
Hi Stephanie! Tell our readers a little about yourself.   
I'm an Orange County/LA-based content creator and marketing strategist who loves fashion and styling, home decor, my French Bulldog Kirby, and anything Disney, Star Wars, or Marvel!
We're always on the lookout for inspiration on Instagram — who are a few of your must-follow accounts? 
I love finding new friends and inspiring individuals on Instagram — that's really the main reason I joined the app back in 2012. My must follows are @oumaymaboumeshouli, @louisameng_, @laurencefortincote, @katelanpel, and @chainkyr. 
Tell us, what makes a good Instagram? 
A good Instagram is all about authenticity. Being you. The reason people follow one another is for a unique perspective.
We're obsessed with the dark, neutral vibes of your feed — have you always had a similar aesthetic or has it evolved over time?
If you were to scroll back a few years it would be the opposite, tons of color and a lot of more "trendy" looks. My feed and style have really transitioned over the years as I honed in on what style really resonates with me. I do love trying new things though, so I'm always open to switching things up!
If we were to spend a dream day with you in Orange County, what would we get up to? 
Our first stop would be to grab a coffee, two of my favorites in Orange County are Neat Coffee and Hopper & Burr. Next, we'd swing by some antique shops in Downtown Orange, and then end the afternoon watching the sunset in Laguna Beach!
We've seen a few sneak peeks of your home decor – how would you describe your interior design style? Any good sources for decor pieces?
My interior style is wabi-sabi, which is a Japanese term that refers to finding beauty in imperfection. All of my pieces have a sense of authenticity and while my home has a more minimalist approach, it's not minimal to be minimal, moreso every piece brings tranquility and provides purpose to the space. My favorite places to shop for home decor are Nordic Knots, CB2, Goodies LA, Burke Decor, Hawkins NY, and I love vintage finds. 
Who would attend your dream dinner party? 
It might be a lame answer, but just my friends and family. Not sure if this is from being in quarantine, but the time spent with them would surpass time spent with anyone else at this point. The past year has really taught me the importance of having time with those you love.
What are some of your favorite tips and tricks for nailing at-home style? Favorite brands? Your relaxed looks are some of our faves! 
I'm all about classic pieces! Cropped white tank tops, a great pair of sweats, and loose fitting trousers. Some of my favorite brands are Perfect White Tee, Richer Poorer (for sweats), and Source Unknown for cool trousers.
What are your go-to rituals when it comes to taking good care of yourself?
Reading really helps me wind down in the evenings and doing a workout every morning for about 30 minutes gets me energized for the day. It's really all about having balance and stepping away from work or my phone/computer to take some time for myself.