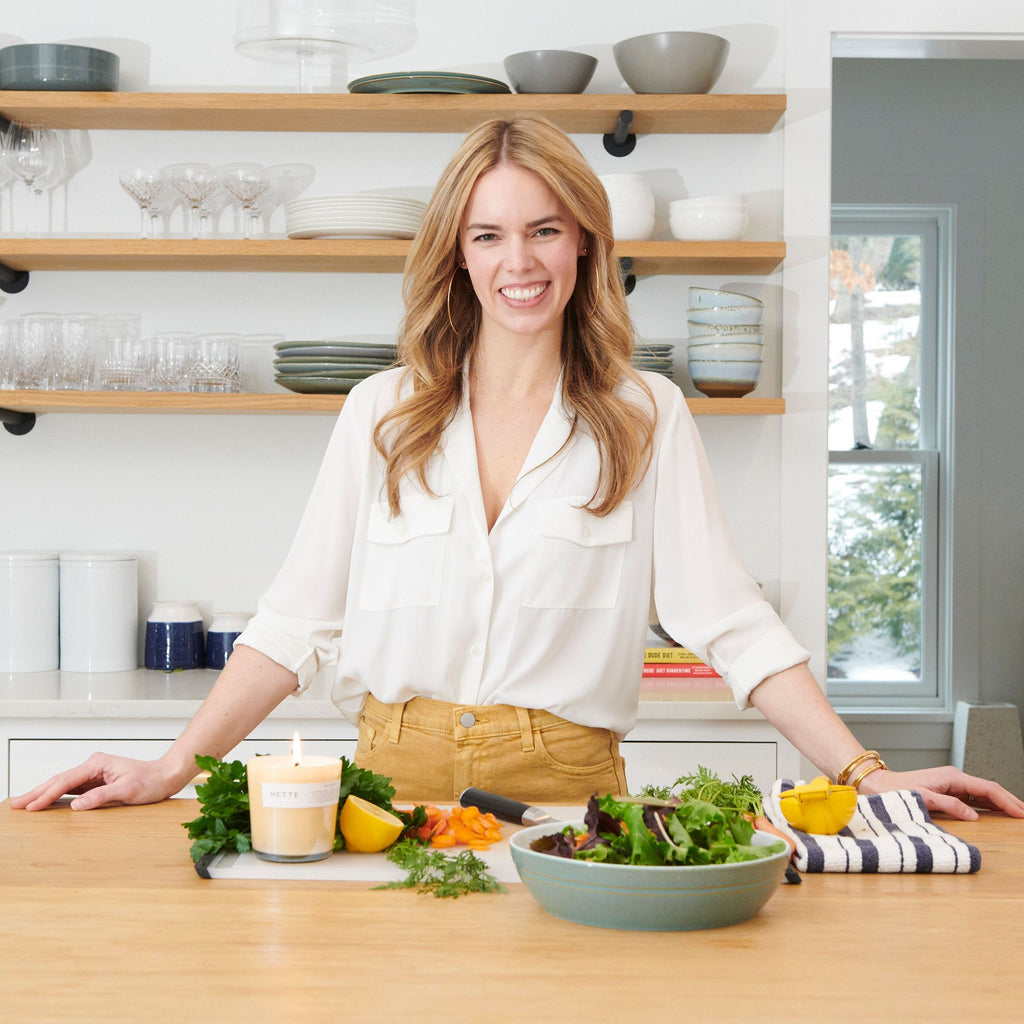 Hands up if you've been spending a whole lot more time in the kitchen in recent months than ever before! Us too and, we have to say, it can get a little taxing and overwhelming. To help take the stress out of the situation, we recently stopped by our friend Serena Wolf's Sag Harbor home and recruited her to share a few of her favorite farmers' market hacks, top five kitchen essentials, and favorite recipes for spring (which is just around the corner, believe it or not). Serena's Dude Diet philosophy is one that we know you'll love and her take on anxiety and self-care rituals is second-to-none. Read on to get to know Serena and shop her favorite Nette candle, Laide Tomate, here. 
Please tell us a little about yourself and your journey. Have you always been interested in food? 
Funnily enough, nobody in my family cooks (my mother burned things from time to time when I was growing up), so it's still deeply hilarious to my friends and family that I ended up in the food world. I went to culinary school on a whim in the midst of a mild post-grad existential crisis in 2010 and unexpectedly fell in love with food and cooking. I started my website while at Le Cordon Bleu Paris with no goal in mind other than to casually share some of the skills and recipes I was learning with other new/aspiring cooks (i.e. my friends at home, who I assumed would be the only ones interested in reading it). There was a lot of pink, Julia Child quotes, and Blackberry photos on domesticatemoi.blogspot.com back in the day, but I had a simple goal: Help others get their act together in the kitchen. And make it FUN! As my career in food has evolved to include a variety of things from private chef-ing to writing cookbooks and teaching, my original goal of making cooking and entertaining fun and accessible remains the same.
For the uninitiated, what's the Dude Diet philosophy? 
The Dude Diet actually started as a column on my blog. I wrote a one-off post about my then boyfriend (now husband) Logan's worrisome eating habits and how I was convincing him to eat a little bit better by recreating his favorite comfort foods with more vegetables, leaner meats, and whole grains. My goal was to convince him that eating meals made with whole foods could elicit the same extreme excitement and satisfaction associated with things like pizza or burritos, and it worked! 
The concept of being able to eat healthily without giving up comfort food resonated with so many people, that the post became a regular column on the blog and eventually spawned my cookbooks The Dude Diet and The Dude Diet Dinnertime. The Dude Diet is a lifestyle for anyone—regardless of gender, age, and nutritional understanding—who wants to take charge of their health, get more comfortable and creative in the kitchen, and eat crave-worthy nutritious food sans deprivation. 
When spring rolls around, what are you most excited to pick up at the farmers' market? 
Ooooh so many things! I'm a sucker for fava beans, and I'm so excited for asparagus and radishes to come back. 
What are some of your go-to, easy spring dishes? 
I love a spring vegetable risotto with Parmesan topped with seared scallops. Big, bright salads with fresh greens, shaved radishes and carrots, and a great goat cheese. A great piece of fish in parchment with asparagus and peas topped with fresh herbs or a simple pistou. And a pot of vegetable soup with a whole grain like farro and plenty of lemon is perfect during the winter-spring transition!
You can only choose one vegetable to eat for the month of April — what do you go for? 
Wildly tough call, but I'm going with carrots for versatility. 
What are your tips and tricks for getting the most out of a farmers' market visit? 
I always recommend planning out the types of meals you plan to make that week. No need to have specific recipes, but knowing that you want to make a few simple veggie sides, lunch salads, and maybe a pot of soup will help you focus on what types of ingredients you'll need and how much to buy. Chat with vendors about what they're most excited about (you might discover something wonderful that wasn't originally on your list!), and don't be afraid to try something new!  
We've heard that you're regulars at Rubirosa, but have had to start whipping up your own pies during the past few months. Any tips and tricks you can share for the at-home pizza novice? 
If you're using store-bought dough (no shame in shortcuts!), let it sit out at room temperature for a couple of hours to make it easier to stretch. A very hot oven or grill is key (at least 500 degrees), and a pizza stone is amazing for helping you achieve an awesomely crispy crust. I always vote for fresh mozzarella, and if you're attempting to mimic the beloved Rubirosa tie-dye, add the pesto swirl after the pizza is fully cooked. 
We're all cooking a whole lot more now than in previous years — any advice for outfitting our kitchen for success? What are your top five desert island kitchen must-haves?
It's so easy to get caught up in trendy cookware and fancy appliances, but you really don't need all that much to be able to pull off a wide variety of delicious recipes. I'm going with a sharp 8" chef's knife, an oversize cutting board, 12" cast iron skillet, 5.5-quart Dutch oven, and a silicone spatula!
Favorite people to follow on Instagram? We're always looking for inspiration in the kitchen and otherwise. 
I love @turshen for her food knowledge and social justice advocacy, @amandafrederickson's fridge foraging tutorials are always fun and inspiring, and @cleanfoodiecravings Skincare Sunday never fails to crack me up. @katiejanehughes for all things beauty and makeup, @charlotteparler for skincare real talk, and @things.i.bought.and.liked for fantastic product recommendations!
You're a big advocate for mental health — can you tell us more about your personal journey with anxiety and working to overcome it? 
I had my first panic attack over a decade ago, and I've dealt with panic attacks and generalized anxiety ever since. Anxiety is really scary, and it can be isolating at times, but it's something that so, so many people experience, and I'm committed to normalizing mental health discussions in the hope of constantly reminding people that they're not alone in how they're feeling. I also think there's a common misconception that having anxiety and leading a full, happy, successful life are mutually exclusive, which I find completely ridiculous. Anxiety is just one small part of who I am, and it doesn't make me weird, or damaged, or "crazy"—in fact, it's actually something that I think has made me a softer and more empathetic human, and I'm very grateful for that. I don't think I'll ever "overcome" my anxiety, but I have gotten to a place where I've built up a number of tools that help me comfortably manage it. I'm a big believer in a multi-faceted approach to taming the anxiety beast. Therapy has been instrumental. Consistent exercise is unbelievably helpful, as are certain supplements like magnesium and CBD. Staying hydrated, trying to get enough sleep (always a challenge), and limiting sugar, alcohol, and caffeine also help keep me balanced. I've also found that letting go of the guilt and shame attached to my anxiety and talking about it openly has taken away a lot of its power. I also want to mention that while I'm not currently on prescription medication, it can be a game changer (and often a life saver), and there is zero shame in taking medication for anxiety or any other mental health issue. Period. 
What are a few of your favorite take good care rituals? 
I'm a huge proponent of daily feel good movement, and I try to get in 15-30 minutes of yoga and Pilates every day for my mental and physical health. (I'm a big fan of Melissa Wood Health workouts, which are short but powerful.) I also try to put my legs up the wall for five minutes a day, which is a great stretch that instantly calms the nervous system while soothing sore muscles and boosting circulation. I love a big dropper of Highline Wellness CBD oil every morning to help start my day on a calm and clear note and a piping hot cup of ginger tea with lemon in the afternoon. I live for my nighttime skincare routine, which feels almost meditative, and I'm a huge fan of what I like to call "medium-trashy" novels. Nothing makes me happier than escaping into a fluffy romance or twisty thriller as often as possible. And Sunday pizza! Forever and always.