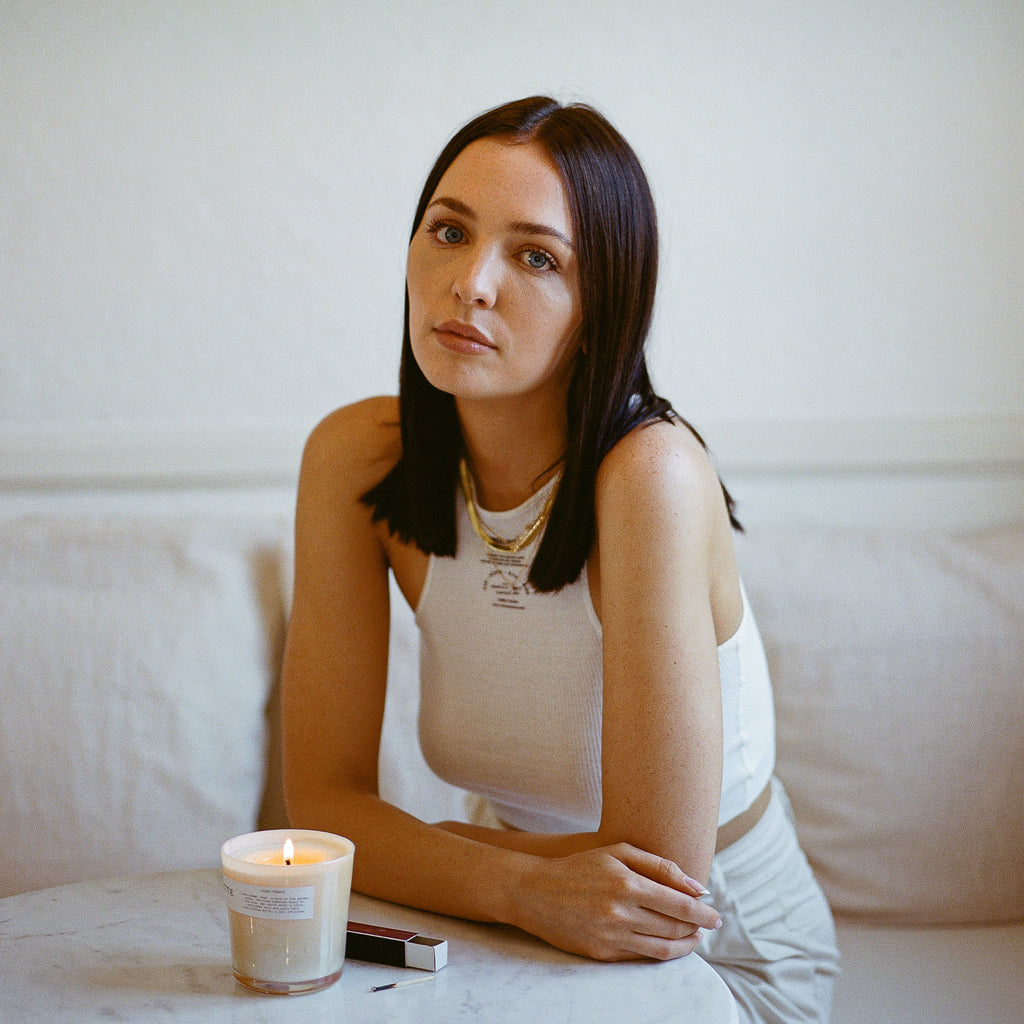 With our time spent indoors at an all-time high, it's more important than ever to ensure your home is a true sanctuary. Our friend, content creator and design entrepreneur Madison Chertow, has done just that and created an absolute utopia for herself in LA. We recently stopped by for a tour, and to hear a little more about her latest venture, @homebodyla — read on for some serious inspiration and be sure to check out Madison's favorite Nette candle, Laide Tomate. 
Hi Madison! Tell us a little bit about yourself. 
Hi! I'm a content creator and influencer living in Los Angeles. My fiancé and I also recently started @homebodyla, which is a decor brand and art studio. We are going to expand to some fun home decor items and renovated vintage furniture that's for sale, but we have started off with his dreamy canvas paintings. 
What drew you to Los Angeles? 
Well, I was born here! But there's a reason I've stayed — I'm such an LA girl at heart. I love the healthy, relaxed lifestyle here. I'm very into wellness and I find that the LA scene really supports that way of life for me. The weather is always perfect too, which is a huge plus. I don't think I will ever leave, but you never know!
Have you always been interested in home decor? 
Yes! However, it's really funny… I'd say I'm good with styling fashion and visual imagery, and I know what (I think) looks good in those worlds, but I've never been that good at putting together a room on my own, in terms of layout and what furniture goes where. 
I've always LOVED small settings like tablescapes and bookshelf decor, but an entire room was always tricky and intimidating for me. Luckily my fiancé is so talented with interior design and really has an eye for it — he's helped me bring my fantasy home space to life!
What's your philosophy when it comes to your environment and its decor? 
I'm such a homebody (hence my brand's name!) so I really like my space to be livable and comfortable…not just look good. I used to love a modern look with barely any decor or furniture, but, since I'm at home so much, I've grown to really love the cozy aspect of home life. I love soft textures, warm tones, cozy corners, blankets, candles… all the things. It's important that your home is a sanctuary where one feels best and most at ease.
It seems that you and your fiance have such a cohesive aesthetic; how did you marry both of your styles when you moved in together? Was it as seamless as your current home would lead us to believe? 
When we first met we were more different in terms of our home decor taste. He was really into a more modern, minimal, and masculine style, and at the time I really liked softer textures, vintage items, and quirky accent pieces. Over the past four years together, our personal styles kind of rubbed off on each other and now we meet in the middle and agree on most everything, thank goodness! This is our second place together and I feel like we both have a cohesive aesthetic now from being together this long.
When designing a room, where do you start? 
I think having a statement piece that you work the entire room around is the best way — start with the perfect couch, a cool painting, favorite coffee table, etc. Once you have that piece that you know will define the room, it becomes much easier to pull the whole look together. 
Do you have any favorite furniture and decor shops that you can share? 
We love this place in our neighborhood called Motti Casa — sometimes we just stroll in there for inspiration, everything is so well curated and chic. Claude Home has the most beautiful pieces, too. My fiancé is really good at finding the cutest pieces at Target and World Market that really elevate the space — you'd never know the pieces were so affordable! 
Where else do you find interior inspiration? 
Recently, we found a lot of inspiration on our last trip to Tulum, Mexico — meshing earthy textures with more modern, clean living. Also, Instagram is so great for finding decor and furniture — there are so, so many moodboard accounts and brands that have curated home decor feeds. Supermodel Elsa Hosk has the most beautiful decor, so that's always one of my main sources of home inspo!
What's the one dream piece that you'd love to add to your home? 
Oh gosh, my dream would be getting the Philip Arctander sheepskin clam chair. A dream. 
Top three design legends, living or dead, you'd love to meet in real life?
Jacquemus, Kelly Wearstler, and Hedi Slimane. 
How have you styled your Nette candle in your home?
I love having my Nette candle burning 24/7 when I am home. I love being able to not just smell it but see it, so I set it up wherever I'm spending most of my day. Often, I work at my dining room table, so I like having one there. If I'm lounging on the couch, I move it to the coffee table so it's right in front of me!
We always find ourselves saving your IGs...who are your must-follow accounts? 
@do.like.that, @mvb, @fredrikkarlssoninteriors, @thatcoolmoodboard, @endlesslylovelclub, and @hoskelsa. 
At Nette, we advocate for taking good care (of yourself and the world around you) — what are your tried and true self-care rituals? 
Self-care is so, so important. For me it's all about staying in, eating healthy and yummy food, doing a long skincare routine, lighting a candle and being present and mindful. Being home and in a space I love really centers me.
All photos by Ben Biondo.