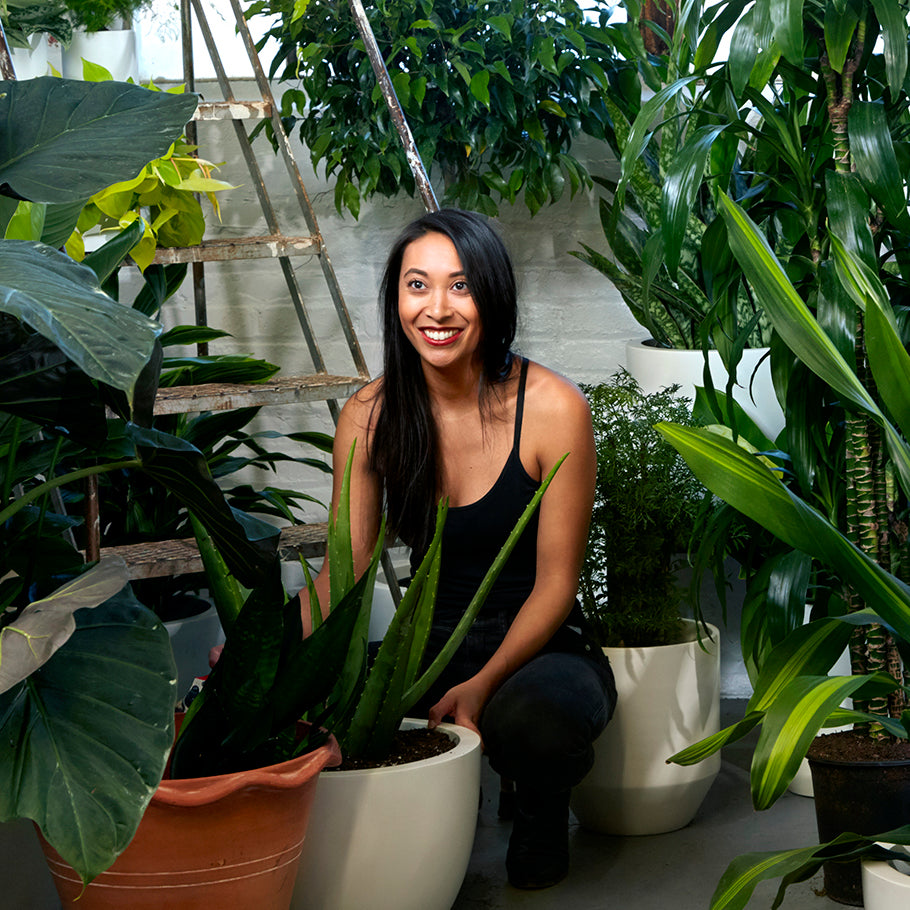 Fellow female founders are endless sources of inspiration to us. Today, we're catching up with Eliza Blank, the inspirational force behind The Sill, the ultimate spot for finding a chic houseplant. From their founding philosophy that "plants make people happy," to Eliza's belief that we should treat ourselves as we would a plant (warmth, water, and a good deal of sunshine!), our conversation with Eliza is filled with advice and inspiration — read on and be sure to check out Laide Tomate, our most garden-inspired candle.
For those unfamiliar, please tell us about The Sill.
The Sill is a modern plant brand bridging the gap between people and plants. I started The Sill in 2012 on the simple idea that "Plants make people happy" — and we quickly became the leader in online houseplants and plant education, while cultivating a thriving community for the plant-obsessed. In 2015, we started opening plant stores, and now boast five across New York, Los Angeles, and San Francisco.
The Sill grew from your love for plants — how did your interest develop?
I grew up in rural Massachusetts with grass under my feet and greenery all around me, but as an adult I chose downtown Manhattan as home. When it came time to find plants for my apartment I was shocked and disappointed by how few options there were. I was buying most of my plants from the grocery store or Home Depot. That's when my idea for The Sill began to form.

We believe the best businesses are born from less-than-ideal situations. We hear that you developed The Sill after schlepping around New York City to buy your plants. Can you tell us about this?
Like I said, I was so disappointed by the lack of options — or ease for that matter — to outfit my apartment with plants. I would have to buy plants at one spot, plant pots at another, and carry everything home on the subway and up my six flights of stairs. Often, my plants would end up dying because I had been poorly instructed to buy the wrong ones for a dimly lit Manhattan apartment. I knew there had to be a better way.
Have you always wanted to be an entrepreneur? 
Pretty much! I started my career at a brand agency but always admired entrepreneurs. My older brother started his own business out of college and so I had someone close to look up to. I initially thought of starting The Sill right out of school but felt I needed the professional experience at another startup before setting out on my own.
We take it you have a well-honed green thumb; which plants from The Sill do you recommend for those of us who...well, don't?
My favorite is the Philodendron Cordatum. It's a happy shade of green, the leaves are heart-shaped, and it grows quickly. It's a nice reminder to keep going and growing.
We're obsessed with the healing benefits of plants — why are they an essential in any home?
So many reasons! Plants clean the air you breathe, they're beautiful to look at — they add color and texture to your decor, and they can both calm and energize you. Plants are proven to reduce stress, boost creativity and productivity, and improve your health. They offer so much for so little in return — just some sunshine, water, and fresh potting soil.
When it comes time to select a plant schematic for the home, do you have any go-to tips? We know light is a crucial factor, but what about scale, color, etc.?
I have plants in every room of my house — I find they're the best way to make a room feel polished, yet casual. 
Light is critical, indeed! You always want to choose plants that are appropriate for the room and quality of the sunlight. In rooms with north-facing windows, I choose lower light plants like Snake plants, ZZ plants, or Pothos. In rooms with south-facing windows, I can add more diversity with succulents or blooming plants. I generally prefer to cluster my plants in a variety of pot sizes and shapes. Groupings of three look great! And tall, narrow plants like a Dracaena are great to fill an empty corner of any room. If you want drama, a Bird of Paradise is a great tree-size houseplant. 
Most favorite plant moment in art or pop-culture? 
I've always been inspired by Henri Matisse, especially later in his career when he was in his cut- outs stage. It was a huge departure from his prior work (hello, never too late to take a risk!), and the work itself was inspired by nature. 
Who would your dream customer be? 
A lot of celebrities shop with us at The Sill but we are very discreet! 
What's the biggest lesson you've learned in your journey to where you are today? 
Good things take time. Truly. We all love an overnight success story, but those are few and far between. 
As a female founder, what are some of the biggest challenges you've faced in your entrepreneurial journey? 
I like to believe that being female has more advantages than disadvantages. That said, there are inevitable challenges, like balancing being a mom on top of being a CEO. And yet, even being a mom feels like a super power sometimes because it forces me to ruthlessly prioritize (a very critical skill for any entrepreneur and executive). It's all how you look at it. 
Can you also tell us about a big victory moment that made you pause and celebrate? 
We often don't celebrate our victories enough! December marked our biggest month in our business' history and it was just an amazing way to end an otherwise very challenging year. 
Founders have to have so much resilience--what are some of the ways you cultivate that quality in yourself? 
Resilience is the key to success! If you keep going, you cannot fail. It's all about showing up every day, no matter what. The way I cultivate this is through community. You need to have a support system for when times are tough — be it family and friends, other founders, or importantly, your team. A good night's sleep also helps, so don't skimp there — when all else fails, go to bed early. 
At Nette, we advocate for taking good care (of yourself and the world around you) — we think founders are probably the most adept at taking care of themselves because they have to be in order to maintain the stamina it takes to run a business. What are your tried and true self-care rituals? 
I always sleep at least eight hours a night and eat a big, healthy breakfast of oatmeal, eggs and whole grain toast, or granola and yogurt. It's the simple things. I need to get better at staying hydrated throughout the day though, especially in the winter. There's always something to work on! 
You just have to treat yourself like you would your plant — warmth, water, and a good deal of sunshine. What more is there!