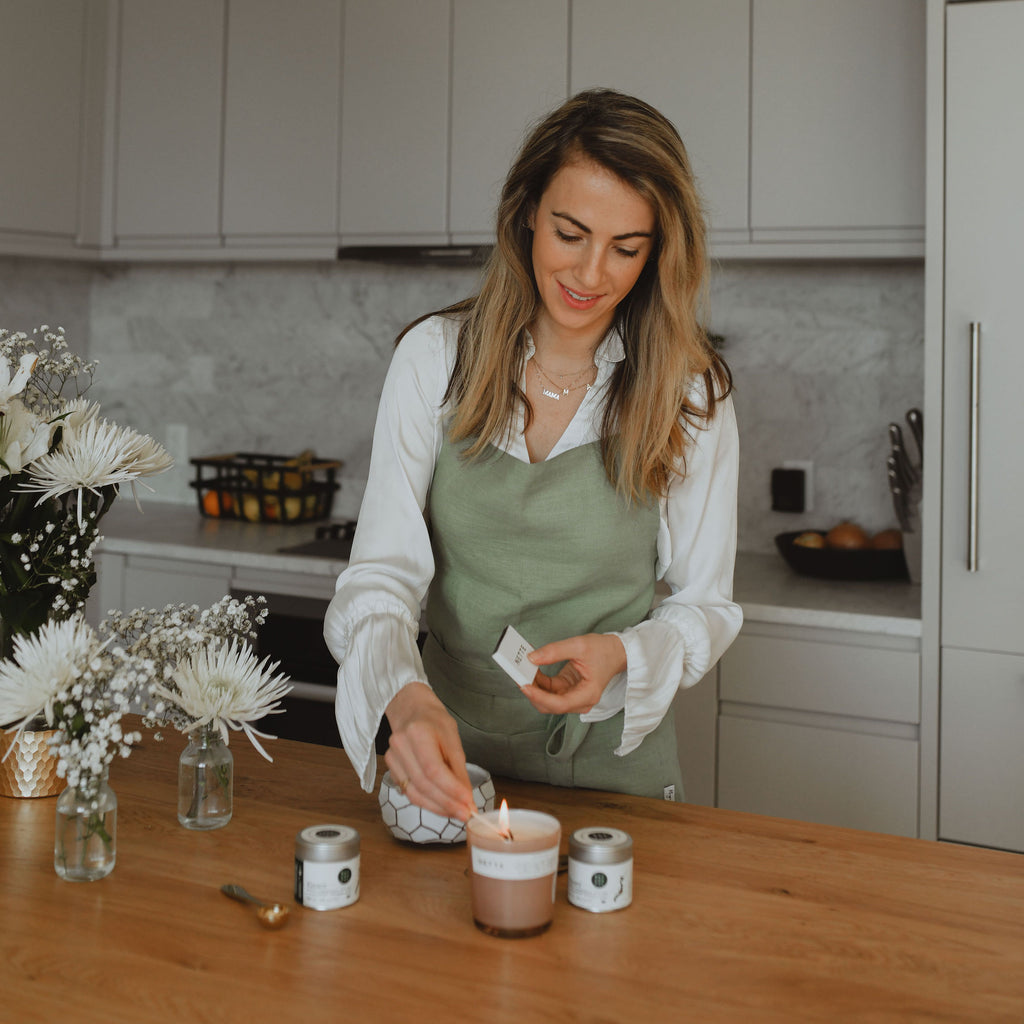 We could wax poetic about matcha for days. From its vibrant, verdant hue to its health-boosting effects, we've long been fans of this elixir. For our founder, Carol, a daily cup is a centering, mood-boosting necessity, and her favorite matcha comes from NYC-based Matchaful Recently, we stopped by Matchaful founder Hannah Habes' Brooklyn home to talk all things wellness and get the inside scoop (pun intended) on her go-to matcha recipe. Read on and be sure to shop Hannah's favorite Nette candle, Another Life, here. 
For those unfamiliar, please tell us about Matchaful.
At Matchaful, we offer sustainable Japanese matcha and active botanical nutrition to support people's daily rituals. Our direct trade relationships provide full transparency into where our matcha was grown and the journey it took, from farm-to-whisk. 
Matchaful was born of your own health struggles — tell us about how this evolved into an interest in matcha (and dedication to provide the very best).
Almost twelve years ago, I graduated from college and started working at a massive CPG brand. While I worked for this company, I was eating highly processed foods everyday and drinking a lot of coffee — I was on the road a lot and I just wasn't taking care of myself. These habits quickly started to take a toll on my body. I was dealing with a bunch of digestion issues which contributed to weight gain, fatigue, and hair loss. My body was really stressed. 
A few years later, a close friend of mine was traveling back and forth from Japan for work and brought me back a matcha set. I still remember my first sip — a lightbulb went off at that moment. This was the first food product I'd ever fallen in love with. Not just the taste, but the way it made me feel. At the time, there wasn't much awareness around matcha in the US, so I made it my mission to bring education around this beautiful product and its incredible benefits. 
Why is organic important to you?
Through working in the food industry for several years, I had heard and read a lot of stories from farmers. They spoke about how dangerous pesticides and chemicals have been for them and their families. I wanted to support farmers who were taking the road less traveled and doing the right thing — growing organically requires more skill and costs more for the farmer. It was vital to me that I was supporting these farmers, despite the higher costs that come with buying organic. With matcha, we're directly consuming the tea leaves, therefore it's super important that there aren't pesticides or chemicals in our daily cup. 

As a company, Matchaful is dedicated to transparency — what does this mean to you?
It means everything. When I first got into the industry, there was a huge lack of transparency in the food system. From the products on the shelves, to the food we enjoy at restaurants, our food system wasn't transparent. With matcha, there's still not much transparency around where it comes from. Most matcha is a blend from multiple farmers, or it's blended with Chinese matcha and you lose sight of its origin and the unique provenance of the tea. I wanted to not only bring transparency to matcha, but build a strong relationship with the farmer who grows it. I took several trips to Japan to be able to source direct trade. There's more meaning and connection when you know who made your food and where exactly it came from. 
You sell a number of different kinds of matcha on your site — can you break down the differences for the uninformed?
Of course. One thing to note about matcha is that it has unique characteristics and flavor profiles depending on the region or the type of cultivar that's used. This is similar to coffee or other types of tea. It also makes my job more fun, because I get to taste matcha from different regions in Japan. All of our matcha (except for our Culinary Grade) comes from hand-picked, first harvest, high ceremonial grade leaves. We're always tasting new matcha, but the best organic matcha we've tasted has come from Aichi and Shizuoka, Japan. Our Hikari and Kiwami grades are both incredibly special as they are pesticide free (and will be certified as such soon) and come directly from a 4th generation farmer in Shizuoka, Japan who uses solar panels on his farm. This helps to provide alternative energy to the community. Our Satori grade comes from the Aichi prefecture and is our only USDA certified matcha — it's light, refreshing, and very smooth. 
Tell us, what's your ultimate matcha drink recipe?
I love drinking matcha many different ways, but one thing I've really been enjoying lately is adding a touch of floral flavors and vanilla to my matcha drinks. Matcha is a delicate flavor so adding anything too strong can sometimes disturb its flavor. I will infuse some lavender into my house-made milk and add a touch of organic vanilla extract. 
Calming Lavender Matcha Latte

Lavender Milk

Use 6 oz of your favorite plant-based milk — add it to a pot on low with 2 tbsp of dried lavender buds, 1/4 tsp ashwagandha (optional), and 1/2 tbsp of maple (optional). Simmer on low for five minutes, then strain the lavender buds from the milk. Add 1/2 tsp of vanilla extract and pour over ice or enjoy hot.
Matchaful Shot

Sift 1 scoop (2 tsp) of
Matchaful's Kiwami matcha
into a cup or bowl. Add 2oz of 180 degree water and whisk matcha until light foam is created. 
Add milk to a cup and pour matcha shot over. Sip soundly!
Any favorite ways to use matcha in cooking or baking?
Honestly, the ways we do it at the cafe are my favorite. We have come up with some incredible functional and healthy matcha treats at Matchaful, such as a matcha granola and a vegan rose matcha white chocolate that I'm very into. Our soft serve is also vegan and refined sugar free, and one of my favorite matcha indulgences!
Tell us about your cafes — our founder Carol is a big fan!
Thanks, Carol!! That makes me so happy. Our cafes were created out of a desire to combine matcha and wellness together in a calming atmosphere. Everything we do is really thoughtful. From the ceremonial cacao we source, to the organic and gut-friendly pastries we offer, we don't take any shortcuts on quality or ingredients. When we launched our first pop-up in Dumbo, Brooklyn, I had no idea what I was doing. I had always dreamed of having a matcha cafe, but of course I didn't know how the response would be. We launched in the dead of New York City winter and it started slow, but after a couple of months, things just kept getting better, and we were having a lot of fun. We then launched another pop-up in Soho in 2018. After an incredible response, that really gave us the confidence to launch a permanent cafe, and raise some money to grow. 
What has been the biggest challenge that you've had to overcome as a female founder?
It's been hard to enter a male-dominated coffee and tea industry and be taken seriously. I wish there were more women in the industry, and that seems to be getting better, but we have a long way to go. The other challenge I faced was raising money. I felt like I had to prove myself and generate a good amount of revenue and awareness until investors started paying more attention to me. 
Can you also tell us about a victory that made you pause and celebrate?
After a really challenging pandemic year, where we struggled to stay afloat, we have been celebrating a lot of little wins. In January, we got our first wholesale customer (Erewhon) to carry our granola. I don't think we would have ever launched this little passion project if it weren't for the pandemic, and watching it evolve and come to life -- and now be successful -- has been so rewarding for our team. Ten NYC Whole Foods stores will also start carrying our granola this month! 
Founders have to have so much resilience — what are some of the ways you cultivate that quality in yourself?
I think it's so important to trust your intuition and gut. Ever since I was little, my mother has instilled this in me. When it comes to running a business, the key is to not push too hard, but to create and let things happen. Just as in life, business is a journey and not a destination. A lot of our success has come from being able to adapt, change, and listen to our consumer. 
Where do you want to be when you're 80 years old? Who is there with you? What are you doing? Are there any words of wisdom and love you would send to your current day self from that place?
I don't really think that far ahead — I just hope I'm happy, healthy, and surrounded by lots of friends and family. That's really all that matters. I am so fortunate to be able to do what I love right now. I have an incredibly supportive husband and a beautiful boy. Life is good and I have zero regrets. 
At Nette, we advocate for taking good care (of yourself and the world around you) — we think founders are probably the most adept at taking care of themselves because they have to be in order to maintain the stamina it takes to run a business. What are your tried and true self-care rituals?
For me, self care right now is taking it easy on myself. Not being too hard on myself or feeling too much guilt. It's easy to be stressed when you're running a business, but if you have the right mindset, then it becomes a whole lot more fun. Being a mom and running a business doesn't allow for a ton of self-care time, but in order for my mind to be in a good place, I always try to take about 30-40 minutes every morning to meditate and/or workout. Pilates, running, or just a little movement always seem to put me in a great frame of mind. 
Top five desert island products?
1) Matchaful Essentials set
2) Thorne Women's Multi Vitamin
3) Suntegrity SPF + Tinted Moisturizer 
4) Swell water bottle
5) Vitamin A swimsuit