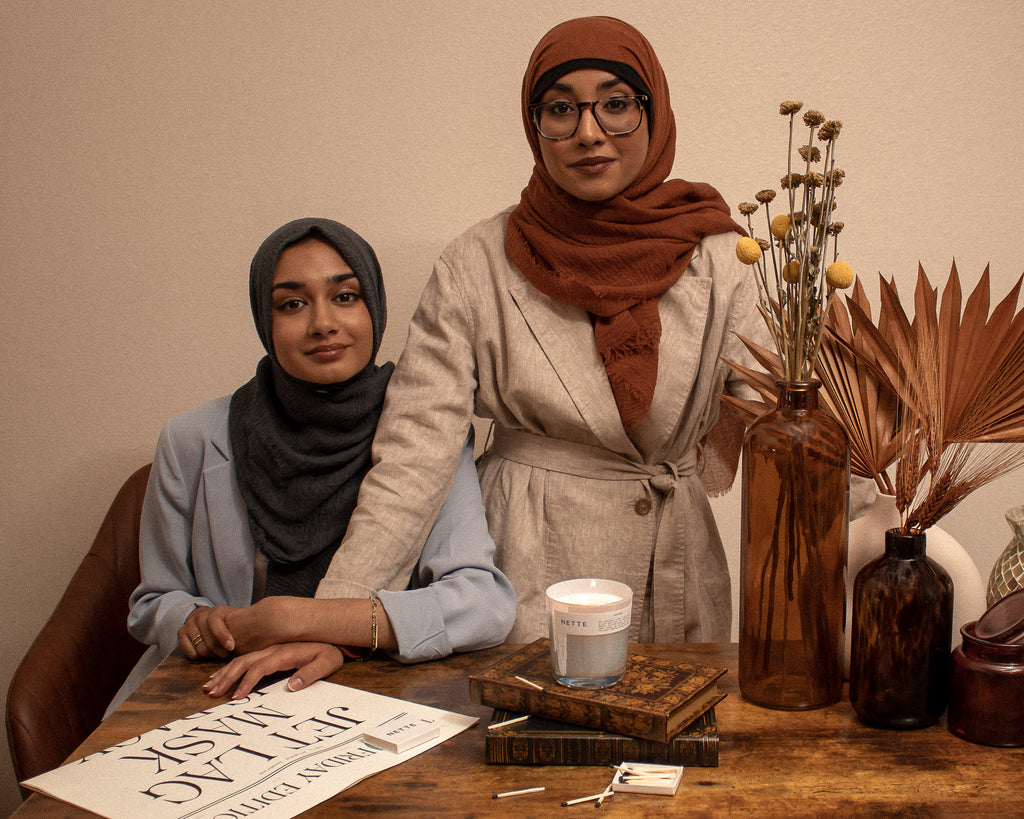 We're on a constant quest for the perfect shelfie — that expertly curated collection of products that are effective, sustainable, and beautiful. Luckily, our friends Sarah and Safiyah Mahamadeen have this practice mastered. As the brilliant minds behind The Top Shelf Edit, one of our fave IG accounts, Sarah and Safiyah capture the best beauty buys in the most inspiring of settings. Beyond this, these sisters are both studying biomedical sciences...talk about impressive! We recently caught up with the dynamic duo to learn more about their journey — read on for some inspiration and be sure to check out their favorite Nette candle, Georgica.  
Hi Sarah and Safiyah! Tell our readers a little about yourself. 
Hi there! We're Sarah (older, glasses) and Safiyah (younger), two sisters from Orlando, FL who create skincare-focused beauty content on our Instagram, The Top Shelf Edit, and product photography for modern brands, most of which are in the beauty and lifestyle sphere. We're second-generation Muslim Guyanese-Americans who both study the biomedical sciences. Safiyah is currently in undergrad and Sarah is currently enrolled as a medical student. 
You both have pretty incredible careers — you spend your days as med and biomed students and your evenings as product photographers. How did you end up here? 
It's been such an incredible journey. Our true passion is in medicine and community health and we're currently studying to become full time medical providers, but we've dealt with mild acne and skin irritation for about a decade at this point, so we combined what we learned in school with our interest in skincare, and soon the idea for documenting it all online was born. 
From there, we found a completely new passion: the vast world of product photography. The art of placing everyday products into still life sets really inspired us, so we learned everything we could in our free time about editing, lighting techniques, and equipment, which led us to where we are now. 
What's your favorite part about capturing products? 
The production phase is our favorite, as this is when our loose ideas and inspiration come to fruition. There's always room to improve and adjust, so our final sets never quite look the way we plan them to, but that's the beauty of the creative process! 
Where do you find inspiration for your photography? 
Our inspiration primarily arises from food photography, which sounds odd, but we actually learned most of our techniques from incredible food photographers like Joanie Simon. The idea of telling a compelling story within a scene is well-explored in food and cookbook photography. This helped inspire our hallmark dark and moody themes, bold jewel tones, and textured neutrals.
You get to try all of the best beauty products — any recommendations you can share? 
So many! We've found staples in science-driven brands that share an appreciation for simplified and traditional methods (like NOID), but we've also had the pleasure of connecting with other passionate creatives across the globe who have developed their own impressive indie brands, including Phytosurgence, Sachi, Klur, Cipher, and many more. 
Spill, how much does a product's aesthetic appeal have to do with whether or not you try it?
We must admit, we find ourselves putting greater weight on the aesthetic appeal of products now than ever before. Perhaps this is because there are just so many wonderful products out there! That extra level of attention a brand puts on packaging, color scheme, scent, typeface, and more really shows us how proud they are of the product they created. 
Tell us about your Nette candle. Why do you like it and how does it fit within your home?
There's something comforting and familiar about Georgica, a scent we truly cannot imagine anyone disliking. This is a fragrance we feel would fit seamlessly into our home all year-round — from chilly winter mornings to warm summer nights. It's inviting, clean, and homey. The stunning pale blue glass votive will definitely be put to good use once the candle burns through as well! 
At Nette, we advocate for taking good care (of yourself and the world around you) — what are your tried and true self-care rituals? 
We don't often get to indulge in more elaborate rituals but find comfort in enjoying the little things: wearing face masks or facial oils during our morning showers, brewing a midday cup of tea or coffee, walking around our neighborhood in the late afternoon, and lighting a Nette candle in the evenings to create an aura of relaxation and warmth.