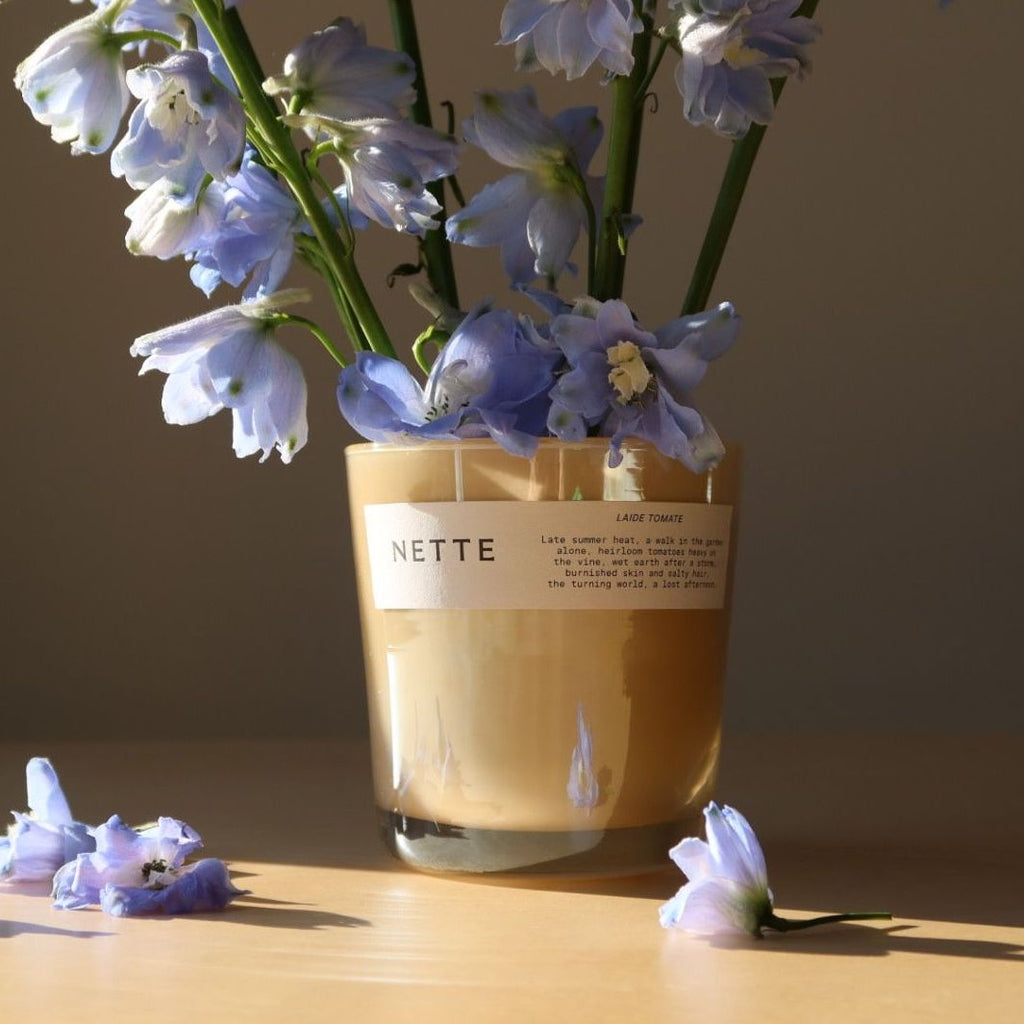 While there are countless ways to repurpose a Nette vessel, our go-to is invariably as a home for a beautiful bouquet of flowers. Add your most favorite blooms to our vessels and you've got all the makings for an ultra-chic micro-arrangement. To help us channel our inner Martha Stewart and ensure that our bodega-issue blooms are expertly elevated, we recruited our friend Chelsea Neff to give us a play-by-play. Read on and get creative. 
Tell us a little about yourself — how did you get your start in photography and floral design? 
I moved to Manhattan at 18 to study photography and marketing and my first photo job was as an assistant photographer for Billy Reid's NYFW presentation (I had no idea what I was doing!). I kept meeting incredibly talented people in the industry who became close friends and really brought me along to where I am today. The power of networking!
One year for Valentine's Day, I thought "why not try and sell some cool tropical floral arrangements?" I was so tired of seeing the standard one-dozen-red-roses-for-$100 thing and thought surely I could create something more unique. That was the start of Pine New York, my floral design brand. I soon fell in love with floral design and it's been a fun few years of creating beautiful florals for clients, friends, and some of my idols in the fashion and music world!
How would you describe your aesthetic? 
Colorful with clean lines.
Who are your idols in the industry? Any favorite Instagram follows for floral inspiration?
@hart_floral and @ruby_marylennox. I've admired and taken notes from these amazing accounts since I started, but I try to put a more modern twist on things and incorporate my own vision and style. I love how romantic both of their works and accounts are — even the short video clips Hart posts sometimes give me the chills.  
Do you have any simple tips and tricks for our readers on creating an arrangement as a novice? 
Be easy on yourself and have fun with it! Don't take yourself or the arrangement too seriously. Get a simple small cylinder vase and some floral foam and spend $15 at the grocery store on 2-3 bunches of different stems. Find an arrangement or even a cool painting you love online and try to recreate the colors and shape of it in the vase/foam. Play around with it until you're happy with the final product. 
What's your go-to flower of the moment? 
Tulips! I buy them almost every week at the grocery store. I love when they get droopy and hang over the vase. I love a stem that shows movement over time. 
All one bloom or mix and match? 
I love creating solo and mixed! If I'm using more than one flower type, I limit it to three to keep things contained visually. 
We know you like to incorporate lots of dried materials into your arrangements — we love this as it's very sustainable as well as beautiful! Any favorite online resources for the best dried blooms?
I've had a bit of a struggle finding decent prices for dried flowers online! However, Jamali Floral and Etsy are great options! But if you're ever in NYC, Caribbean Cuts has the greatest dried tropical stems that you can have in your home forever. 
What flower did you use for the arrangement you made for us? Can you tell us a little about it?
I've been on a blue kick lately. These are just light blue Delphiniums from the grocery store! They are very pretty, delicate, and inexpensive. 
How do we recreate this ourselves?! 
Step 1: 
Grab your floral shears, floral frog (or foam), and fill the vessel with water. 
Step 2: 
Position yourself directly in front of the vase and trim the stems how you'd like them. 
Step 3: 
Carefully place the stems into the frog or foam — this will help maintain the direction of each stem. 
Step 4:
Play around with it until you're happy :) Enjoy!!