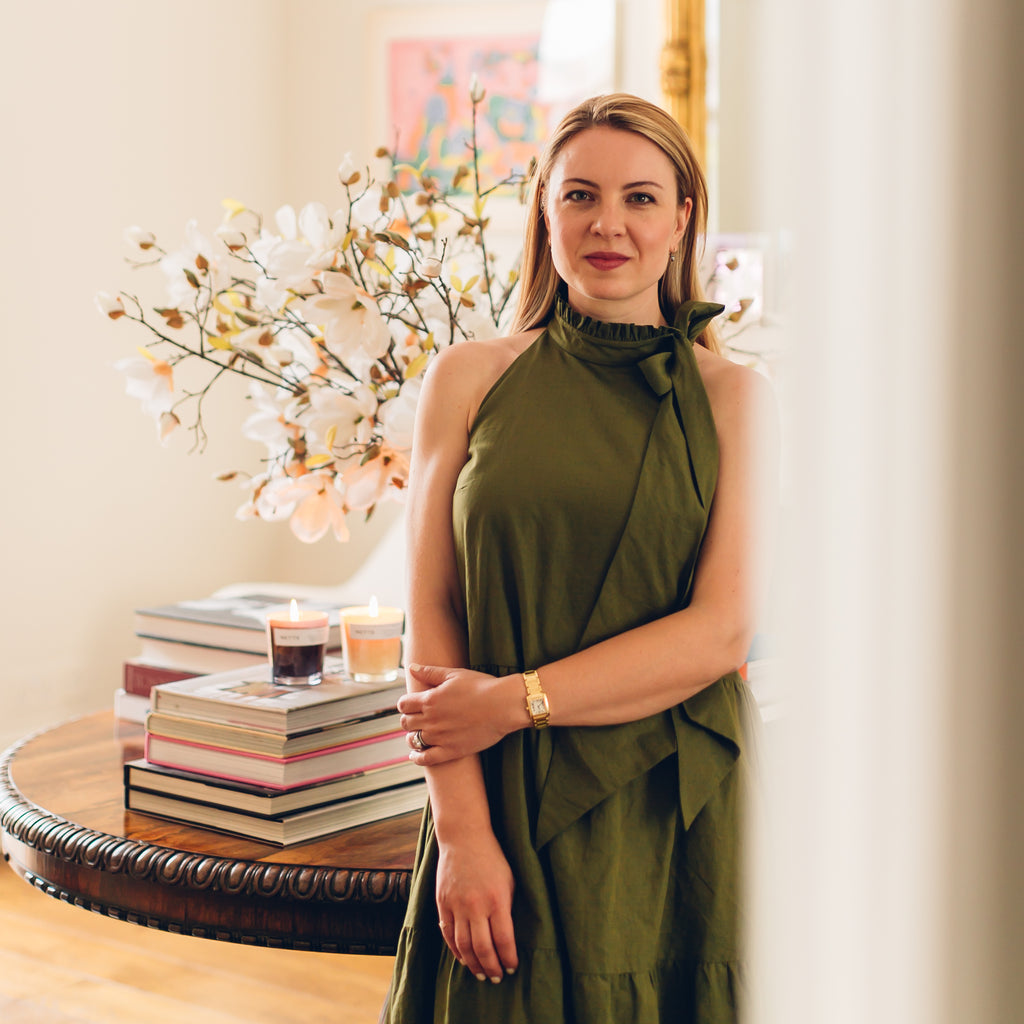 When Memo Press launched last year, we were immediately smitten with founder Alice Edwards' sweet and incredibly stylish hand lettering and illustrations, not to mention the sustainable aspect of it all. We spent some time digging into who Edwards was and, no surprise, she turned out to be a former journalist working in fashion and focusing on jewelry and watches. With a training ground like that, it made sense that her bespoke stationery line would be nothing short of impeccable. We were lucky enough to sit down with Edwards and chat about an array of topics, including her time at Tatler, the fashion event that changed everything for her, the process of launching Memo, her holy grail beauty products, and her favorite ways to take good care. Don't forget to check out her favorite Nette candles, Laide Tomate and Supernatural. 
You have had a varied career from journalist for national magazines to now founding Memo press — what do you love about the creative/fashion industry?
It would be hard to find something I don't love, but at the heart of it all are the people. I've met some of my closest friends through work. I think being on set, on deadline, or on a trip bonds you at warp speed. 
Tell us a little about your time as a journalist?
Before I started Memo last year, my entire career was spent in journalism focusing on jewelry and watches. I started out at Tatler magazine which was such fun, coming to work never felt like work at all. I had five brilliant years there but when the opportunity to join the Sunday Times Style team came up, I couldn't not jump. I was then lucky enough to be part of the relaunch team for the Times LUXX magazine, so for several years I worked across both. Being a Jewelry Editor really was a dream come true, but my mother always said to leave a party at the peak and that's what felt like the right path for me. I was on the most astounding trip with Dior to Venice to see their new high jewelry collection and when I came home it dawned on me that my job would never, could never, get better than that. Once a thought like that is in your mind, it's hard to stay where you are.
How did the idea for Memo come about and why did you decide to start it?
I can trace everything back to one conversation with my friend Pip Durrell who founded WNU. At an event she was talking about her priorities and plans for her brand. She described how she wanted WNU to always be sustainable both in an environmental sense but also in terms of its growth and what role she enjoys playing in the company and how she was determined never to lose sight of that. I'm sure it's a conversation she hardly remembers but I kept running her words over in my mind. As the mother of two small children and someone who loves being in charge of my own day, that conversation sparked something that eventually led to me starting Memo. 
When thinking about starting my own company, stationery unquestionably felt like the perfect fit for me. It's something I buy endlessly, and take great joy in but have often found issues with. Whether it was children's birthday cards covered in glitter or having to order personalized stationery in huge quantities and getting bored of that single design, I felt that I could design a better solution.
You do the illustrations yourself, how did you learn to do this?
To be truthful, I'm absolutely still learning. I've always drawn things, whether it was illustrations for my children's nurseries or birthday cards for friends. When I couldn't find greetings cards that I liked and was happy to spend my money on, it felt like the obvious solution to draw them myself.
When dreaming up new designs where do you tend to start and where do you source inspiration?
I have a threadbare sketchbook which houses dozens of potential illustrations and lots of rejects too. I'm constantly looking for inspiration but try to always ensure that the design is something that I would buy. My latest designs were a mix of the things around me, for instance there's a seashell which came about because my six year old had a mermaid-themed party and the design rather unconsciously found its way into my work.
How do you see the company evolving?
Still heeding Pip's advice, slowly but surely. I love that our returning customer rate is super high and that people seem to really engage with what Memo is producing. I hope we'll just continue to add new customers. With a little luck I hope Memo becomes the go-to for understated, beautifully made stationery that's sustainable (everything we do is recycled/recyclable and plastic free). 
Do you find people are falling back in love with more traditional rituals such as writing a note?
Absolutely, this is something I talk about a lot with people. It's no surprise I'm a long time fan of the handwritten note, nothing comes close to replacing it. 
What design approaches do you take in your own home?
I'm married to a Digital Art Director, so our home has evolved to a blending of our two tastes. As I get older my own taste is definitely becoming more simple with less bright colours and more neutral tones — though the playroom is the polar opposite of this.
We're big proponents of taking the time to take care of yourself – what are your top five favorite ways to take good care?
Light a candle, run a bath, read a book, put your phone away, and breathe. 
Can you please list out your holy grail products and tell us how and when you use them?
How long have you got? I'm a skincare devotee, and have been a huge fan of Dr. Barbara Sturm for years now. I also absolutely love Summer Fridays and Augustinus Bader. I cannot get over how great Teresa Tarmey facials are, there's nothing like them and they're worth every penny. I don't wear much makeup but I truly love Westman Atelier's foundation and blush sticks and wear them everyday. 
Do you have any tried-and-true rituals that help you stay grounded and happy?
I've realized whatever else is going on in the day, I need time completely solo. It's not the easiest to achieve when you and your husband both work from home and have two small children. Sometimes that means I have to get up even earlier, though my favorite half hour is after the school run, walking home through the park with our dog. I'm able to gather my thoughts and often drink a cup of coffee whilst it's still hot. 
London is where you hang your hat—can you give us your favorite stomping grounds?
I'm a Londoner to my core having been born and raised here and I love that I'm constantly discovering somewhere new. That said, some of my forever favorites are…
The River Cafe, almost definitely my favorite of all time. Stanley's, Cafe Colbert and Zianni's are great too. I also love the Chelsea Arts Club, I've been a member for about 10 years now and it's the most extraordinary place full of fascinating people.