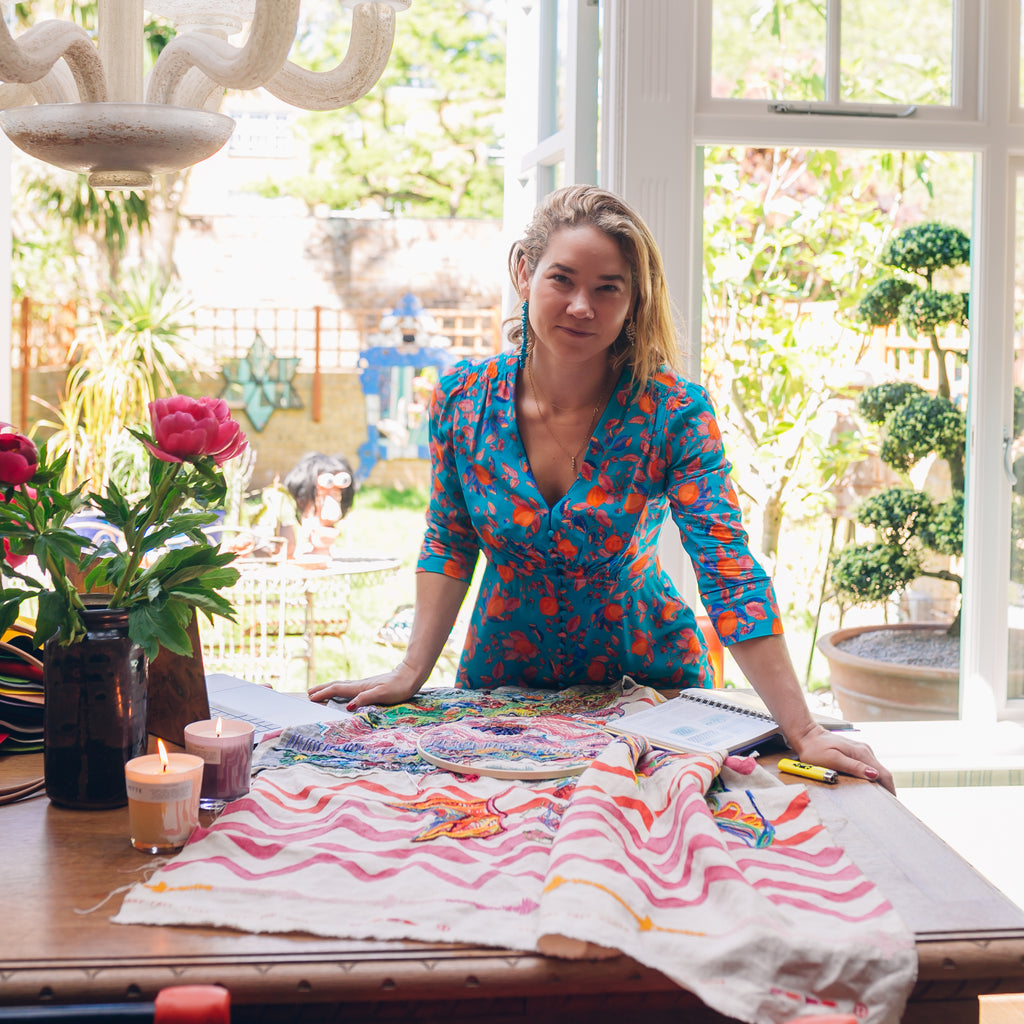 There's little better than a good hotel stay and, part of the reason for a beautiful hotel's appeal is its ability to transform your mood and inspire you — to relax, let loose, and let the possibilities unfold. We recently caught up with Londoner Minnie Kemp, Interior Designer at Firmdale Hotels, to learn about her process and creative inspirations. And, if you're hopping the pond anytime soon, Minnie's sharing her go-to spots of the moment. Read on and be sure to check out Minnie's favorite Nette scents, Spring 1998 and Laide Tomate. 
You're an Interior Designer at Firmdale Hotels — what's your favorite part of the job? 
I work in a very small team which means we get to be really hands-on and creative every day – whether it be designing a pop-up surf shop at the Thomas Lavin Design Pacific Centre in Los Angeles, a sprawling residential home in Westchester, New York, or a boutique hotel in London. 
Initially, I use CAD and Photoshop to conceptualize floor plans and elevations. The fun part comes after; scheming with textures and fabrics to bring everything to life! 
I also love sourcing furniture from places like Brocantes in France and Salone del Mobile in Milan — you can find hidden treasures nearly everywhere, you just have to keep your eyes open.
How does designing for a hotel differ from designing a home?
I love hotel design as you can really go wild and say, use large repeated patterns from Pierre Frey all over the walls for example. A hotel is an escape for people, a day out of their usual lives, and I love creating special places that allow people to feel relaxed, while also being fabulous entertaining spaces. 
Homes need to be a lot more personal; you don't want the space to feel manufactured. Curating a collection that looks like it has been built up over time is the trick. I just moved and people ask me all the time, "How long have you been here?" — it's really funny as it looks like 100 years but in reality it's only been three months. 
I'm a big collector — art, craft, little pig statues, hats, papers, antique textiles, the list goes on. My friend who used to work at Dover Street Market told me that every three months they used to clear everything out and start again – they called this "Tachiagari" – translated in Japanese it means "Beginnings." I've employed this technique in my home, so now I only have the truly special pieces around me – no extra clutter really helps my brain function.
When dreaming up an interior, where do you tend to start and where do you source inspiration?
I'm so inspired by the natural world — walking in nature especially springtime, seeing all the buds come alive and re-emerging from a long wintery slumber.
We are so lucky in London to be surrounded by incredible exhibition spaces with new artists, designers, and makers to discover like Cockpit Arts Studio in Deptford. I also like getting out of London – the Nottingham Contemporary has some killer shows certainly worth the train ride. 
I read a lot; I have some friends Cate and Nash who own "Much Ado," a bookshop in Alfriston. They have a barn and I often stay the night with Bully, their pet chicken. I always leave feeling full to the brim with ideas and laden with books – most recently they sent me "How to Cook a Wolf," by M.F.K. Fisher.
What trends do you see developing as we head into 2022 and beyond? 
Hopefully a more sustainable lifestyle!
We love your embroidery — tell us more about this, is it something you've been doing your whole life? Why do you love this particular craft? 
I've tried all the other crafts — pottery, painting, glass blowing, you name it! — and the only ones I seem to be good at are embroidery and wood-cut prints. It must be something with the finality of the lines – once they are down it's not easy to get rid of them – I like that. You don't make mistakes, you build on things and tell stories. 
I've also recently started writing and have a style column for LivingETC magazine out every month. 
We're big proponents of taking the time to take care of yourself – what are your top ways to take good care?
Every night I have a bath without fail – a boiling hot one with Magnesium salts and candles burning. This is my life saver and I couldn't live without a bath or a body of water to relax in. I usually read the Week Magazine in there and the pages go all crinkly. 
I love walking my two sausage dogs Frieda and Diego in the park and watching them hurl about with their ears flapping — it really brings me joy! 
Getting my hair blow-dried at Salon 64 in Soho by Stevie Snips – she is one cool mumma.
Can you please list out your holy grail products and tell us how and when you use them?
Formula by Dr Prenner Jones – it's the best for keeping your skin soft and clear. 
Coconut oil – I use this all over my body and on my hair. I love applying it before bed as it gives you the softest skin! 
Naked Coconut Water — It's the best and not too sweet. 
Acupuncture with Jack Jewel in Bethnal Green – He's a wizard. 
The Cloth Shop Linens – Sumptuous and natural, organic he
aven. 
Cetaphil Cleanser — this bog standard cleanser is actually the best for sensitive skin like mine and it's a bargain. I swear by it.
London is where you hang your hat—can you give us your favorite stomping grounds?
A really fab night would be start at the steam room at Ham Yard Hotel, then eating on the outside terrace afterwards – it's heaven under the oak trees, next to the Tony Cragg Sculpture.
I also love Trullo in Islington – I got quite obsessed with their shop during lockdown. They made an ossobuco that I would always buy then pretend I made – don't tell!
I used to have such fun at Metropolis on Cambridge Heath Road – I feel very at home with the gays and the drags — those are my people!